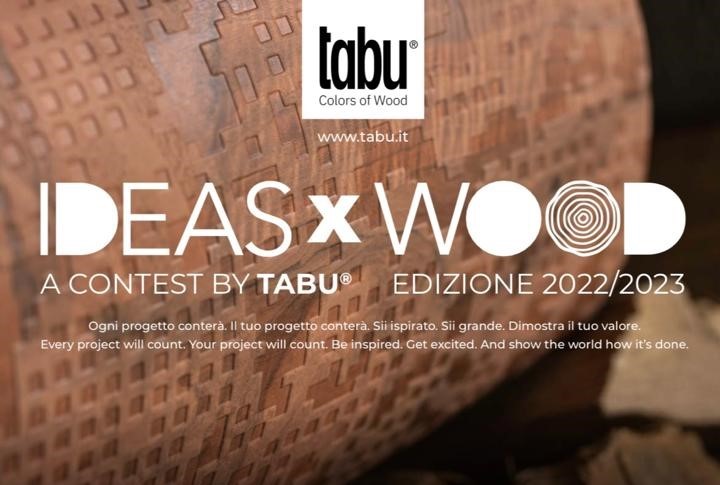 V Edition 2022/2023 of the IdeasXwood Contest by Tabu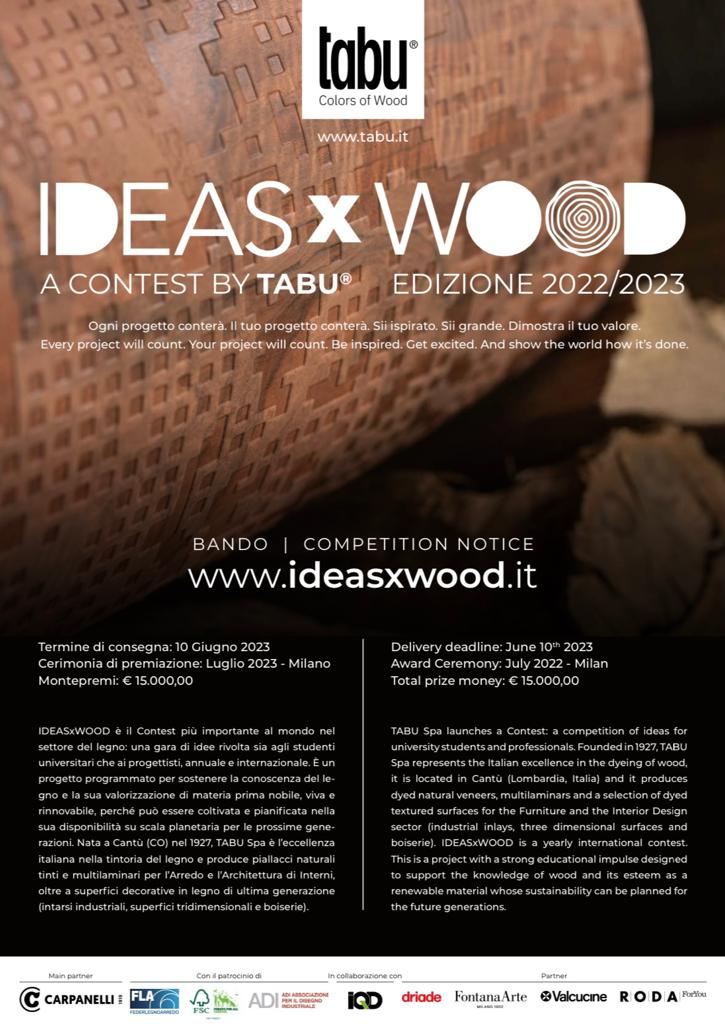 TABU has promoted since 2018 the annual international Contest IdeasXwood – a competition of ideas aimed at both university Students and designers regardless of age – which counts also this year on the media partnership of IQD and the presence of the competition in the competition promoted by the main partner Carpanelli, historic Brianza-based furniture company. The V edition is open: from 1 October 22 to 10 June 23.
IDEASXWOOD is the most important world contest in the wood sector and is sponsored by ADI, FederlegnoArredo and FSC® Italia. It focuses on the design of wood surfaces according to the following procedures : Tabu wood dyeing technology, multilaminar wood veneers, industrial inlays, three-dimensional surfaces and the state-of-art boiserie.
The jury is chaired by Architect Silvia Piardi and formed by: Roberta Busnelli (Editor); Italo Rota (Architect); Federico Galluzzi (Editor); Paolo Posarelli (Architect); Andrea Tagliabue (Tabu CEO); Francesca Losi (Tabu, IdeasXwood Contest Coordinator); Ambrogio Rossari (Entrepreneur); Diego Florian (Director of FSC® Italy); Elena Brusa Pasquè (Architect); Fernando Mosca (Architect); Francesco Scullica (Architect); Roberto Semprini (Architect); Luisa Bocchietto (Architect).
In order to take part in the contest, all the candidates, both university students and designers, have to immerse themselves in the dimension of the industrial wood processing by undergoing technical training, with the support of Tabu experts and by living the charming experience to touch with their hand dozens of wood species and hundreds of various wood veneers. Besides, they will have also to learn to recognize wood, have a close look at natural dyed veneer and multilaminar wood veneer and understand its processing.
Thanks to the Contest, every year thousands of students and young designers discover in wood an extraordinary, noble, living, renewable material. They find out about the existence and the importance of forest certifications such as FSC® guaranteeing that the wood processed by Tabu comes from responsibly managed forests ensuring respect for Nature and People living there. The winning projects become reality. They are produced, inserted into the collections and Tabu contributes to push them further for new professional paths:  such an opportunity is reserved also for the projects judged meritorious and interesting regardless of winning.
The call and any information on www.ideasxwood.it