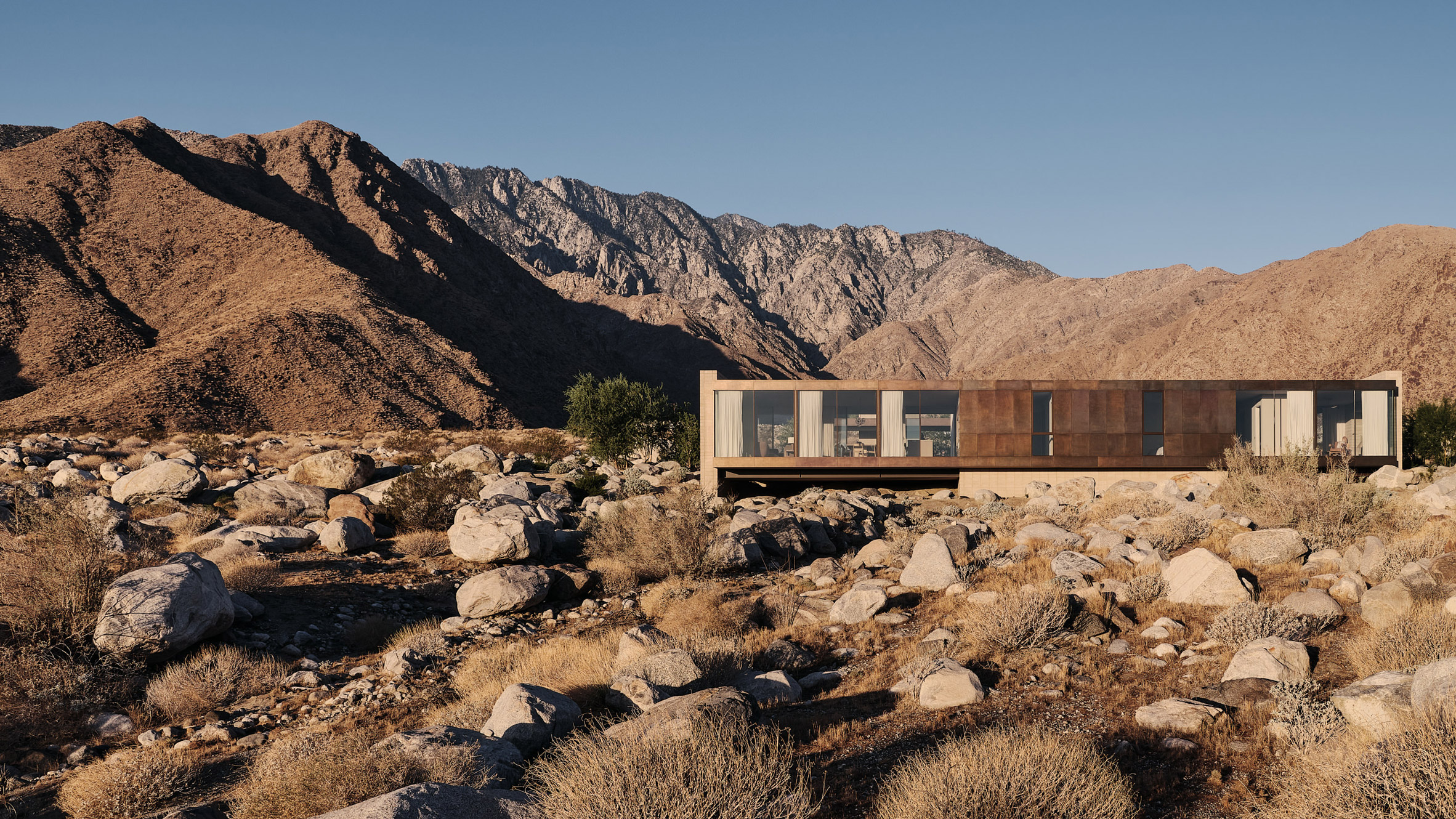 Desert Palisades / Woods + Dangaran
Architect:
Woods + Dangaran
Place:
Palm Springs, CA, United States
Photographer:
Joe Fletcher
The desert environment has inspired the architecture of the Desert Palisades single-family home designed by Woods + Dangaran and located in Palm Springs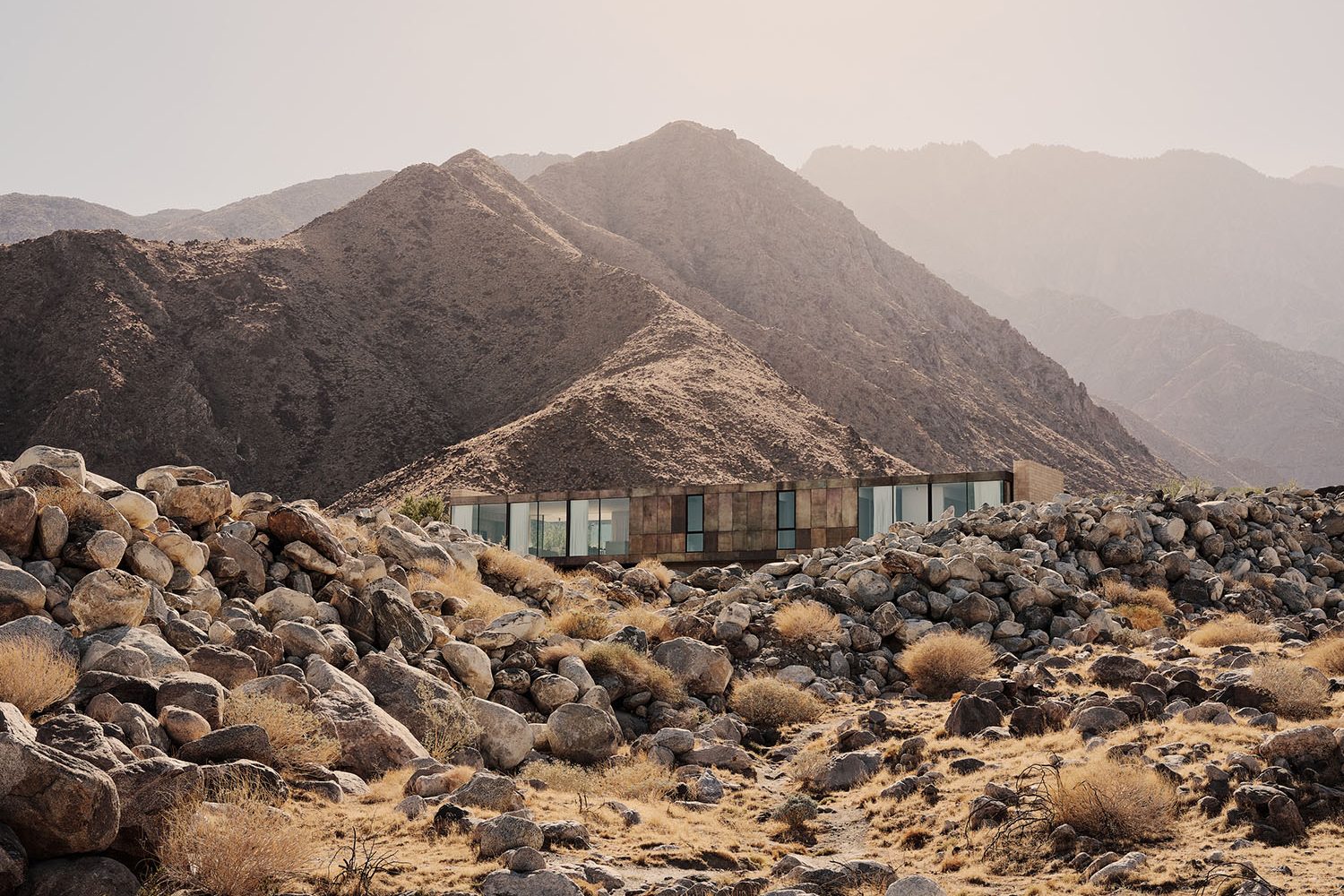 The desert environment and its specificity as a site was the primary consideration for the project both for architecture and interiors. For the interiors, it was particularly important to cultivate a feeling of comfort and coziness for the home was set against the rugged terrain of the Santa Rosa and San Jacinto mountains and the arid climate of the Palm Springs desert. Also, the client's vision for the home was very much antithetical to the typical tropes of mid-century modernist style that so defines the iconic Palm Spring aesthetic, and this informed the development of the palette and materiality.
Two natural arroyos running east to west on the site were identified and helped site the building. By spanning the arroyos, the natural terrain was not disturbed, and natural draining channels were kept in place. The orientation of the building and program is positioned on the site to take advantage of unobstructed view corridors up San Jacinto to the west, the painted mountains to the east and the valley floor to the south. Its simple, functional, and elegant composition consists of two wings joined by a glass bridge. The bridge defines two internal courtyards filled with native plantings.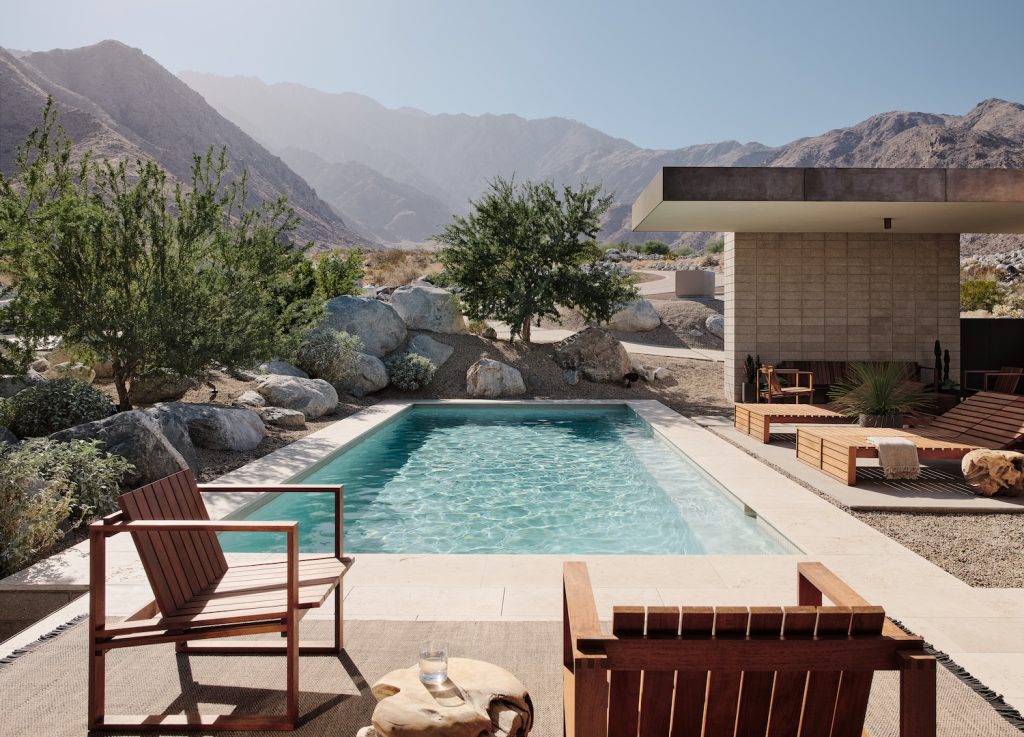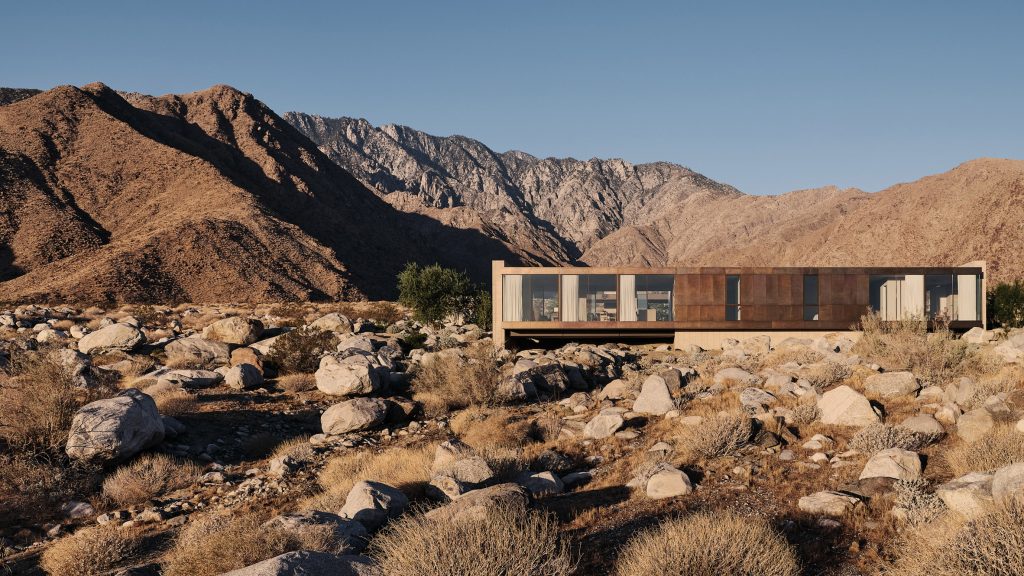 The small wing houses a guest room and garage, and the main pavilion contains the primary bedroom, two bedrooms, and a great room with floor-to-ceiling walls spanning 30 feet on both sides. Through large, sliding glass doors, the living area extends onto a spacious outdoor deck with a pool, dining area, spa, fireplace, and lounge. Interior hues are desert-like; sage greens and dusty pinks mix into sandy, brown tones to create a muted palette that blends in with the local terrain. A variety of wood furnishings throughout the home, such as the custom oak indoor dining table, walnut side tables, and teak outdoor dining table, replicate the range of shades found in the site's boulders.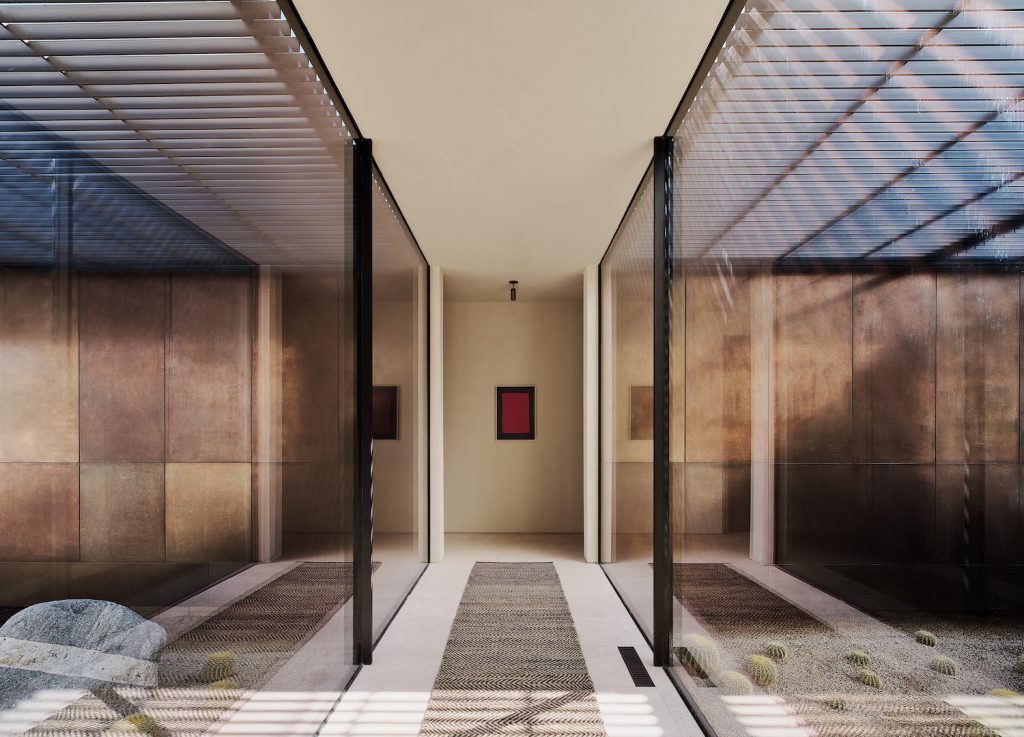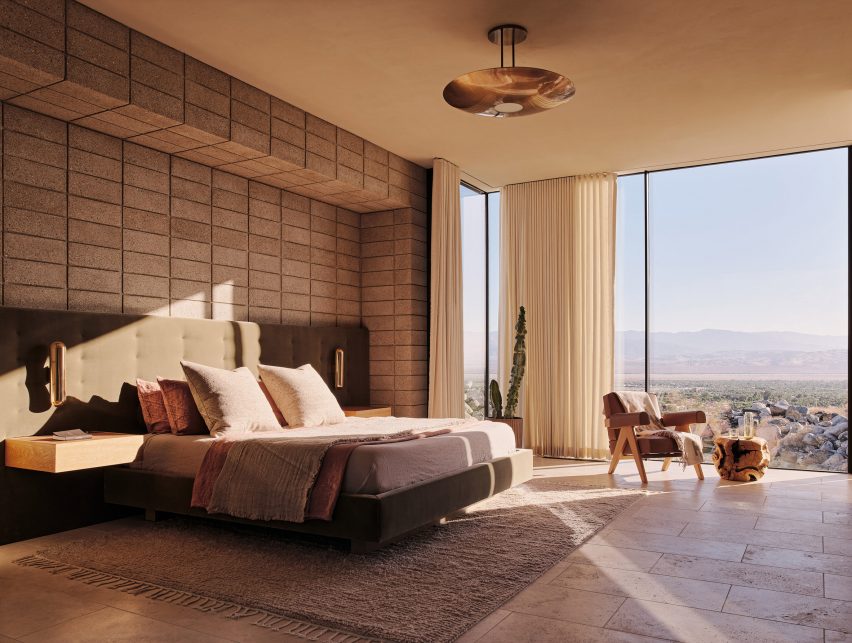 Strategically-placed floor-to-ceiling glazing frames stunning views of the desert in all directions. Exterior materials include earth-toned plaster and textured concrete masonry units that match the color of the sand and mountains. The main wing and its deep overhangs are clad in in brass paneling that will patina over time. Teak and travertine are precisely detailed and present throughout. "This is an anti-Palm Springs house. It's not overtly modernist, there's no bright blue pool, it's set on a hill and not on a plain. Even though it is completely different from the other houses in the area it remains extremely representative of it" architects Brett Woods and Joe Dangaran say.
Project: Desert Palisades
Architectural project: Woods + Dangaran
Lighting project: Woods + Dangaran
General Contractor: HJH Construction
Soils engineer: Landmark Consultants, Inc.
Structural engineer: Labib Funk + Associates
Civil engineer: Labib Funk + Associates
Fire sprinklers: AFP Systems, Inc.
Plumbing engineer: California Energy Designs, Inc.
Title 24: Solargy