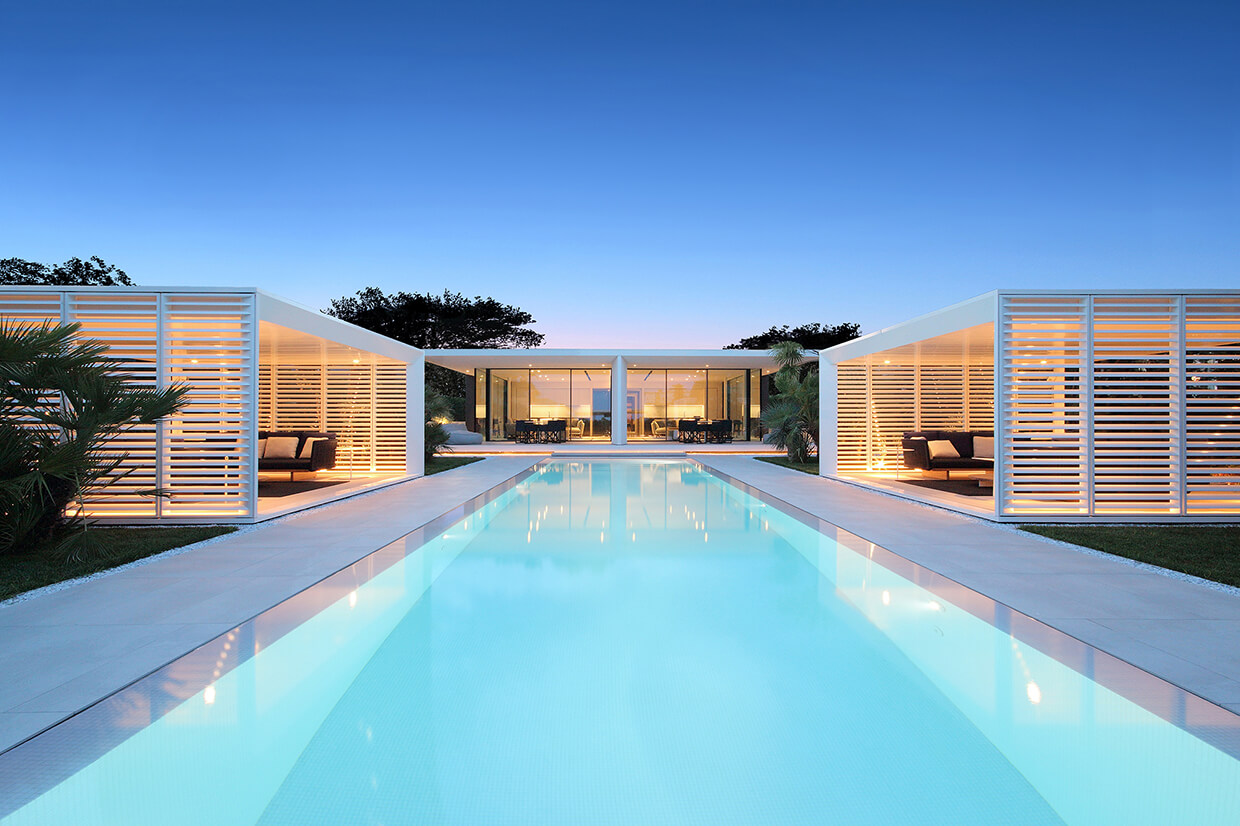 Jesolo Lido Beach Villa / JM Architecture / Casalgrandepadana
Architect:
JM Architecture
Place:
Lido di Jesolo, Italy
Photographer:
Jacopo Mascheroni
The charm of a villa overlooking the sea, where the transparency of the glazed walls harmoniously blends into the bright tones of the floorings, has taken shape in the new project by architect Jacopo Mascheroni of the Milan-based firm JM Architecture.
Thanks to its design strategies the Jesolo Lido Beach Villa, a 480 sqm house consisting of a two-unit pavilion above ground and a common basement level that receives abundant light from the sunken patios placed on both sides, ensures the two resident families their independence, while the chosen materials inspire well-being and provide maximum living comfort.
The internal and external floors are made with Punta Molara porcelain stoneware from the Pietre di Sardegna collection by Casalgrande Padana; a collection that combines high technical performance with the timeless beauty of the bright Sardinian stone, a material that symbolizes memory, capable of evoking images from the tradition and making us experience the well-being and the sense of belonging to a home.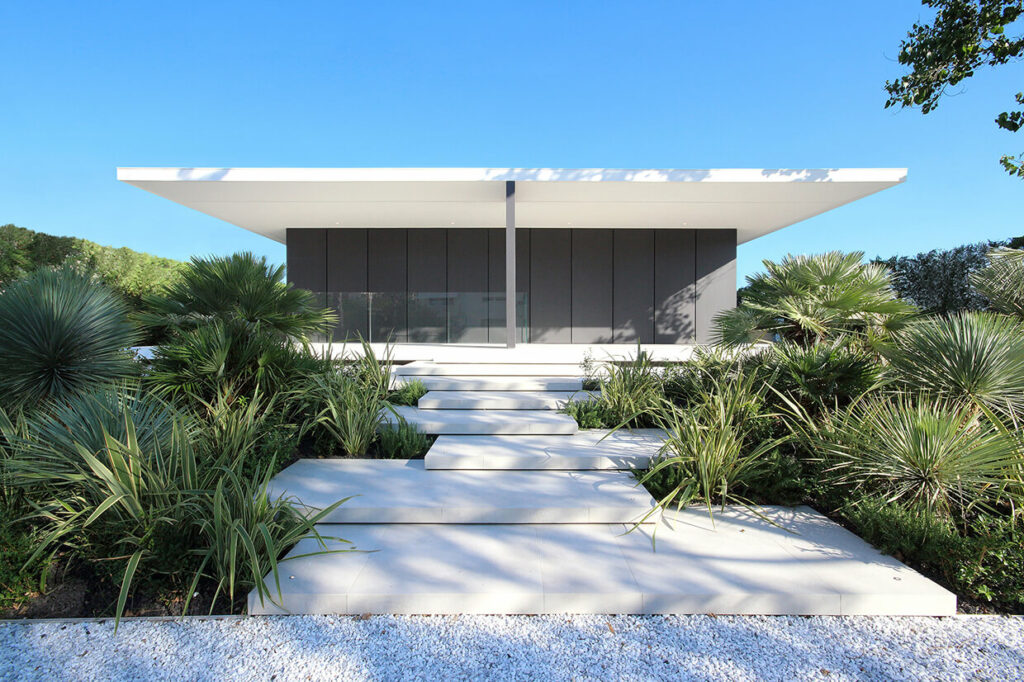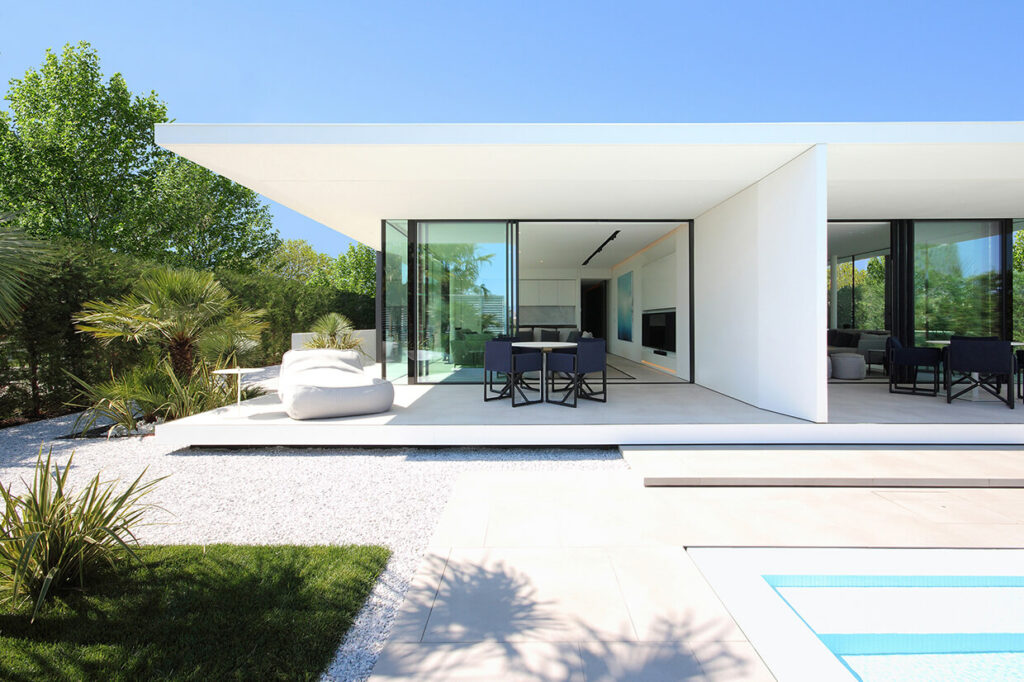 The narrow plot destined to a new villa in the seaside resort of Jesolo, overlooking the Adriatic Sea, allowed the construction of an 11 m wide building and for this reason architect Jacopo Mascheroni chose, as design strategy, to split the small space into two equal portions in order to give a beachfront living area to both units. The two apartments share the same symmetrical layout, with two bedrooms and two bathrooms, and are identically furnished.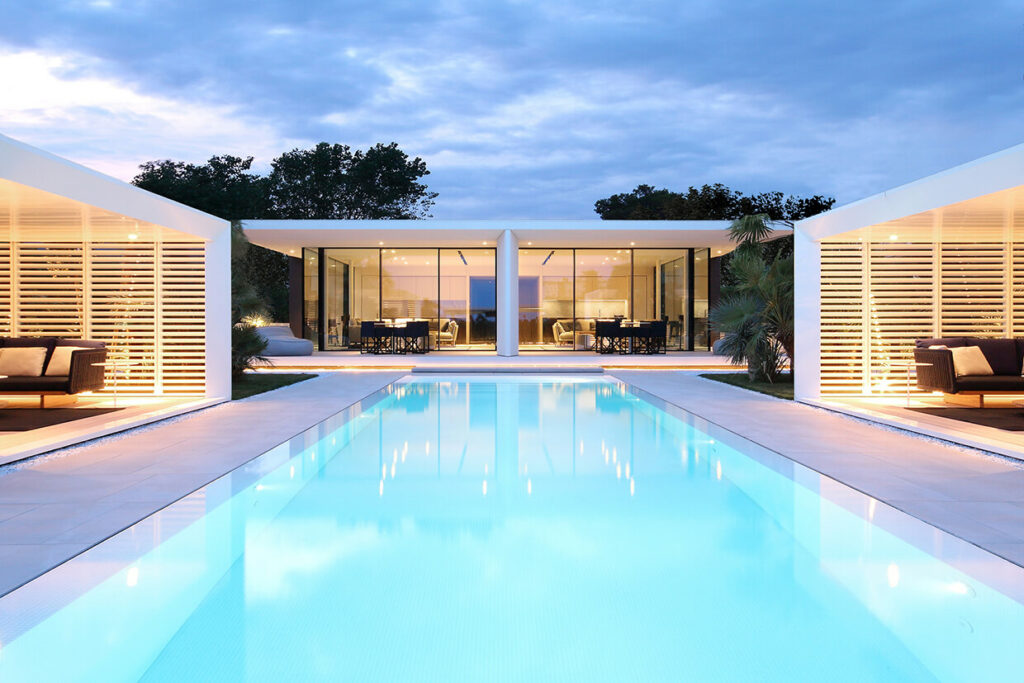 On the South portion, corresponding to the sea side, a 16 m long infinity pool was set along the central axis of the building and of the plot so as to represent a separating element of two identical designed cabanas, built in white painted aluminium. The pavilion-like structure above ground is organized around a central spine that reaches the South edge of the building and sits in between the two white rectangular platforms of the floor plate and the roof. To visually extend the size of both living areas, the façade is made up of full-height windows with sliding doors on the South side to connect the covered terrace with the indoor area.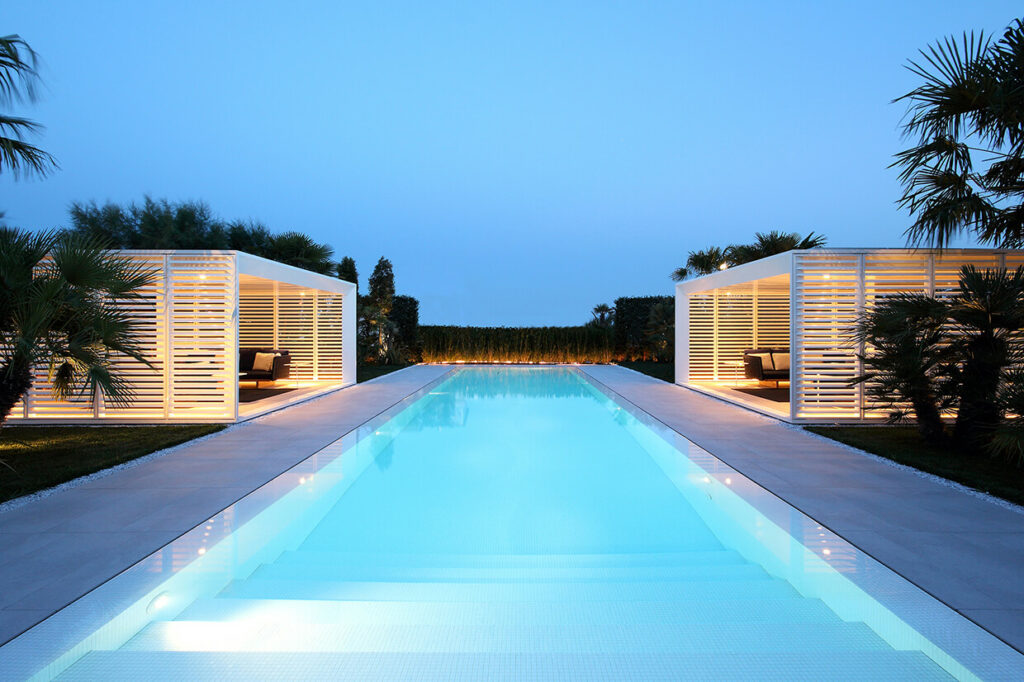 A large portion of the building envelope is clad with full-height stoneware tiles on a ventilated façade to provide the necessary privacy to the sleeping area. The entirely opaque North façade provides an acoustic barrier from the entry courtyard and the street. The basement level houses a wellness area, an additional kitchen, a laundry room and guest areas. The two large underground patios on both sides of the building, clad with white glass mosaic to reflect as much natural light as possible, offer private outdoor areas to all the environments below.