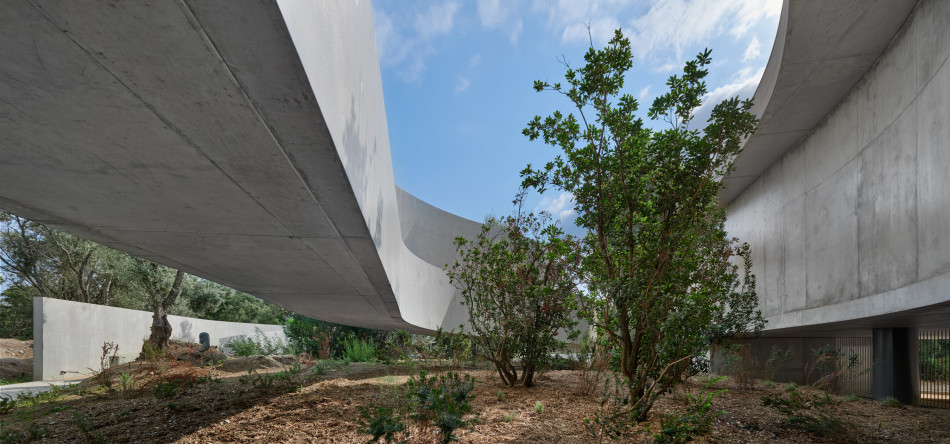 Animu Media Library / Dominique Coulon associés in collaboration with Amelia Tavella Architectes
Architect:
Dominique Coulon associés in collaboration with Amelia Tavella Architectes
Place:
Porto Vecchio, Corsica
Photographer:
Eugeni Pons
The proposed site was occupied by not only a number of beautiful oak and olive trees, but also some magnificent rocks. This made it a wonderful site, placing additional responsibility on the architect.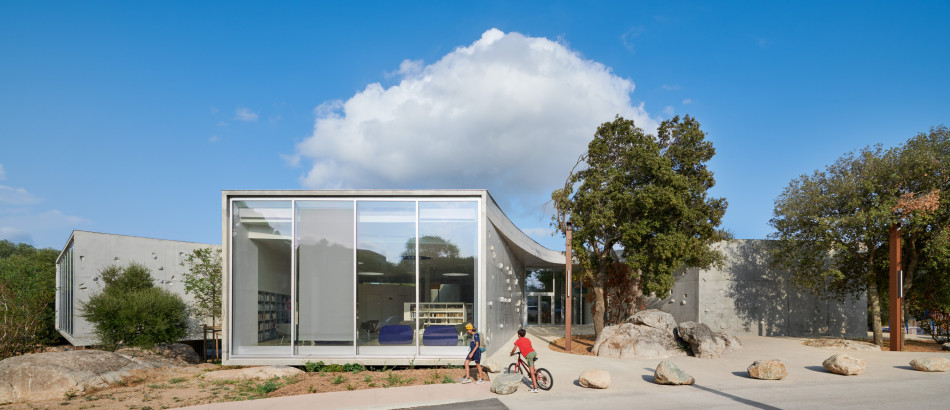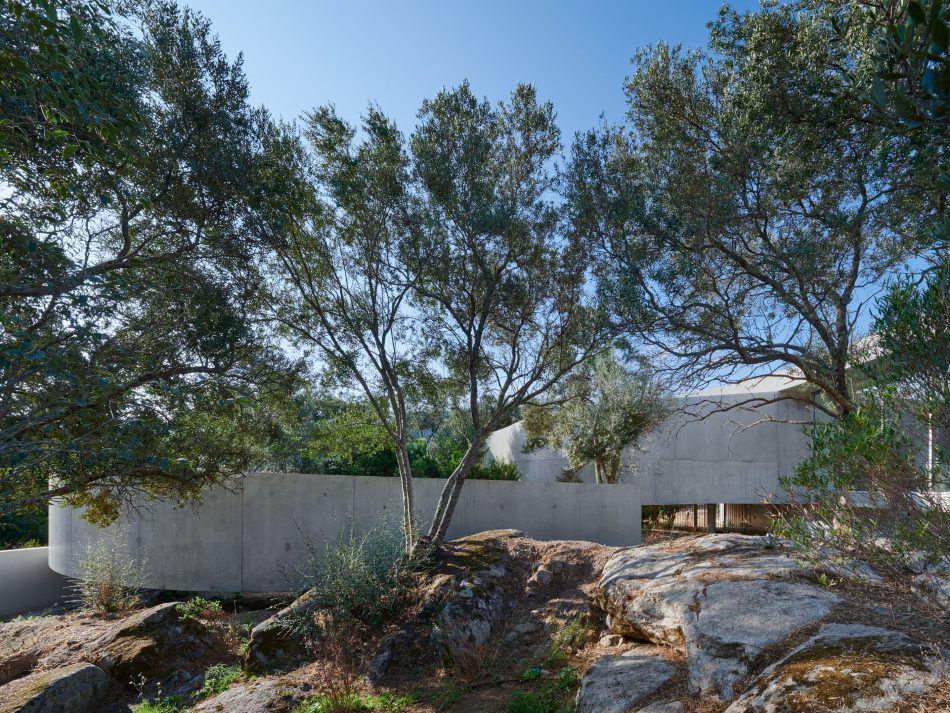 The principle of the project consists of preserving the landscape. A precise survey was drawn up of every tree and every rock. The shape of the building is deduced from these characteristic elements, which we were anxious to preserve. The building appears to float above the landscape, with as little impact on it as possible. In accordance with this avoidance strategy, its curves are designed to circumvent the trees and rocks. The building functions as the opposite of a presentation box, embracing the landscape the better to protect it.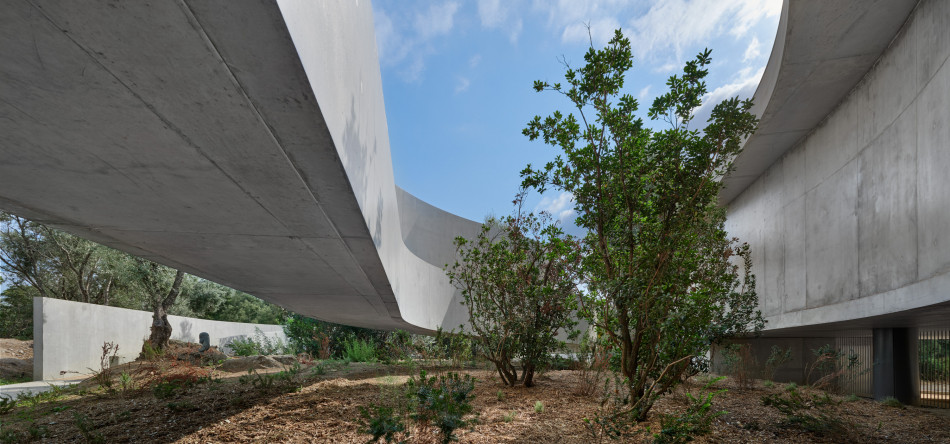 A ramp leads users towards their special garden, thought out as a place for reading in the open air, while a summer bar slips into the space beneath the building to provide a shaded terrace. The underside of the building is designed as an area in its own right – a space facing the garden.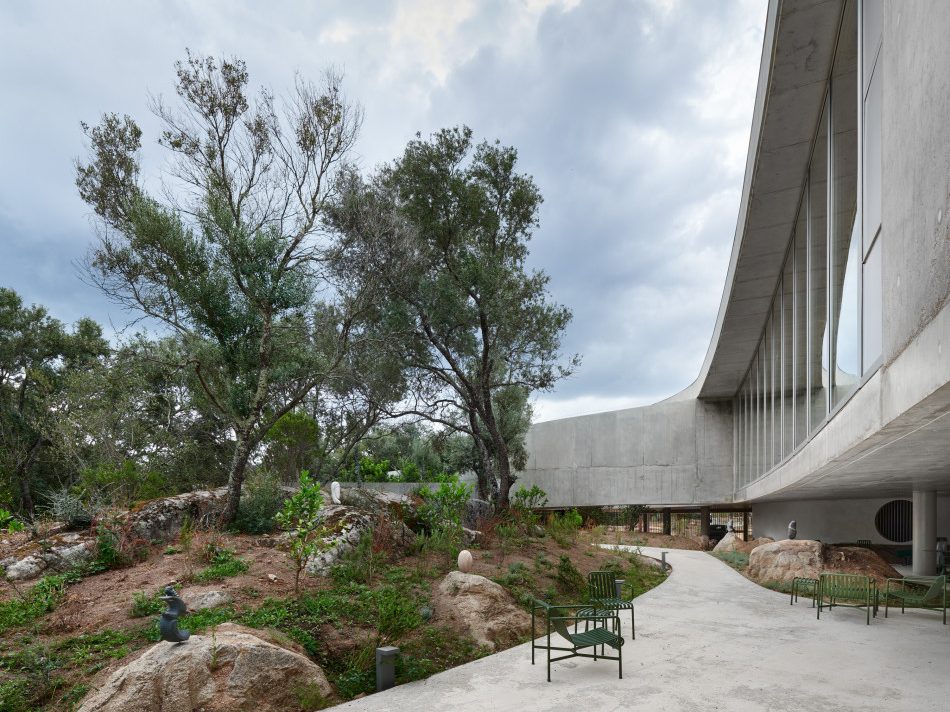 In the interior, the main feature is the fluidity of the space. There is abundant natural light, and the bays offer a choice of panoramic views. It is the elements of the site that produce the plasticity of this project, echoing the landscape by revealing its beauty.

Authorised representative: Dominique Coulon & associés
Associate architect: Amelia Tavella Architectes
Design: Dominique Coulon, Ali Ozku
Preliminary design work: Ali Ozku, Hannes Libis, Hugo Maurice
Site supervision: for Amelia Tavella Architectes: Anaïs Natali, Margot Van Gaver for Dominique Coulon & associés: Ali Ozku, Hannes Libis
Technical design – Structure: SB Ingénierie
Structural consultant: Batiserf Ingénierie
Technical design – Electricity: BET G. Jost
Technical design – Fluids: G2i
Economist: Beaumeco
Acoustical engineer: Ingemansson France
Roads and services: Lollier ingénierie
Landscape designer: Bruno Kubler
Contractors: Excavation/roads and services (Petroni), carcass/screed/external stone facing (Perez), sealing (Isola 2A), exterior joinery (ATS), interior joinery/furnishings (Menetrey), floor covering/faience (Santunione), high-/low-voltage electricity (Santini), heating/cooling/ventilation/plumbing/sanitary facilities (Climatec), landscaping (Corse Paysage), metalwork (Metalco).