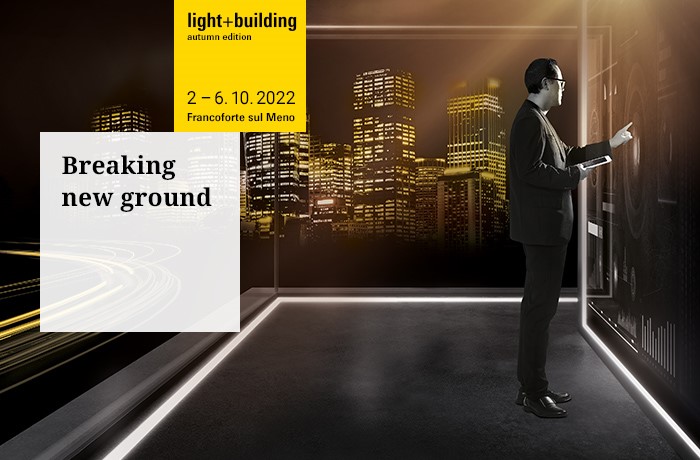 Top Themes of the autumn edition of Light+Building 2022
Light+Building Autumn Edition will be held in Frankfurt am Main from 2 to 6 October 2022. The focus will be on intelligent and connected solutions, forward-looking technologies and current design trends. For the first time, the international meeting place also brings all participants together digitally. The digital platform Light+Building Contractor will offer exhibitors the opportunity to present themselves online before, after or during the in-person event, thus extending the trade fair stand into the virtual world.
TOP THEMES
Green Deal & Sustainability. Electrification & Digitalisation. Light & Design. These categories describe the topics that are currently in focus for the Light + Building sectors.
What happens when a resident parks in front of their house? Depending on the time of day, the lighting in and around the house is switched on, the e-car is charged, the house door opens via face recognition and selected music goes on in the living room. For buildings and towns, digitalisation offers a completely new spectrum of possibilities limited only by the bounds of imagination. To this end, however, all electronic components must be linked digitally with each other and communicate via a common language. The possibilities opened up by dynamic digitalisation are closely bound up with energy saving and the efficient use of resources. In this case, the buzz word is sustainability.
Green Deal & Sustainability
The top theme "Green Deal & Sustainability" focuses on systems, that contribute to sustainably increasing the energy efficiency of buildings and cities. The basis for this is the optimal use of built-up areas, a broad collection and evaluation of data and resource cycles that are as closed as possible. This includes ecological and recycled building materials, the use of renewable energies and automated building technology.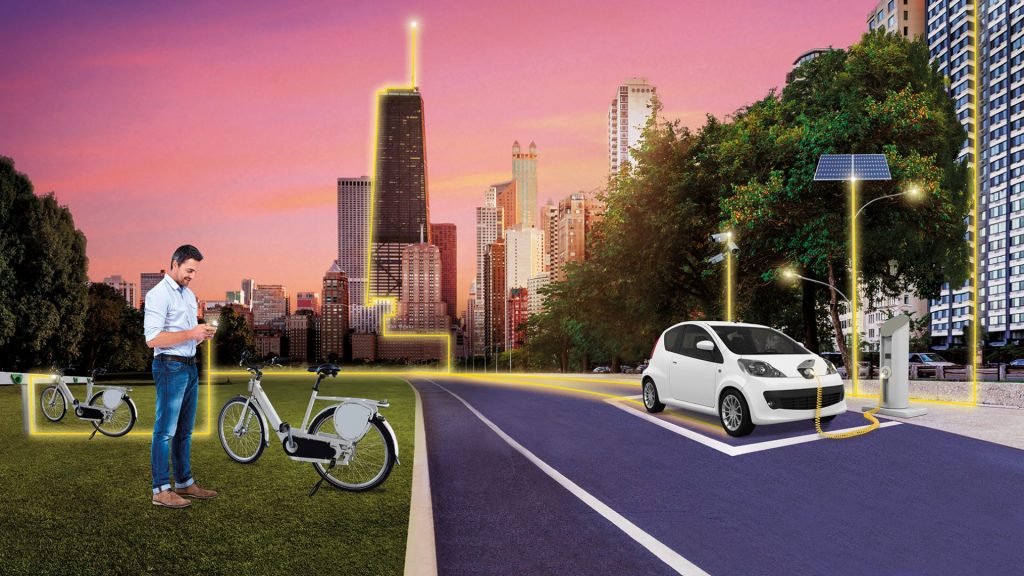 Energy + Efficiency: Light is essential for carrying out a variety of tasks and plays an important role in a person's feeling of wellbeing. Accordingly, LED lighting is extremely important in smart homes and buildings. Great efficiency and a long service life save electricity and maintenance costs. In combination with intelligently linked operations employing sensors and actuators, LEDs offer a great potential for saving energy and cutting the CO2 footprint.
Charging Management + E-Infrastructure: Whether on private land, in the underground carpark or in an office building, charging stations for e-cars are set to play a major role in the private sphere in the future. The long periods spent at work or at home represent ideal circumstances for charging e-cars. The integration of charging points into the electrical infrastructure of a building offers additional benefits. Depending on the time of day and demand, it is possible to regulate the electricity used. Moreover, it is possible to avoid overloading the infrastructure by combining it with an intelligent electricity network (smart grid) offering regenerative energy economically and around the clock.
Smart Building + Grids: People spend a lot of time in buildings – whether living in houses or working in functional buildings. The trend towards urbanisation means that builders have to make optimal use of space. As a result, the size, height and complexity of buildings are increasing. A broad collection of data and its evaluation can help to improve safety, energy efficiency and environmental compatibility in the building and thus in the city. Another important role is played by the economic use of wind and sun as renewable energies (smart grids) in combination with intelligent networking in buildings.
Electrification & Digitalisation
"Electrification & Digitalisation" focuses on efficient planning, optimal energy use and comfort in buildings.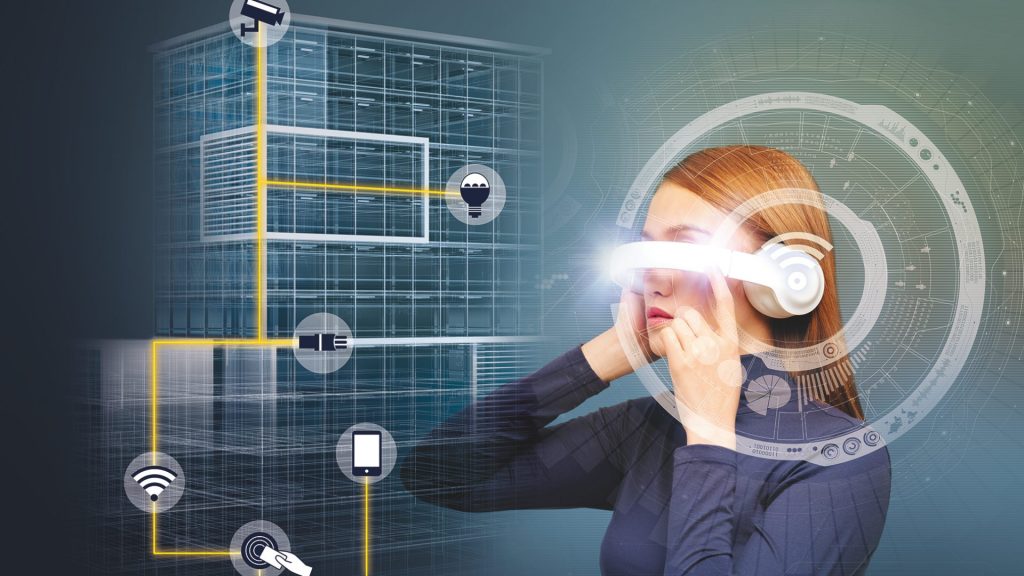 Digital Planning + Building: Numerous different disciplines are involved in the planning, construction and operation of a building. As with a good orchestra, all parts should interact perfectly and access the necessary data. In this connection, the 'digital twin' of the building helps in the form of the IT-aided data interface, Building Information Modelling (BIM). The use of BIM leads to shorter planning and construction times, more efficient work processes and fewer errors.
Connectivity + Security: In intelligent buildings, the prioritisation of automatically interconnected functions and operations is an integral part of the electronic safety and security technology. The basis for this is the interoperability of different building-automation systems and components.
Analyse + Predictive Maintenance: Whether in the health, automobile or heating fields, regular monitoring promises the early detection of defects or likely malfunctions. In the lighting and building-services sector, new technologies make it possible to connect components with each other and to collect data continuously. This permits servicing requirements to be predicted in advance. In this connection, regular monitoring helps estimate when, for example, the lighting system should be optimised
Light & Design
"Light & Design" focuses on light. Both the quality and the design of lighting play an important role in room and building planning. The topic of sustainability is evident in the use of natural materials and colours as well as the recycling of resources. In addition, light as part of the building architecture has an influence on well-being, performance and safety. In the UVC range, the disinfection of air and surfaces is possible.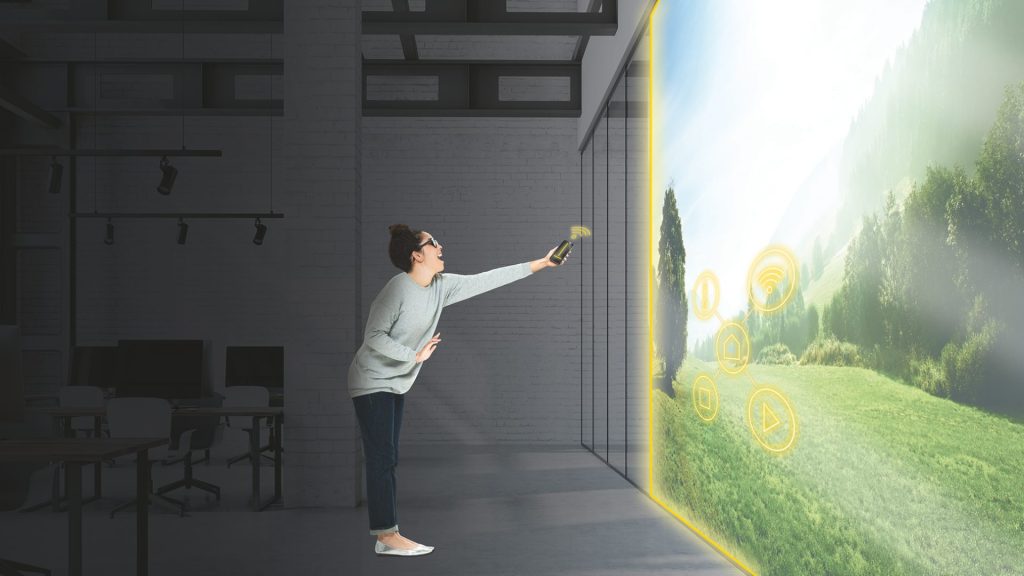 Trend + Design: An office at home becomes a wellness zone, a waiting room becomes a prestigious lounge. Which trends play a role in the lighting sector? And how do new habits and needs affect design?
Health + Light: Light makes things visible. However, it achieves so much more: it influences our feeling of wellbeing, health and performance. 'Human Centric Lighting' technology (HCL) revolves around the targeted and long-term impact of light on humans. In addition to the visual quality of the light, modern lighting systems can adjust the colour temperature in accordance with the time of day thus permitting the optimum light for a variety of situations – no matter whether at home or at work.
Light + Security: More light, fewer accidents: This applies to working conditions in buildings and production facilities as well as to road traffic. In addition, an optimal lighting situation can help to protect against crime.