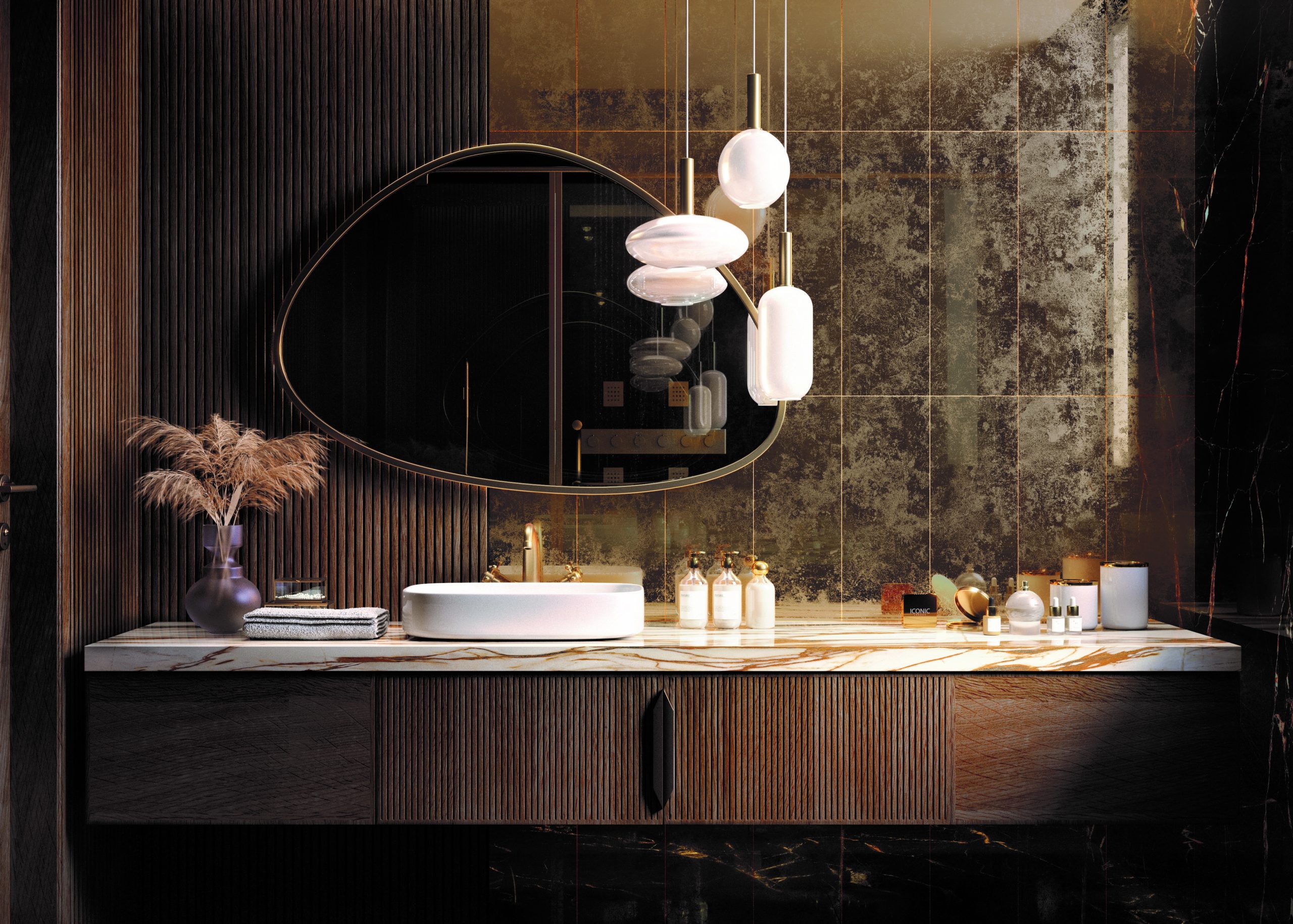 Mirage at Cersaie 2022
Mirage is taking part in the 2022 edition of Cersaie presenting six new collections for indoor and outdoor floors and wall coverings and two designs which are the fruit of an ongoing collaboration with the architect Andrea Boschetti
The Modena-based company Mirage, which for almost fifty years has been enriching the world of ceramics with technological and aesthetic innovations, presents its collections and new furnishing products for the interior design at Cersaie, the International Exhibition of Ceramic Tiles and Bathroom Furnishings, in Bologna from 26 to 30 September, in a space inspired by the Italian House; a house where, as Gio Ponti wrote in 1928, there is a little distinction between exterior and interior architecture: elsewhere there is even a separation of forms and materials. In Italy the exterior architecture enters the interior and it doesn't neglect to use stone, plaster or frescoes; in the vestibules and galleries, in the rooms and in the stairways, with arches, niches, vaults and columns, it regulates and arranges the environments for our life in spacious measures. Inside a fluid, permeable, welcoming space, which recalls the domestic dimension of rooms neatly distributed around a large central patio Mirage presents six new collections and two projects that are the result of the collaboration with the architect Andrea Boschetti.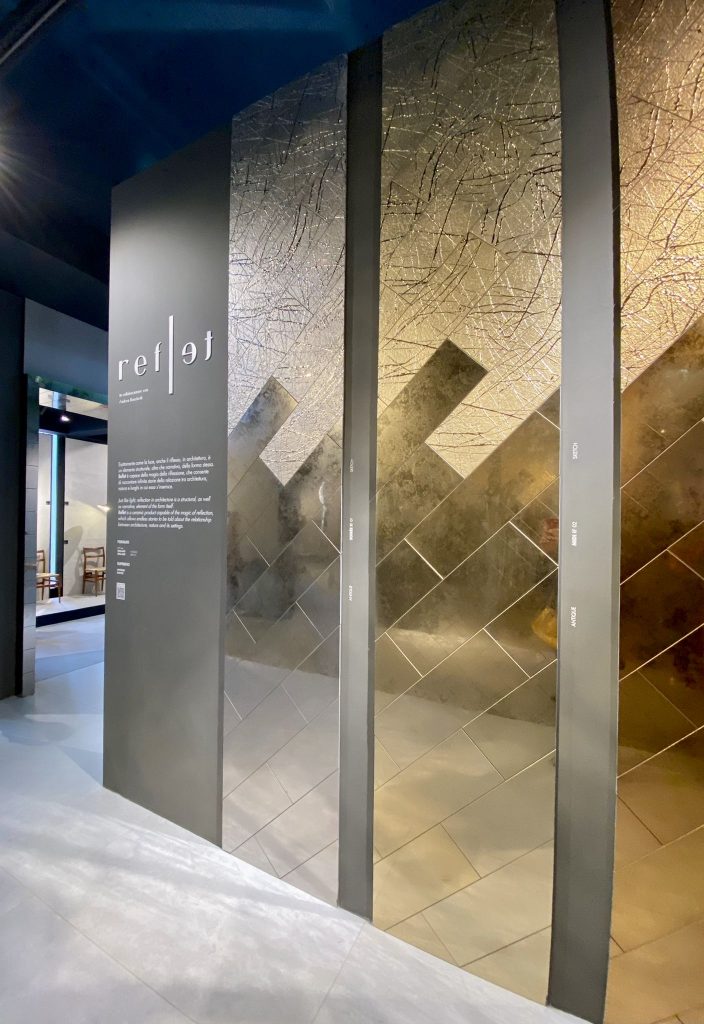 VICEVERSA Concrete Solutions
Viceversa is Mirage's interpretation of poured concrete, enriched by graphics that faithfully reproduce flakes and clasts that characterize the granulometry of the classic mixture of sand and lime cast by hand by expert craftsmen. The result is a versatile aesthetic effect, useable in modern and minimal environments, but also elegant or sophisticated contexts, combined with other materials such as marble or metals.
The collection is offered with a light pattern in 8 delicate colours, with soft tones and a wide range of formats, from 300×600 to the 1200×12780 slab in 6 mm thickness. A touch of colour is given by the terrace- effect proposal, a decorative element perfectly combinable with all the colours in the collection.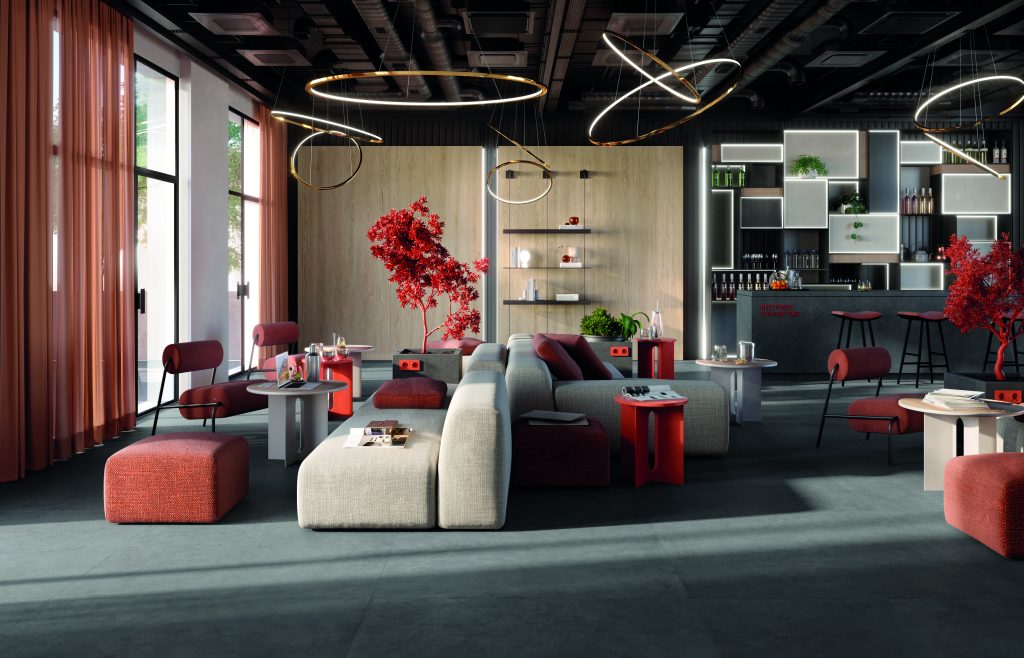 NYUMA Mirage's interpretation of concrete in its rawest version.
Nyuma reinterprets the composition of classic exposed concrete casting, inspired by formwork aesthetics, with
chiaroscuro and movements, without exaggerating its defects. Nyuma comes in three shades of grey and 7 sizes, from 300×600 to 1200×1200, 9 mm thick, as well as the large slab 1200×2780, 6 mm thick.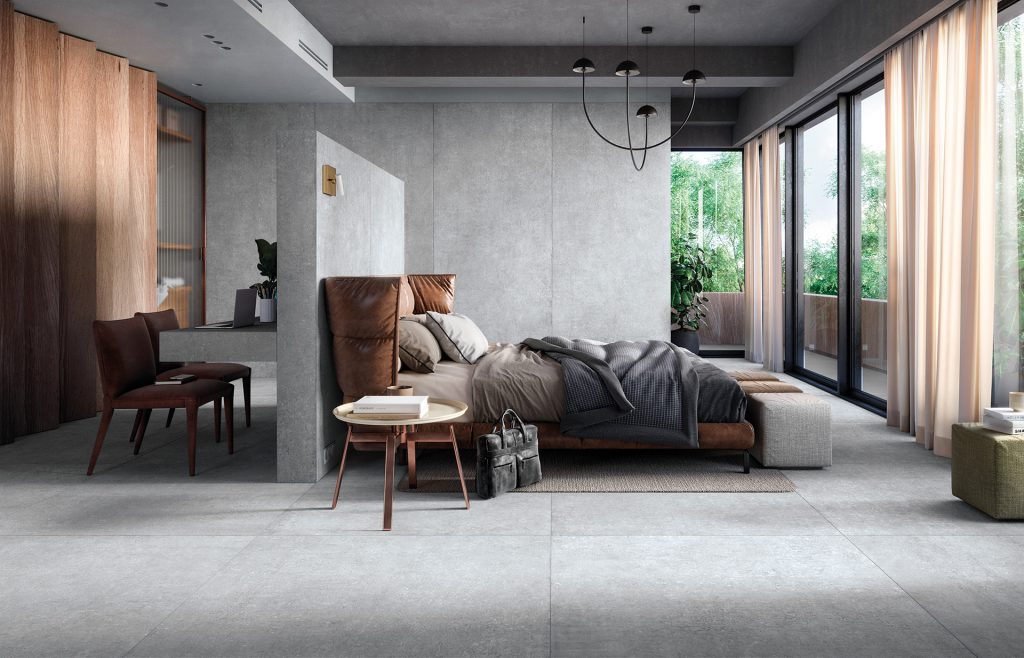 OUDH Scent of Wood
Known also as the wood of the Gods, Oud or Agarwood, it is the plant from which oriental "liquid gold" is obtained, known since the dawn of time for its wonderful fragrance, making it one of the most precious materials in perfumery. The Oudh collection, as its name suggests, is perfectly aligned with the Biophilic Design trend, which embraces the need to reconnect with nature in home and work environments thanks to the use of materials with tactile textures and warm and natural colours.
The delicate and elegantly classic graphics, perfectly balanced in the contrasts and in the presence of knots, creates soft and timeless textures, distinguished by natural colours. It's a collection in line with a rediscovered harmony with nature, suitable for more sustainable environments and lifestyles that dialogue between indoors and outdoors.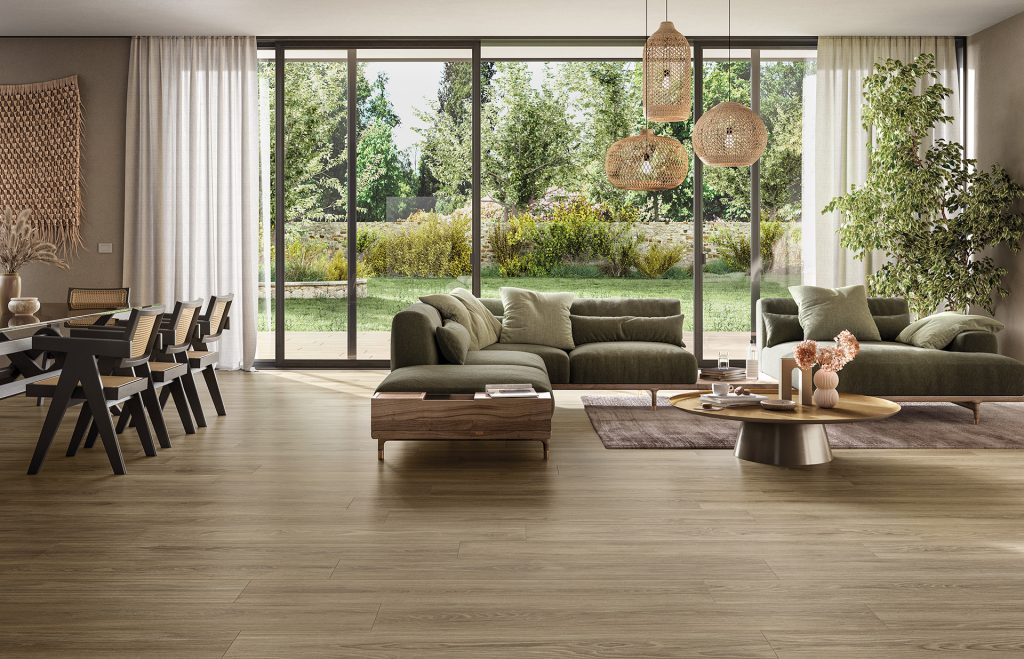 MÔTLEY
The collection arises out of a mix of classic slates obtained by splitting, characterized by light veins and soft nuances,
with sediment stones with a fine bottom grain and clearer chromatic passages: different substances create a new stone,
unique in its appearance and eclectic in its use.
The graphics are perfectly blended with the cracks and the light surface layers, thanks to the ultra-matt material applications, giving rise to a non-invasive aesthetic, associated with a more characteristic surface. The collection is available in 7 colours, which range from the light and warm tones of Mediterranean stones to dark greys more in line with the colours of Alpine slates.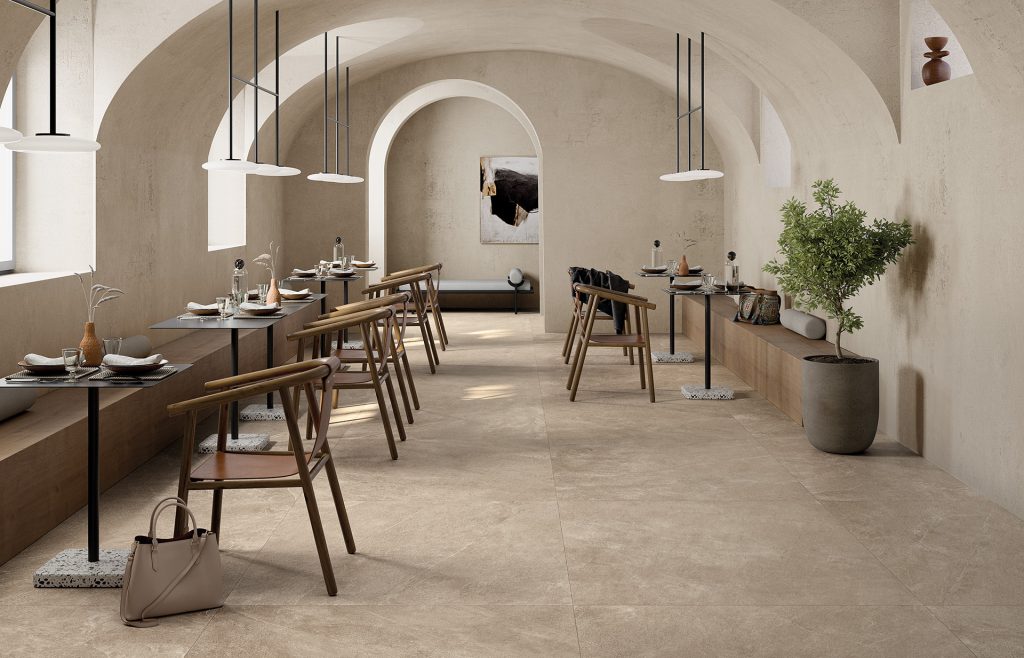 PAPIER New perspectives on wall decoration
The Papier proposals combine a sequence of floral and vegetable subjects with a contemporary accent in a veritable Botanic Style. Papier covers indoor, but also outdoor, walls with spectacular intensity. The juxtaposition of the slabs gives life to almost pictorial scenes which stimulate the imagination. 16 colours, each combinable with 3 or 4 available graphics.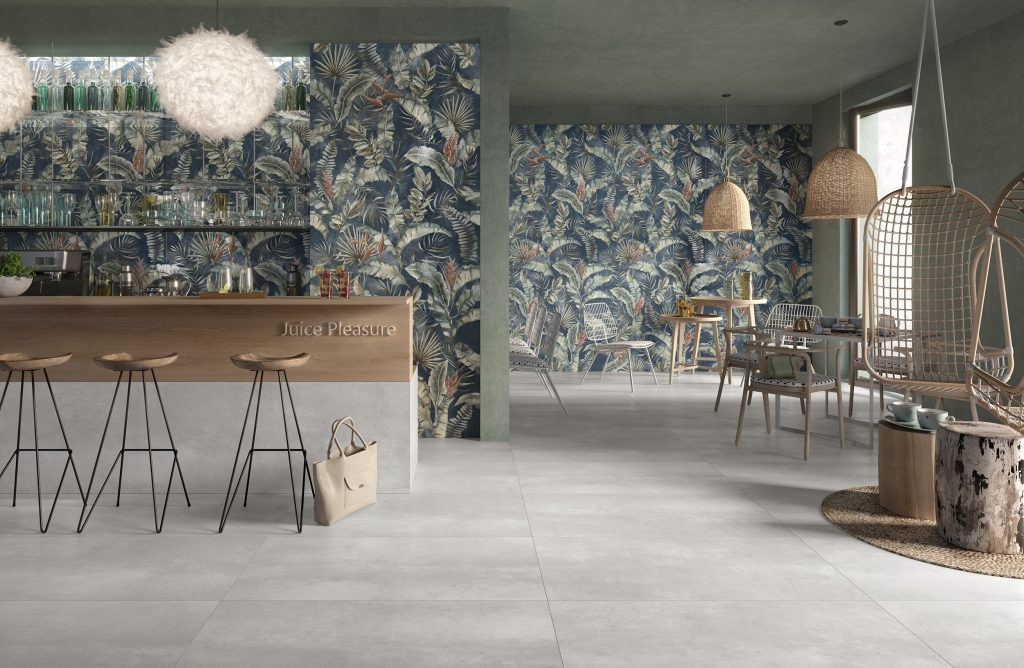 MAND a project of structures for porcelain stoneware coverings, suitable for indoor and outdoor application.
The name comes from a play on the words "hand" and "made": Mand takes inspiration from the world of handmade objects, in which irregularities and imperfections mark the passing of time and the hand of man, making these objects unique, with which to experiment freely: laid staggered or straight, horizontal or vertical, mixed with other materials, enhanced and facilitated by the 450×300 format.
The different structures characterise and clothe environments according to the refractions of light and in relation to the
laying, conferring multiple connotations, lending a strong sense of materiality. Mand is made in 4 structures, each available in 3 neutral colours; a palette which ranges from warm white to terracotta to light grey, in order to enhance the structures to the full, for a concept of simplicity which permits a very broad range of applications.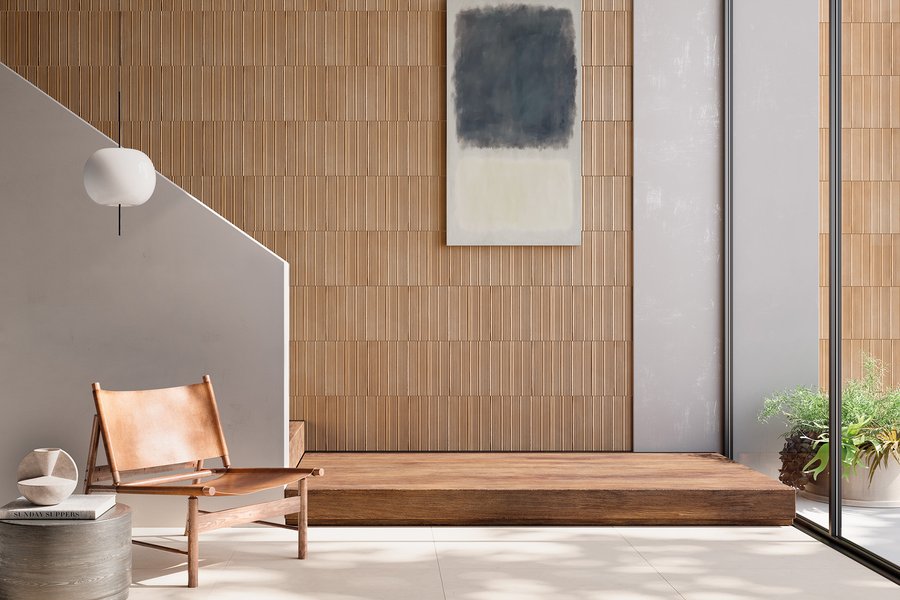 LINE & ARROW ELYSIAN / JOLIE collections
Line & Arrow is Mirage's new decorative proposal, an upgrade of the Elysian and Jolie collections. Line & Arrow are high-profile decorative elements made with 4deep, the new Mirage technology able to give rise to a perfect synergy between the material, that of the two collections, and "in depth" applications (with the "Line" or "Arrow" decoration), thereby obtaining a decorative effect of striking depth.
This journey of research demonstrates Mirage's willingness to go further and take collections to a new level, with regards not only to form and colour, but also to touch. As of today, the solution is applicable to a selection of slabs with a thickness of 6 mm and a format of 1200x2780mm, available in four different colours.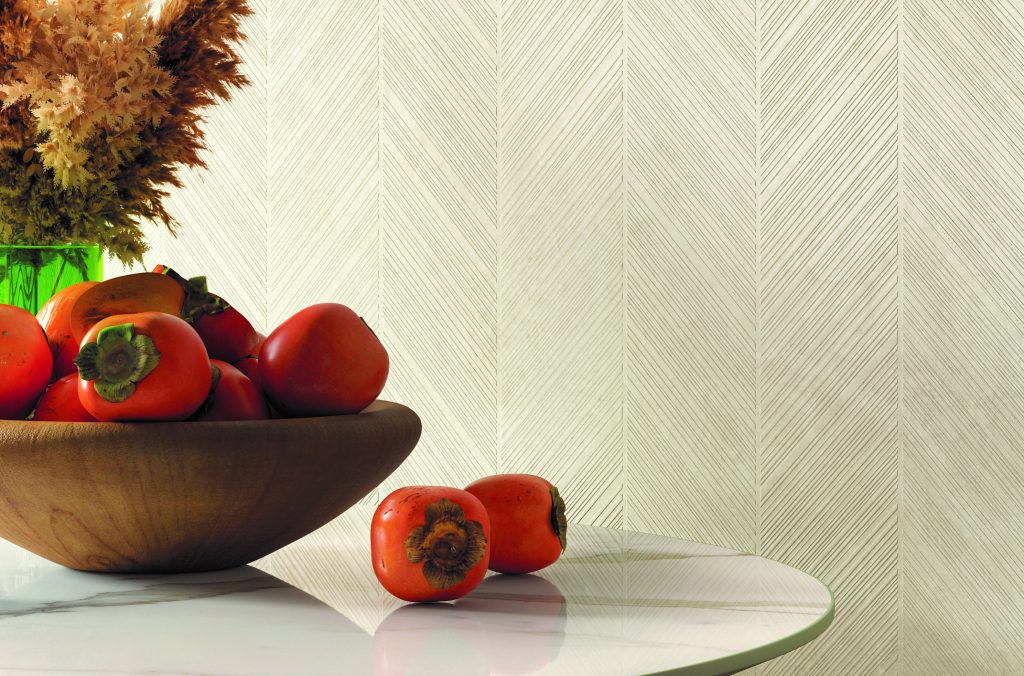 REFLET with the collaboration of Andrea Boschetti
Reflet is the fruit of two years of research carried out by Mirage together with the architect Andrea Boschetti. The new ceramic collection, previewed for the first time at Cersaie 2022, represents in all respects a technical innovation. The technology developed, in fact, generates a reflecting material for architecture, resistant to all atmospheric agents and therefore applicable outdoors (facades). An innovative material in three different shades, making it possible to express infinite aspects of the relationship between architecture, nature and places in which it is located.
The collection, available in the 200x600mm format and in the Antique (antiqued mirror effect) and Sketch (matt-effect with bright finishes and accents) finishes, is an element for architecture whose depth of meaning and beauty depend exclusively on those who decide how to apply such a relationship. The slabs represent new practical, flexible, customizable and durable elements that offer infinite possibilities for creating two-way poetic dialogues with nature and with places.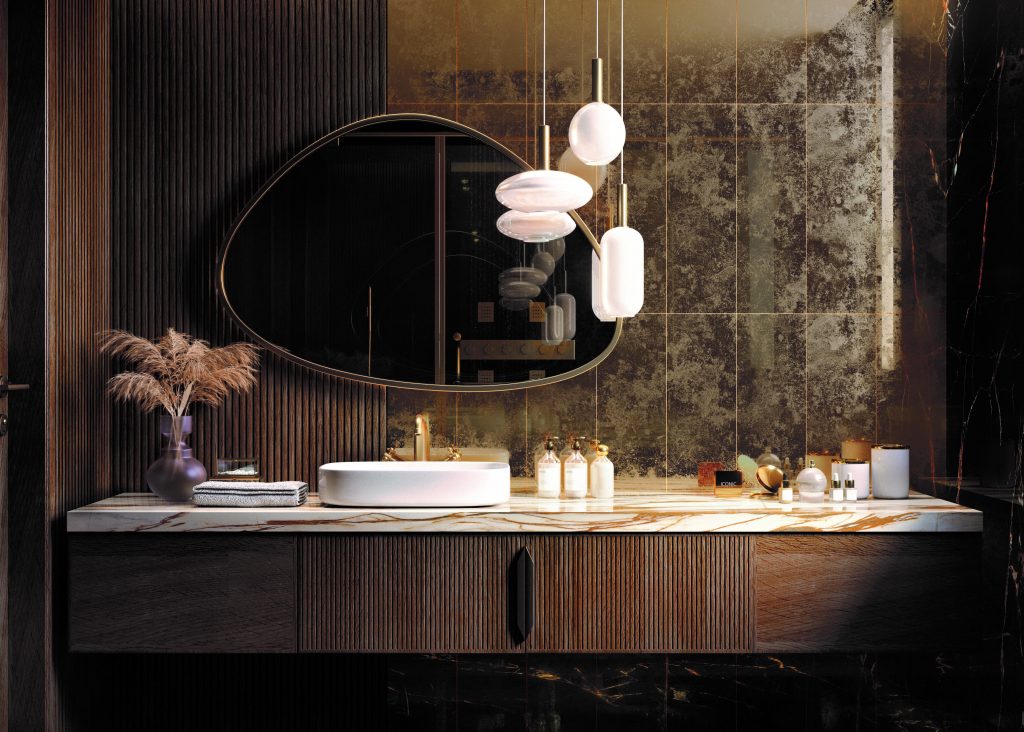 EPICARC by Andrea Boschetti with the collaboration of Ana Lazovic
The EPICARC series of tables created for Mirage by Andrea Boschetti in collaboration with Ana Lazovic, presented at Fuorisalone22 in Milan, and appearing at the Bologna trade fair stand, is effectively a challenge, in terms of research and innovation, launched by Mirage towards the future. Starting from the development of two generative conceptual scenarios and paths, ARC – arch – referring to the history of the arch type and its potential structural variations; and EPIC – epicentre – referring to the geometry of shapes and the respective points within which balance and stability originate, the collection transforms the role of ceramics as a decorative element into a constitutive structure of the object, reinterpreting it in pure design.
EPIC and ARC have been conceived with a dry modularity, with mainly interlocking modules, each disposable according to its intrinsic characteristics. It's a challenge certainly alluding to the universe of the "total look" concept for contemporary interior design, ever more customizable, able to stand out for its character and exclusivity, with a new way of thinking.