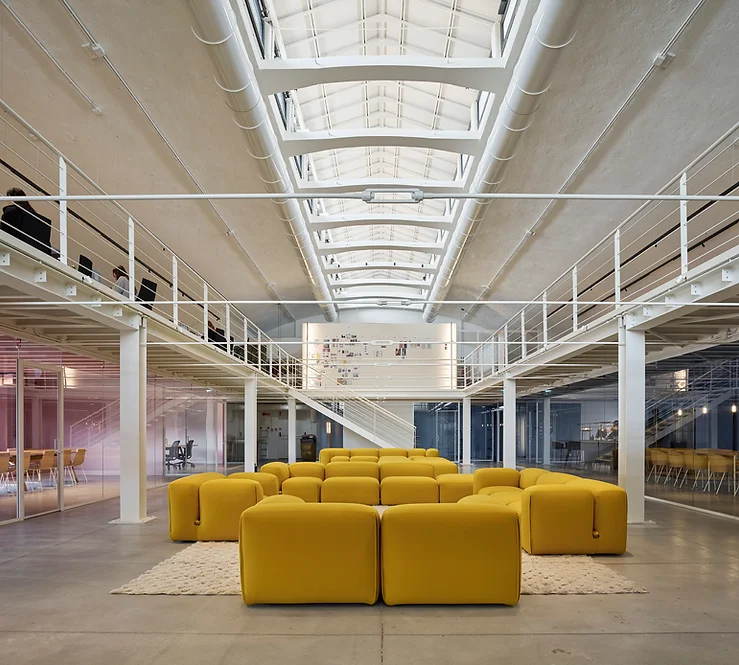 cc-tapis Milan Headquarter / Qu
Light can change people's perception of colour, space and mood. Good lighting in a workspace, resulting from the combination of position and quality of the light source and light fixtures and the perfect integration between natural and artificial light, can positively influence well-being and efficiency of the people and the building. Achieving maximum visual comfort was the purpose of the design of the new Milanese headquarters of cc-tapis, renowned manufacturer of hand-knotted contemporary rugs.
The purpose has been achieved by firm Parisotto + Formenton Architetti – which designed the headquarters with the support of the company's art director – thanks to the collaboration, for the lighting design, with Qu, a company founded as a spin-off of Quick, world leader in the production of nautical accessories, and today the ideal partner for architects, lighting designers and planners with its vast range of both standard and custom-made lighting fixtures which are technologically advanced and aesthetically refined.
The spaces of the new headquarters, located inside an industrial building, are characterized by imposing volumes and by the presence of a skylight which conveys zenithal light both to the main floor, dedicated for office use, and to the mezzanine floor. For each of the working environments, a different type of lighting was chosen, consistent with the different intended uses; in particular in the area occupied by the creative team, which works daily with the precision of textile nuances and where the lighting performance has proved to be of primary importance, Qu has supplied light systems with CRI > 95.
Different approaches have been devised for the other environments: low-intensity light in the PC workstations, soft light in the relaxation areas, while for the large dining table in the kitchen area they have chosen the Dress Me series, designed by 23bassi Studio di Architettura, with diffused light suspensions. Furthermore, each element, such as suspension lamps, floor lamps and spotlights, features personalized colors so as to harmonize with the two chromatic schemes of the project, one, reserved for passageways, meeting rooms and kitchen, played mainly on the combination of pink and blue and a second neutral scheme, intended for the operational areas.
---
Project: Parisotto+Formenton
Lighting: Qu
Photos: Pietro Savorelli
Location: Milan