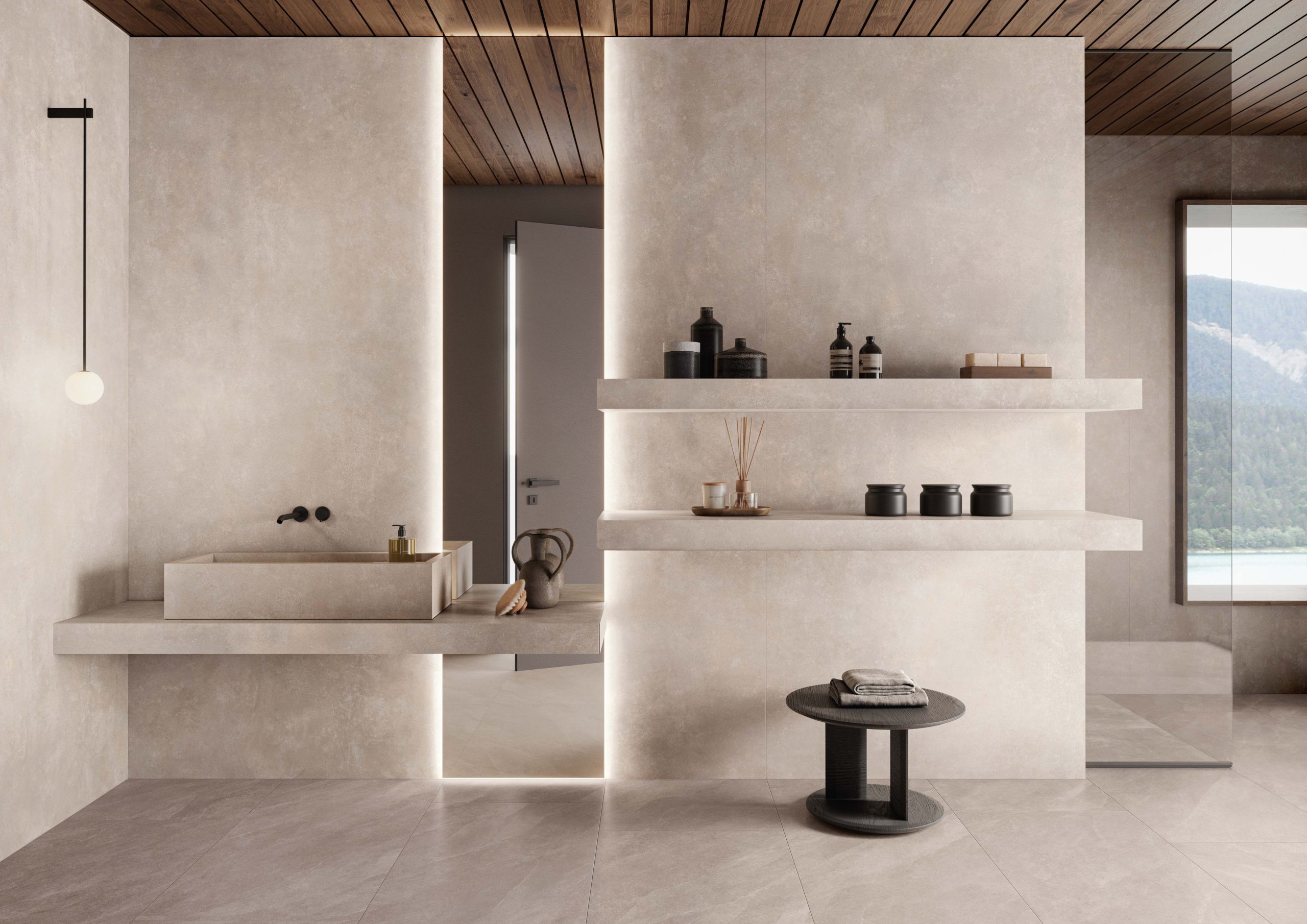 Casalgrande Padana presents the new Aquatio, Marmora, Pietra Tiburtina, Project Wood and Stonetech collections at Cersaie 2023
Casalgrande Padana – a company that for more than 60 years has been evolving ceramic materials, innovative, environmentally friendly solutions for cladding, flooring and facades are capable of meeting any creative or technological requirements in the world of architecture and design – presented its latest collections Aquatio, Marmora, Pietra Tiburtina, Project Wood and Stonetech, at Cersaie, the International Exhibition of Ceramic Tiles and Bathroom Furnishings, in Bologna from 25 to 29 September.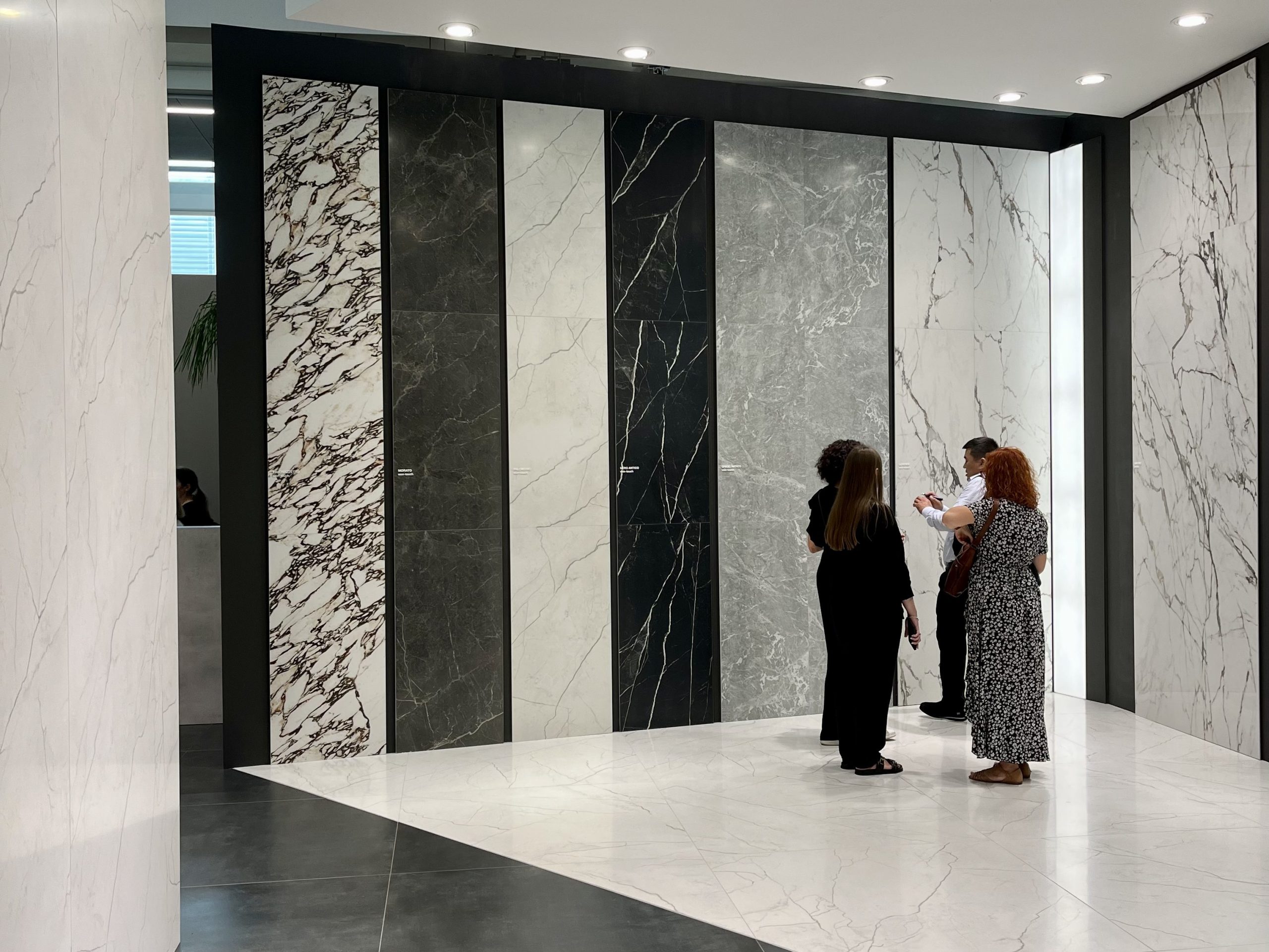 When porcelain stoneware meets water: Introducing
Aquatio

by Casalgrande Padana

Casalgrande Padana is proud to present Aquatio, its first range of bathroom furniture and accessories. Aquatio includes standard washbasins, shower trays, and shelves made with porcelain stoneware slabs from various collections with Bios Antibacterial® technology and a natural or polished finish. Aquatio stands out for its clean lines, essential design, and customisable dimensions, allowing architects and designers to create bathroom furnishings tailored to their needs.

Porcelain stoneware stands out for its versatility, durability, and excellent technical features. In addition, its wide range of formats and textures has expanded its use beyond floors and walls and turned it into an essential material for interior design. Aquatio marble, stone, concrete and metal-effect bathroom furnishings go with any interior design style and Casalgrande Padana tile collection, allowing you to mix and match colours and textures or create a cohesive, seamless look and a visual continuity with the floors and walls.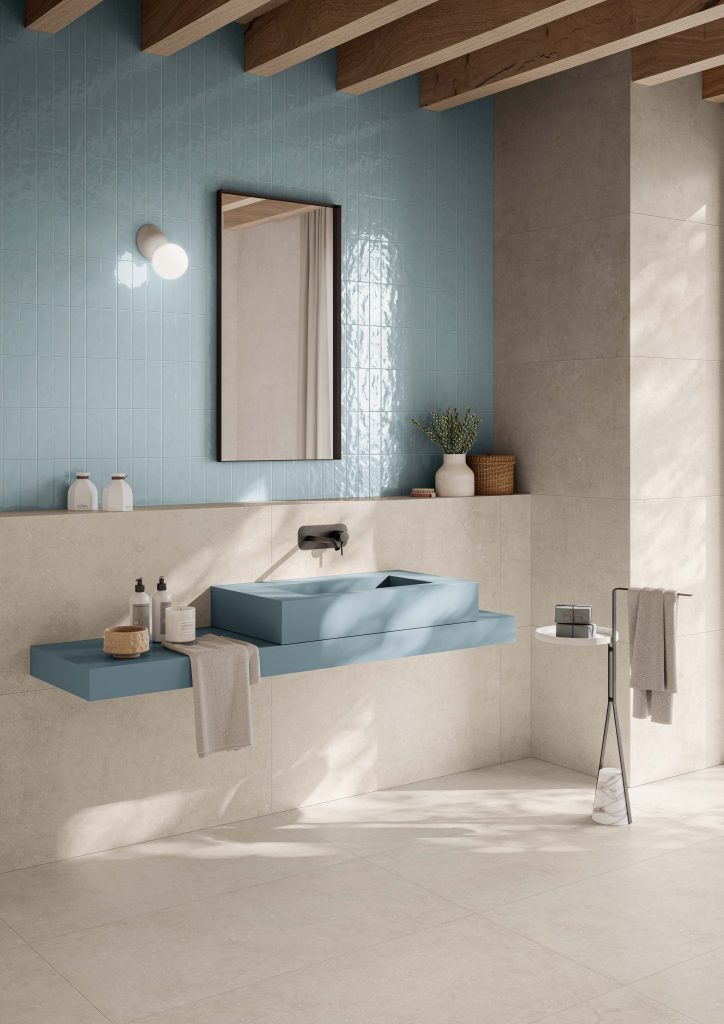 Classic style for contemporary projects: introducing
Marmora

by Casalgrande Padana

Aesthetic research, technological innovation, and sophisticated processes have made it possible to replicate the low-relief veining created over the centuries in sedimentary rocks worldwide. Marmora is the perfect combination of design and technical features: beautiful streaks filled with light and harmonious colour contrasts give life to an ideal balance of patterns and structure, evoking the finest marble nature has to offer. The Marmora collection has all the charm of marble and the excellent technical features of porcelain stoneware, allowing it to maintain its beauty over time. It's perfect for the floors and walls of any building, whether new or restored. In addition, this collection is ideal for the contract furnishing, hotel, hospitality, and wellness sectors and even for yachts and luxury boats.

A journey through matter, where three-dimensional light and shadow effects are emphasised by the new smooth and vein-touch finishes. The former gives the surface a silky, sophisticated appearance, while the latter provides an antiqued, super realistic three-dimensional look, enhancing every detail. The Marmora collection comes in six colours (Grigio Antico, Lunese, Morato, Nero Antico, Palombino, and Pavonazzetto), four finishes, and various formats. The 60×120, 60×60, 30×60 cm, and 10×60 cm formats have a 9 mm thickness, whereas the 120×278 cm and 120×120 cm format has a 6 mm thickness.
Suspended between history and modernity: introducing
Pietra Tiburtina

by Casalgrande Padana

Precious Italian heritage full of charm and history comes to life in the porcelain stoneware tiles from the new Pietra Tiburtina collection, achieving the perfect balance between design, craftsmanship, creativity, and innovation. Fragments of stone gush from the caves of ancient Tibur to take us on a journey through history. Ancient Romans used travertine – or lapis tiburtinus, as they used to call it – as an ornamental and construction material. Centuries later, this natural stone has maintained its unlimited potential, inspiring artists and architects of every era. Casalgrande Padana's new Pietra Tiburtina collection is available in the vein-cut version, which emphasises the lengthwise layers of limestone, and the cross-cut version, which highlights the subtle cloud-like effects. Both versions combine stone's charm and porcelain stoneware's sturdiness. Delicate earthy shades, beautiful streaks, and a three-dimensional play of light and shadow give these tiles a texture full of charm and elegance.

The Pietra Tiburtina collection draws inspiration from the finest types of travertine in nature. It comes in four colours (Aventino, Campidoglio, Celio, and Palatino) and various formats and finishes. The 120×278, 120×120, and 60×120 cm formats are 6 mm thick and have a natural or smooth finish. Conversely, the 60×60 and 30×60 cm formats are 9 mm thick and have a natural, smooth, or anti-slip Grip finish. The 60×120 cm format has a natural, smooth, anti-slip Grip, or ribbed finish. The 60×120 and 60cx60 cm formats are also available with a 20 mm thickness and an anti-slip finish, allowing them to be installed outdoors directly on sand, gravel, or turf and be walked on immediately. Finally, the 30×30 cm mosaic tiles (with 5×5 or 5×15 cm pieces) are available in all four colours with a natural or smooth finish.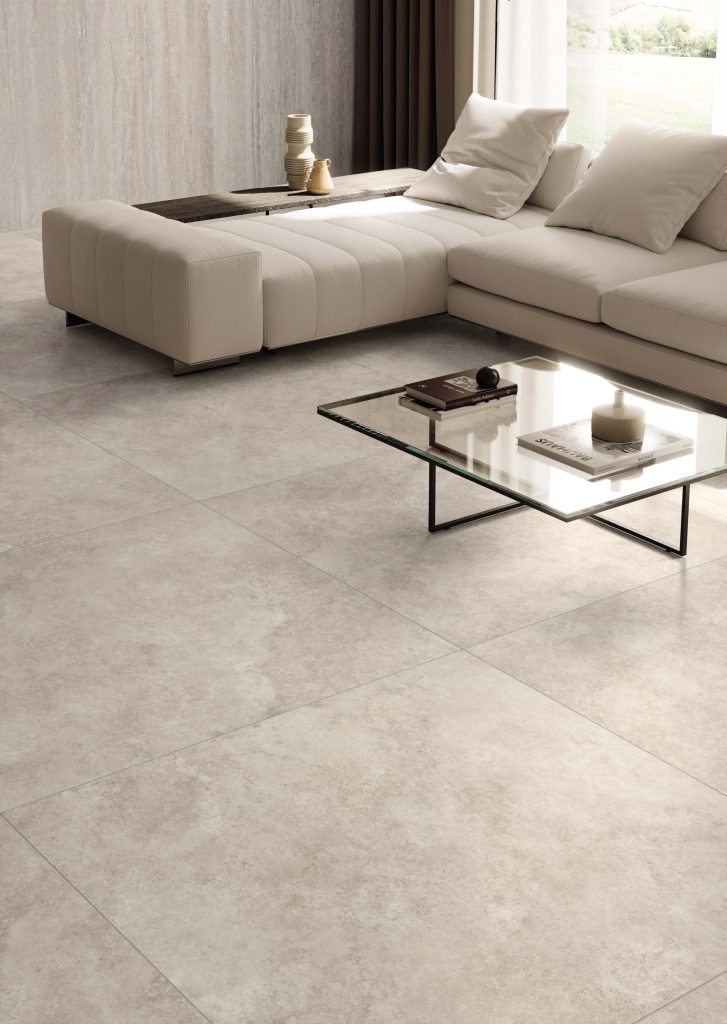 Project Wood

by Casalgrande Padana and the charm of beech wood

Beech trees are majestic and highly regarded across Europe for their wood, which is now coming to life in Casalgrande Padana's new porcelain stoneware tile collection, developed with SBGA Blengini Ghirardelli. These tiles' colour and design redefine the idea of wooden surfaces, replicating the charm of rare, sought-after wood in a palette of beautiful colours. The sophisticated texture and tactile sensations emphasise these porcelain stoneware planks' delicate veining and grain, creating warm and cosy settings in any style. The Project Wood collection stands out for its modern aesthetic and extraordinary resistance to impact, abrasion, flexure, and stains. That's why it's ideal for the indoor and outdoor floors and walls of residential and public spaces and projects in the contract furnishing, hospitality, and wellness sectors.

Project Wood results from research to obtain a durable, environmentally sustainable product. It comes in five colours (Mesola, Migliarino, Paneveggio, Pollino, and Quarto) and two formats. The 20×120 cm has a 9 mm thickness and a natural or grip finish, while the 40×120 cm format has a 20 mm thickness and an anti-slip finish for outdoor use. This latter version can be laid on screed with adhesive, perfect for balconies, patios, terraces, verandas, and poolsides. Applied directly to turf, gravel, or sand, they create walkways you can walk on right away. In addition, in line with the latest trends, these tiles allow you to merge indoor and outdoor spaces, creating a stunning visual continuity and improving their functionality and comfort all year round.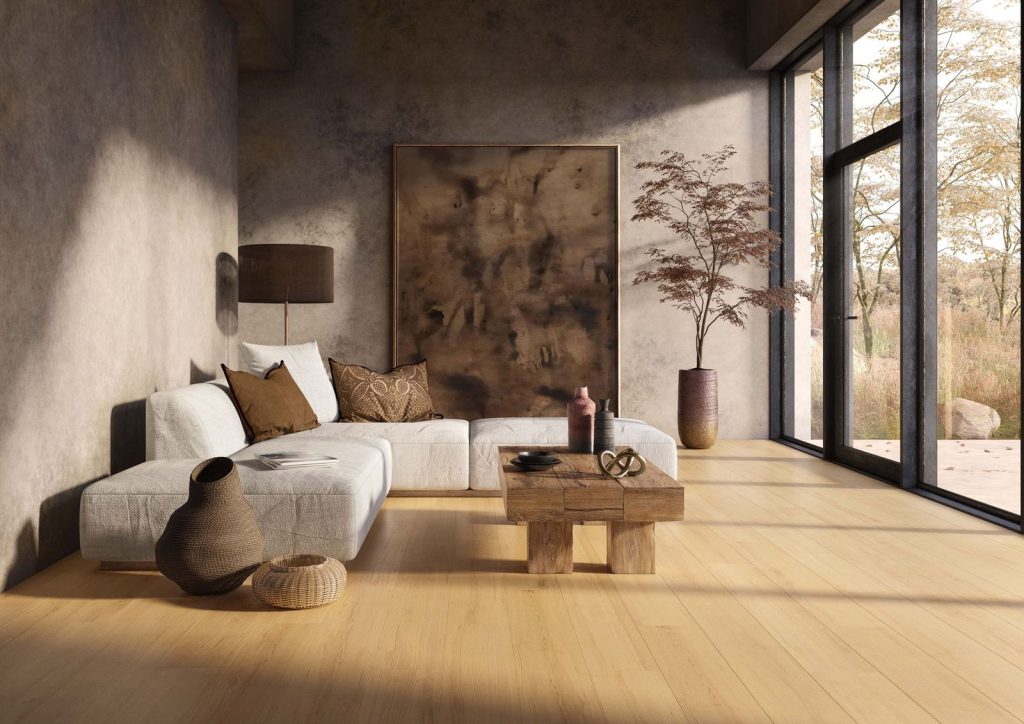 Next-generation technical porcelain stoneware tiles: introducing
Stonetech

by Casalgrande Padana

Casalgrande Padana's research and experimentation, cutting-edge production process, and technical expertise acquired in its 60 years in the business have led to the Stonetech collection. These new technical porcelain stoneware tiles replicate the texture and effects of the rocks of the Central Alps: marble, quartz, and feldspar fragments of different sizes blend within the slab, becoming one with it.

Stonetech comes in five colours (Stonewhite, Stonegrey, Stonepearl, Stonesand and Stoneblack) and three formats (60×120, 60×60, and 30×60 cm) with a 9 mm thickness and a natural or anti-slip bushhammered finish.This collection further expands Casalgrande Padana's range of full-body technical porcelain stoneware tiles. It stands out for its high resistance to footfall, flexure, frost, and temperature fluctuations. Moreover, Stonetech maintains its aesthetic and functional features over time, making it perfect for projects requiring durability and wear resistance. These technical tiles have even colours and a consistent appearance due to their identical surfaces and body structures. So, for example, if you remove the top layer, you'll discover an identical one underneath without affecting the tiles' aesthetics and functionality.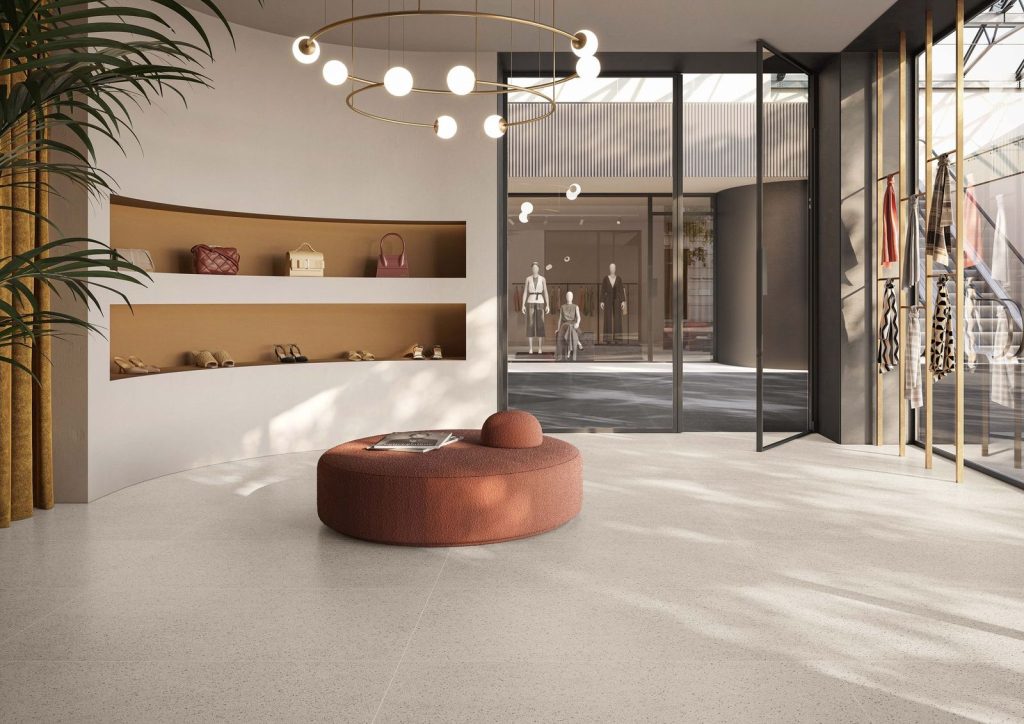 Casalgrande Padana porcelain stoneware tiles are made solely with natural raw materials through a closed-cycle manufacturing process where sophisticated antipollution equipment allows all the components to be recycled and reused with substantially zero emissions or dispersions.
Moreover, all Casalgrande Padana porcelain stoneware tiles are environmentally sustainable, non-allergenic, and antibacterial, thanks to the Bios Antibacterial® technology (available upon request). In addition, they are fire-resistant, easy to lay and clean, hard-wearing, non-absorbent, and feature excellent flexural strength. Their exceptional mechanical strength maintains all their features unchanged over time. As a result, these wood-effect tiles are not affected by temperature fluctuations, whatever the latitude, and never warp. What's more, porcelain stoneware features high transmittance and thermal conductivity, making it one of the best choices in the event of underfloor heating. Underfloor heating has many advantages and not just from an aesthetic point of view. For example, it spreads heat evenly in all the rooms of the house, preventing mould formation. It also allows for significant energy savings as it integrates into other systems that use renewable and sustainable energy.