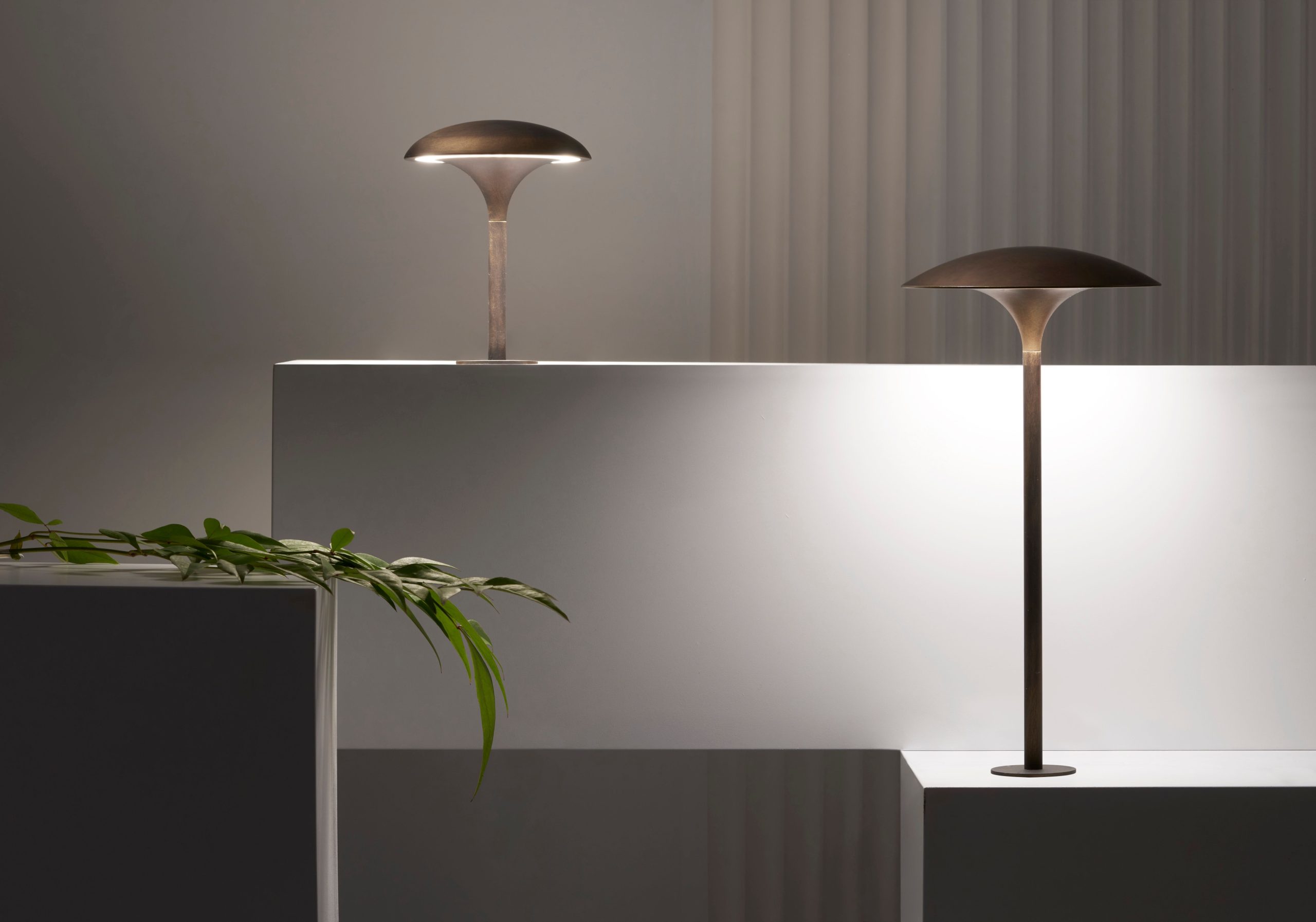 At MDW 2023, Qu presents the temporary installation "Infinitude. A circular lighting experience" and MAGRITTE, a family of lighting fixtures
At MDW 2023, Qu presents the temporary installation 'Infinitude. A circular lighting experience', a coherent and integrated circular project involving the garden and interior, and and MAGRITTE, a family of lighting fixtures with a minimalist and elegant design.
TEMPORARY INSTALLATION "Infinitude. A circular lighting experience"
Qu, founded as a spin-off of Quick, international leading company in the production of nautical accessories, Quick Lighting, which since January 2023 is simply Qu, has distinguished itself for achieving significant milestones in the lighting sector thanks to the design and production of both standard and custom-made lighting fixtures which are technologically advanced and aesthetically refined. At MDW 2023, Qu presents the temporary installation 'Infinitude. A circular lighting experience', a coherent and integrated circular project involving the garden and interior, where light is the common thread of the experience. The concept, designed by Parisotto + Formenton Architetti, results from the desire to provide the visitor with a complete sensorial experience, light and sound integrating and converging in suggestions that can take you elsewhere up to the cosmos. The circularity of signs that gives the imprinting to the whole project is expressed in various degrees and can be interpreted by the visitor as a recurring element that leads to the discovery of the different spaces and Qu's conceptual approach. A long strip of light guides the visitor through the courtyard; circles of light mark the garden as steps along the visitor's route, intersecting with the trees that are present, and becoming, from time to time, signals, seats, and patterns created by the light on the ground.
Interiors are conceived as a clean, white box in the centre of which, in a coherent semantic continuity, there is a circular lounge enveloped in greenery. The interior room is dotted with lighting fixtures from the Magritte collection, used on the ceiling and on the wall, grouped in constellations that create evocative light patterns. The peak of the route, and the icon of the permeability of nature taking possession of indoor spaces, is the greenhouse. In this place, plants and light together create suggestive atmospheres, changeable if they are experienced by day or night, if seen from inside or from outside. The installation experience is completed by the will to provide a complete and astonishing sensorial journey: lights, shadows and reflections play together with a site-specific sound art. In fact, the installation features an avant-garde sound design in visual interaction with the lighting fixtures in the exhibition space. A dynamic and changing sound carpet, the result of sound experimentation using electronic melodies from space, such as samplings of sounds from the planets and the cosmos, reworked from an artistic and musical perspective. The sound-luminous experience thus makes it possible to explore new expressive possibilities and to question the relationship between user – space – light – universe.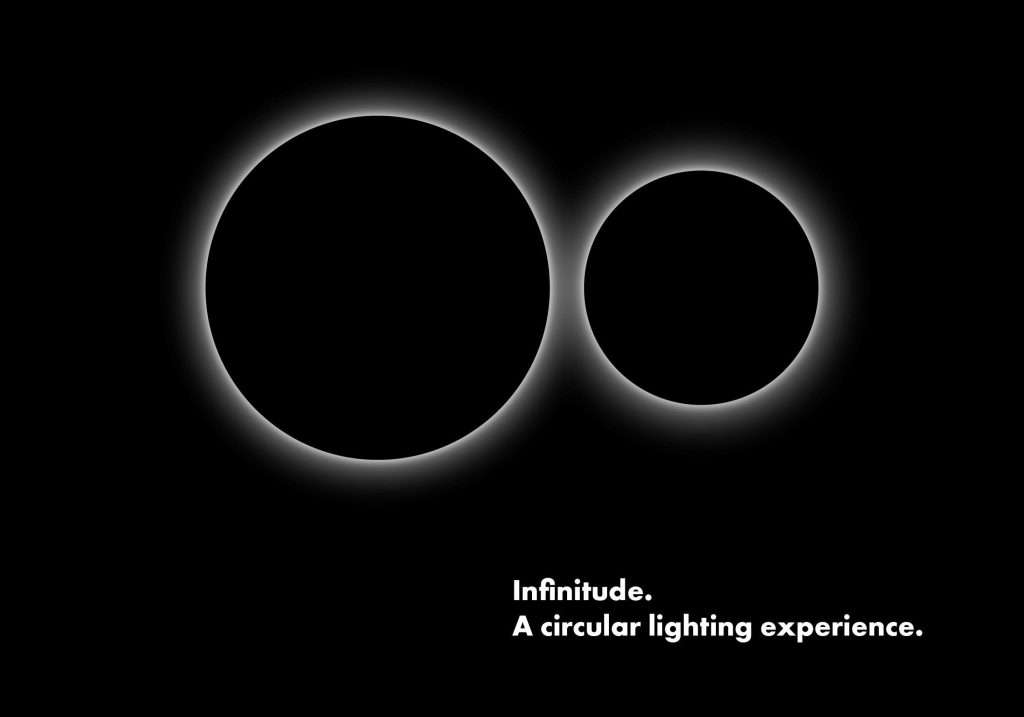 MAGRITTE COLLECTION
Fruit of the creative mind of Massimo Dei, founder of Studio63, MAGRITTE was initially born as a solution for outdoor environments and has evolved into a complete and diversified collection of lamps suitable for multiple contexts, indoors and outdoors. Made of die-cast aluminium, MAGRITTE light sources stand out for the simplicity of their shape: a timeless design that respects the language of nature and spaces. Different versions are available, from table lamps to floor lamps, from appliques to ceiling suspensions up to outdoor solutions. One of Qu's strengths, in fact, is its ability to offer all-round support to planners, architects and designers by guaranteeing wide customization possibilities.
Through customized lighting fixtures, environments and their spaces gain an additional creative dimension. The customization of light gives added value and represents a true means of enhancing and highlighting architecture. More than a decade of experience translates into care for finishes, galvanic protections, outdoor insulation treatments and lighting performance tests. The company's objectives are quality and reliability, supporting an almost total reduction of waste thanks to a production that constantly tends towards sustainability.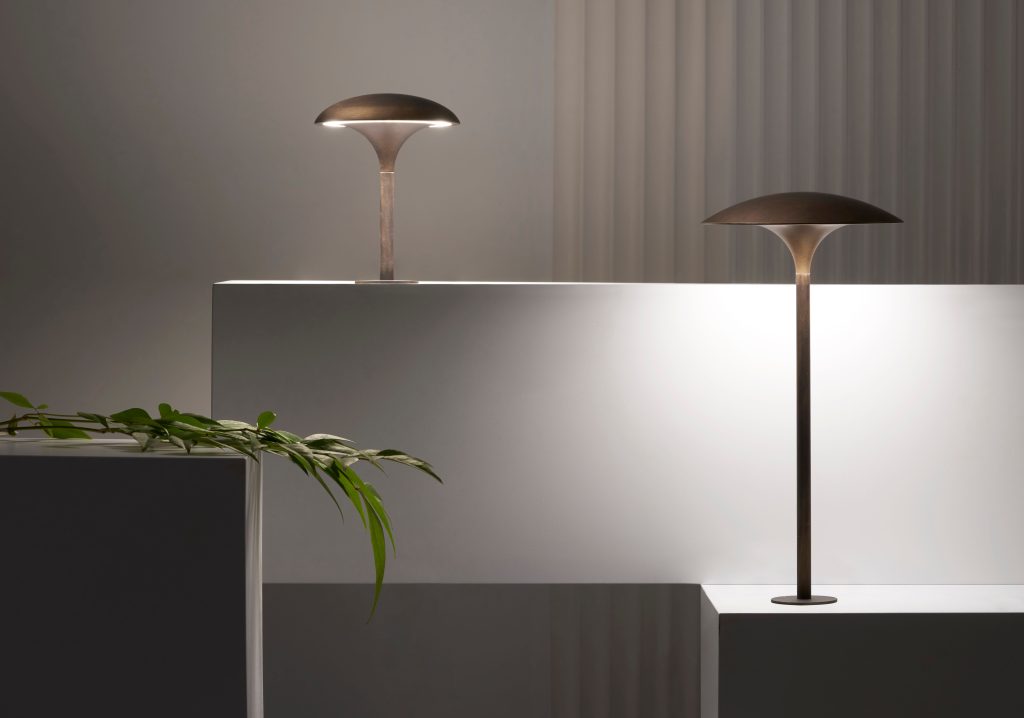 MAGRITTE FLOOR & MAGRITTE TABLE
A floor lamp born from the natural evolution of the Magritte Series, with which it shares the simplicity of the design while maintaining its unique style. Ideal for a timeless reading illumination, Magritte Floor features an 8W light source and an aluminium body which comes in different finishes in order to perfectly blend in with the environment. Magritte Table is a discreet and elegant table lamp. The smoothness of its luminous flux combined with its high lighting performance and small dimensions make Magritte ideal for both a work table and a bedside table.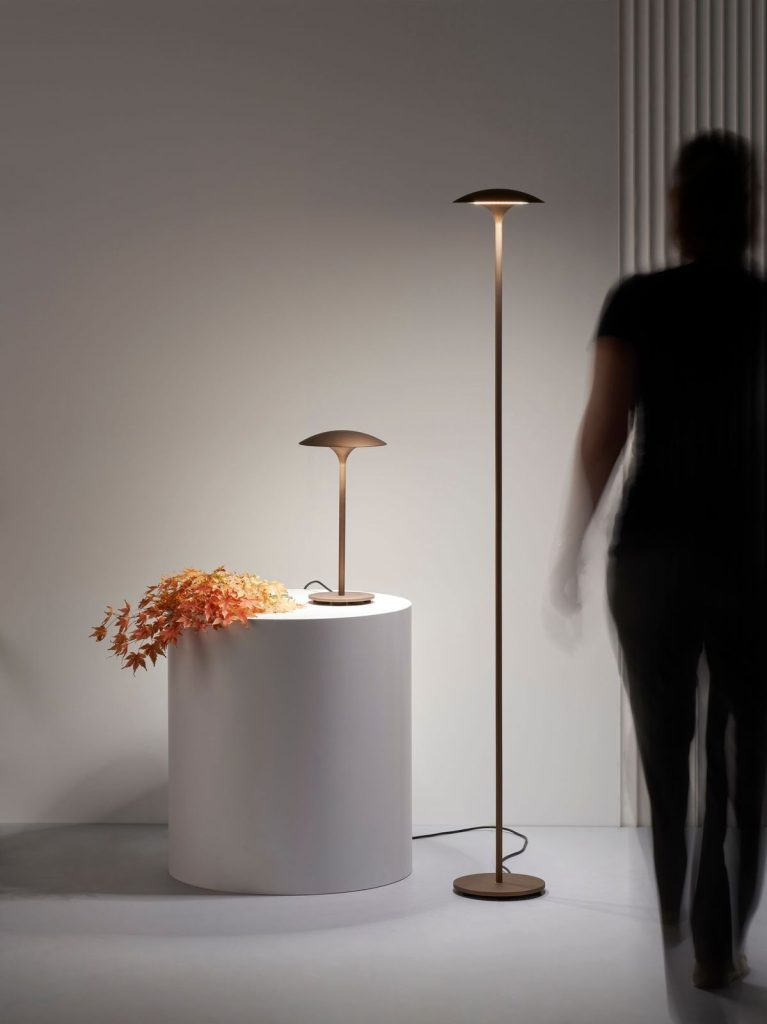 MAGRITTE S / MAGRITTE WALL & MAGRITTE MINI WALL
Magritte S is a provocation, an asymmetry, a new story to tell. A ceiling lamp with indirect light designed to illuminate what is usually in the shadows, to enhance what is hidden and to play with light. Magritte S, thanks to its high-performance in-house engineered 8W CRI >90 circular light source, is perfect for any ceiling height thanks to the kit (supplied) featuring a pole clamp or a cable clip. Magritte Wall and Magritte Mini Wall are wall lamps made of die-cast aluminium which comes in multiple finishes and can also be customized. Its iconic and elegant design makes Magritte ideal for indirectly illuminating different types of environments. The 8W LED source and the proprietary PMMA lathed optics reduce efficiency losses of the light source to the absolute minimum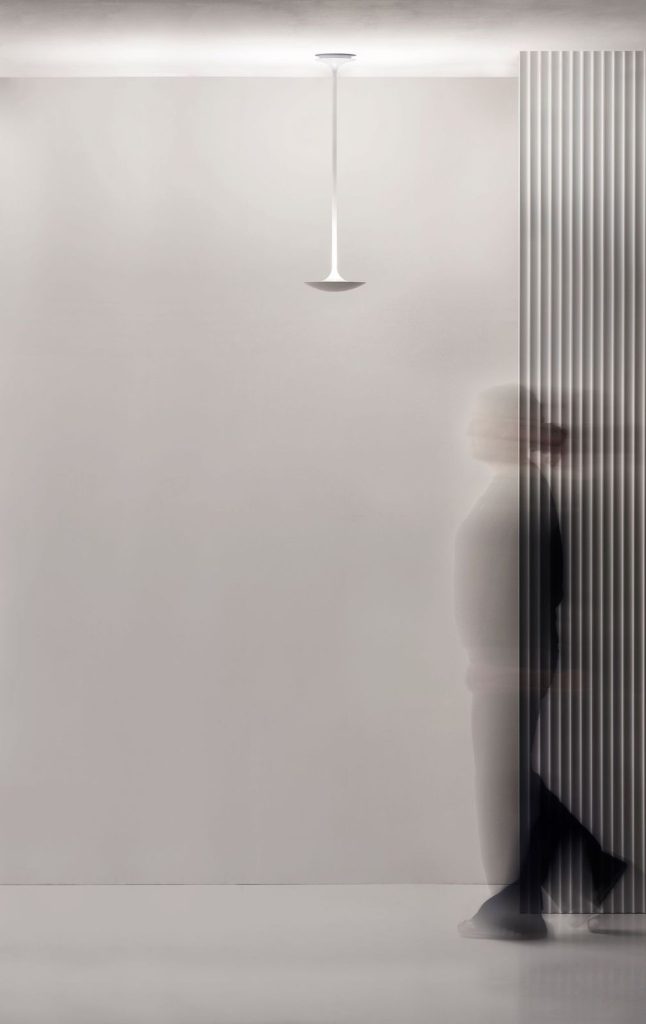 MAGRITTE e MAGRITTE MINI
Magritte is a sober item that discreetly draws the attention if placed outdoor. It is a floor lamp with a very simple, timeless design that respects the language of nature and spaces. Magritte Mini is the smaller version of the iconic Magritte. Its high lighting performances perfectly combine with even more discreet dimensions in order to achieve design continuity. A special painting cycle, the same one applied to all Qu products, makes it possible to obtain extremely resistant textured finishes.