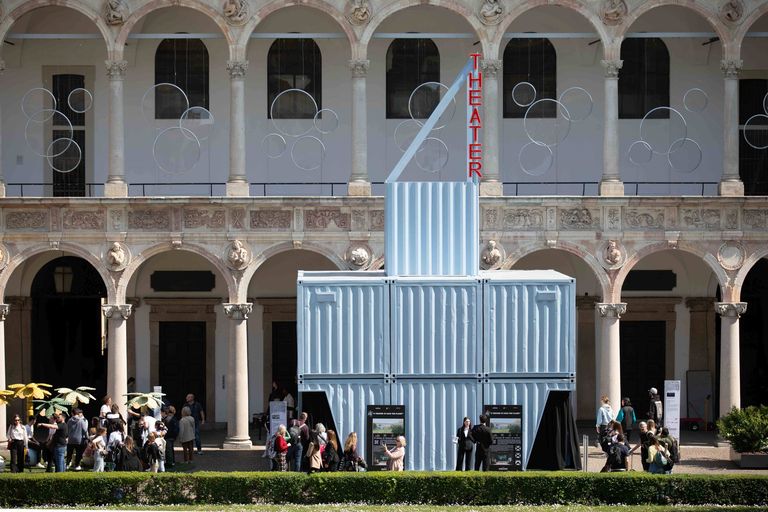 A Theater to Save the Planet by Mirage
A Theater to Save the Planet is a project for a travelling narrative space. It is designed as an architecture/container in the form of a theater for telling stories, experiences and performances that can raise people's awareness of the increasingly compromised environment we live in.
Throughout the Milan Design Week 2023 in the Cortile d'Onore of the Università Statale of Milan, the porcelain stoneware surfaces for architecture company Mirage, in collaboration with the non-profit association Save The Planet and under the technical supervision of architect Andrea Boschetti of Metrogramma studio in collaboration with Ana Lazovic, provided the space with various contents by hosting people and projects that support the association in various ways, making it a vibrant and fruitful place for ideas and actions for responsible innovation.
A Theater to Save the Planet offers a way to address, in a sincere and emotional way, the urgent need to reverse the course of the climate emergency and the environmental crisis. A place of awareness of the ills that afflict our planet and also produce great social inequality.
The Project
The theater is composed of 6 containers that have been properly reworked to be assembled together, giving the architecture the ability to always be "plug in" in a short amount of time. By taking advantage of the box structure and the intrinsic strengths of the containers, the theater is always stable, structurally complete, and adaptable to any terrain condition. The trapezoidal cuts made to the containers to create entrances and exits at the 4 corners were formally studied so as not to affect the overall structural solidity. The surfaces of the interior space are covered with dark curtains, while the flooring and the arena are covered in Mirage porcelain stoneware.
Externally, the structure is in a pale blue, sky blue color; a pastel shade that aims to blend the small iconic architecture with the color of the sky. The paint used is the result of innovative research that collaborates with the surrounding environment to absorb CO2. The theme of reuse is also crucial in the choice of containers, which come from recoveries at sea; in fact, they are containers that have fallen from large ships and are reused after being restored and given new life. The theater created in this way will then move from city to city, around the world.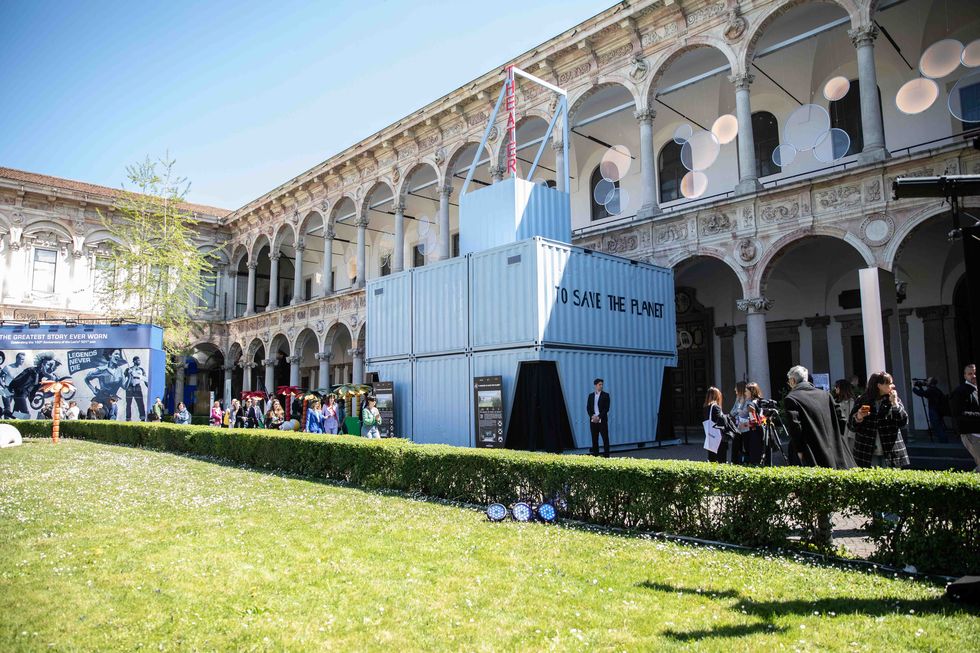 The Contents
The evenings were animated by live talks, featuring the disseminator Giovanni Mori, the internationally renowned photographer and explorer Luca Bracali, and the teacher and researcher Elena Granata, for a full immersion of ideas and reflections on a fundamental theme: the safeguarding of our planet.
During the days of the Fuorisalone, the theater hosted a video installation created by Mirage, in collaboration with Terzo segreto di Satira and the talented Giovanni Mori, which invites reflection on the importance of changing one's daily habits to contribute to the improvement of the quality of life on our planet.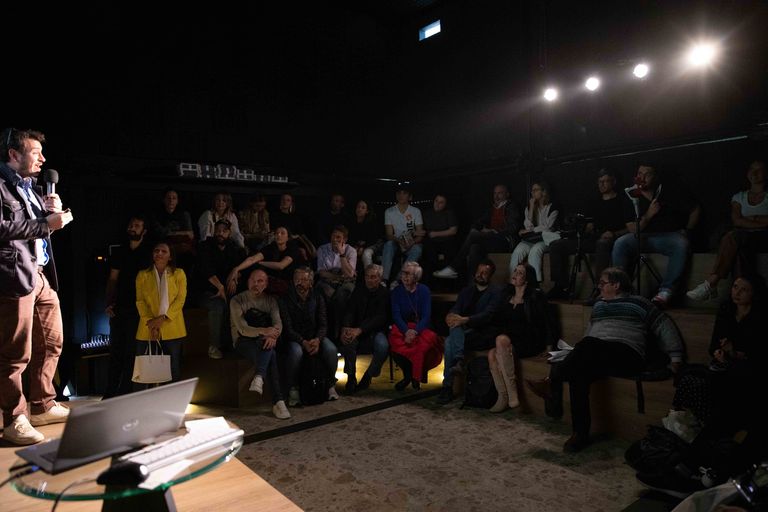 ---