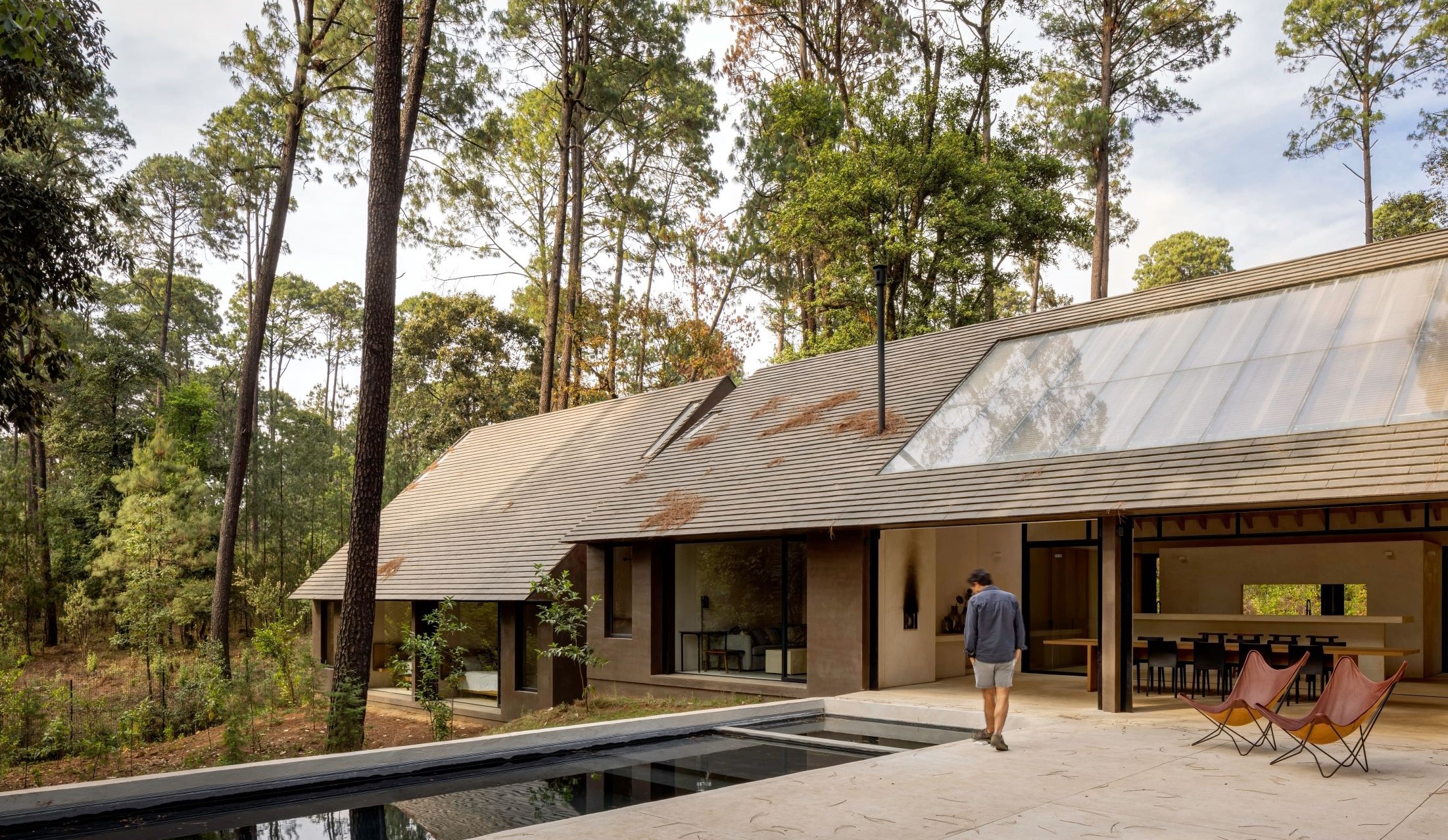 Zarzales / PPAA Pérez Palacios Arquitectos Asociados
Architect:
PPAA Pérez Palacios Arquitectos Asociados
Place:
Valle de Bravo, México
Photographer:
Rafael Gamo
The simple and pure architecture of the Zarzales vacation home designed by the PPAA Pérez Palacios Arquitectos Asociados architecture studio and located in Valle de Bravo, Mexico, gives the prominence it deserves to the surrounding nature. With an area of ​​645 sqm, the residence uses light as a key design element. Its spaces are ideal for living connected with the natural environment. The pine trees around the perimeter allow the project to be lost in the surroundings and during the design process, it was important to ensure their conservation. The pines gave the location to the two volumes, and, in addition, they generated a terrace with perforations to preserve these trees that contribute so much to the project.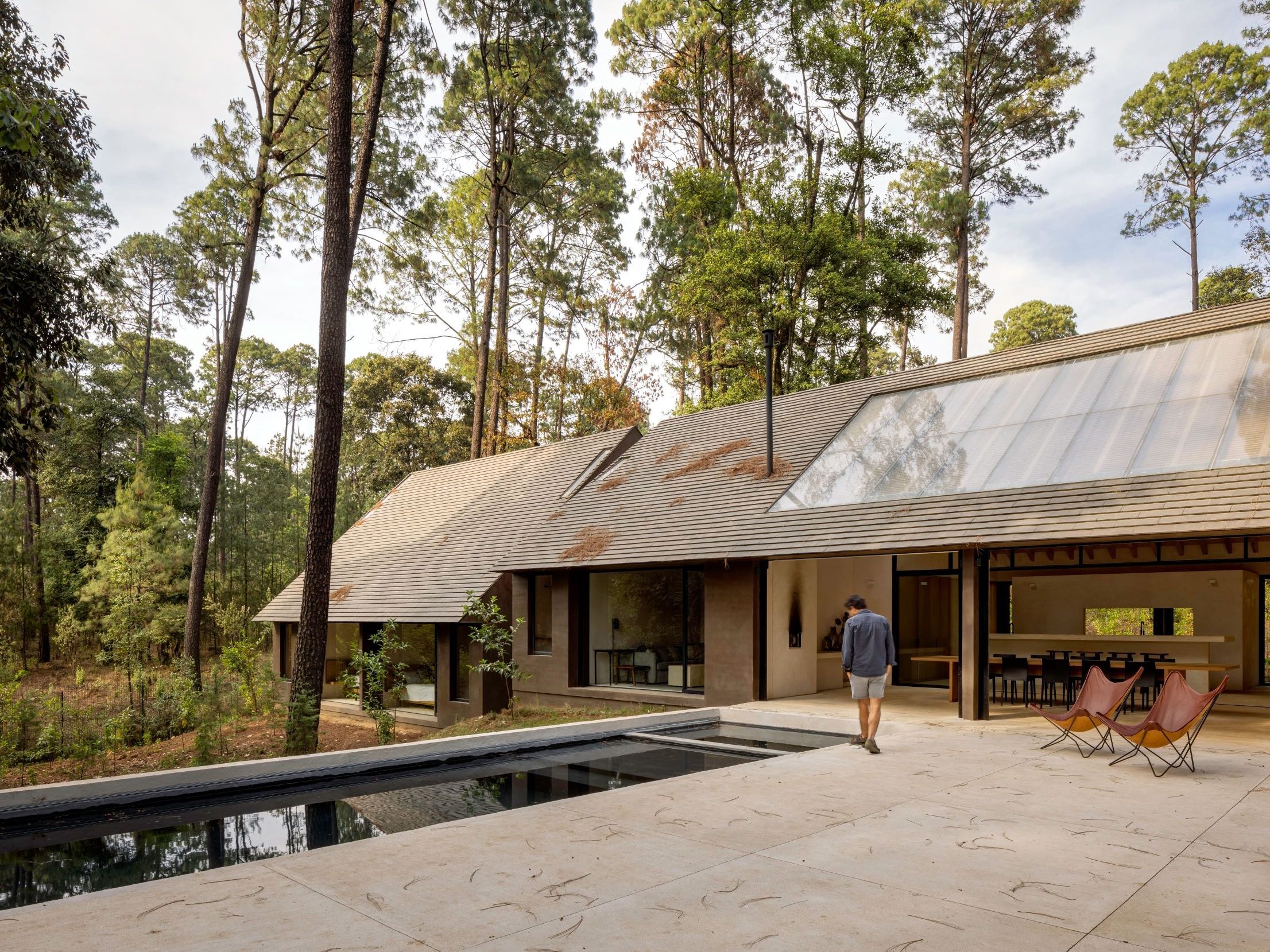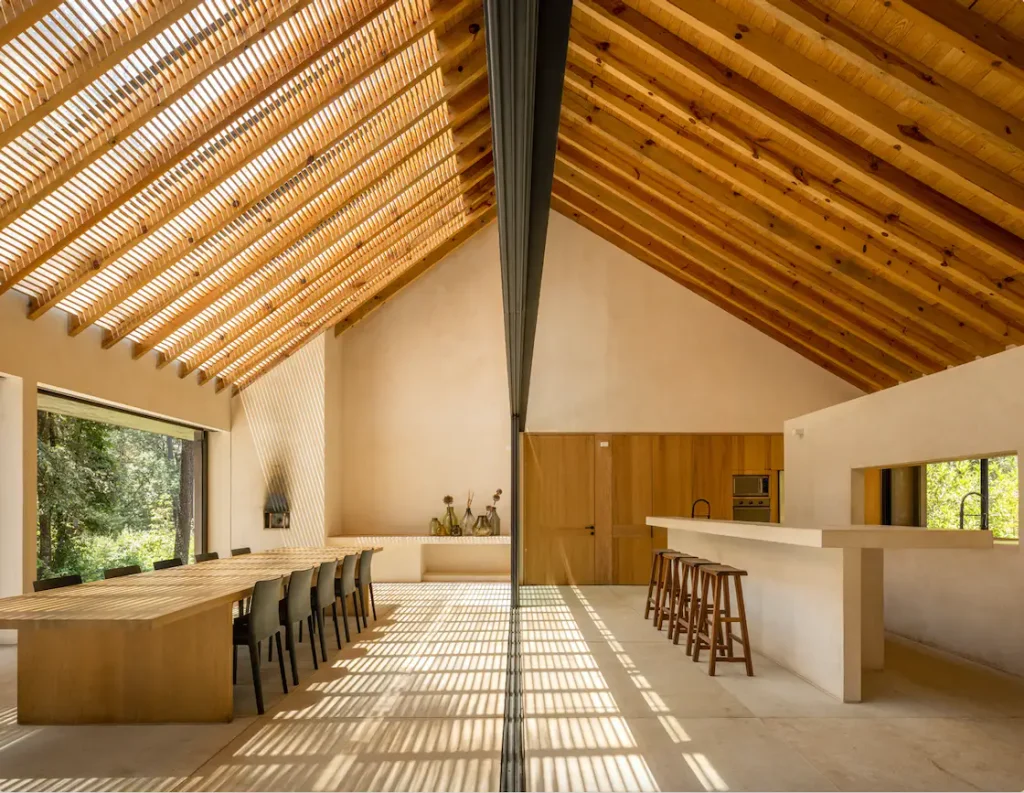 The architects decided to design two volumes, the first is the social area that gathers the inhabitants or visitors, and the second one, the private area, is intended for rest. The social area is divided into two parts: the closed part of TV and services and an open area where the dining room, the semi-open kitchen and a covered terrace with two transparent faces are located. Also, there is an outdoor terrace area with Jacuzzi and swimming pool; this space invites contemplation and the multisensory enjoyment of colors, temperature, sounds and aromas of the forest.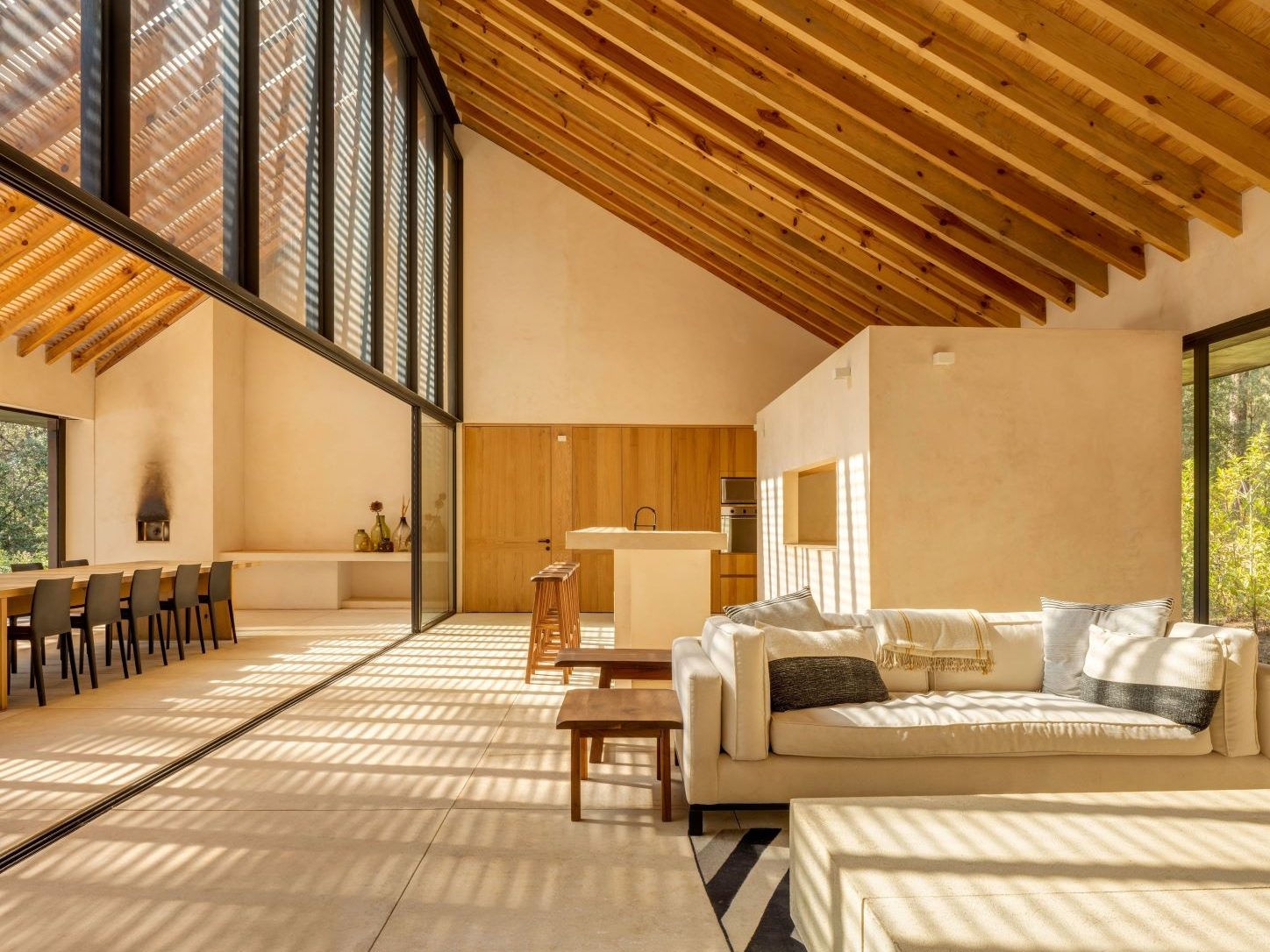 The gabled roof with walls in a natural paste finish simulates the tones of the tree bark and blends discreetly with the surrounding forest. This roof generates a play of light and very pleasant shadows. The construction is made with gabled roofs, due to the constant rains in the area. In the rest of the house, the predominant materials are natural wood and washed concrete.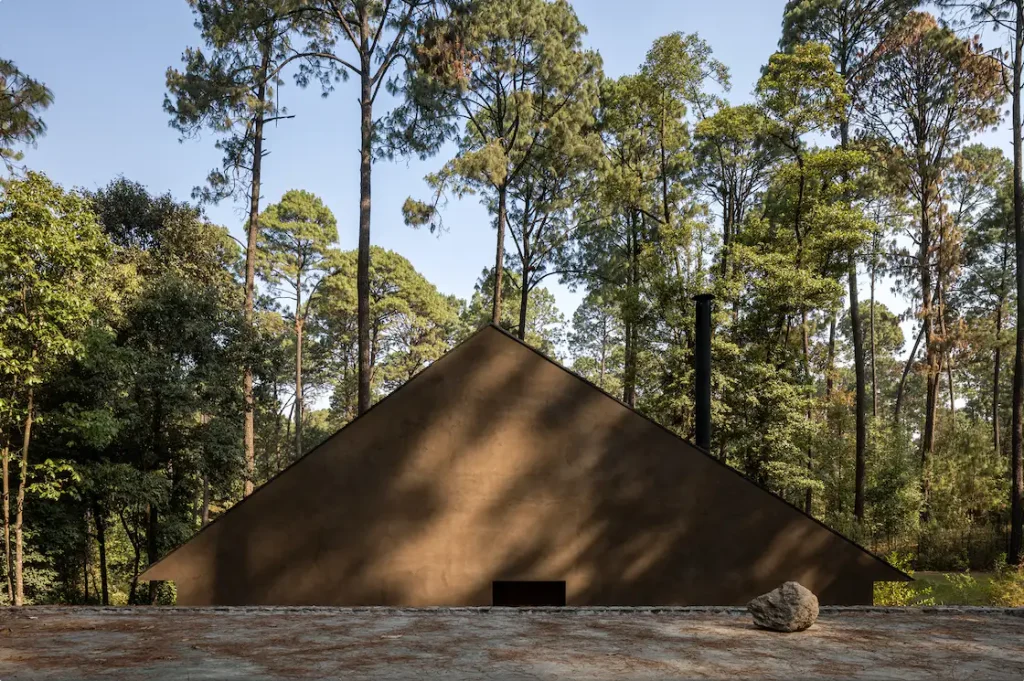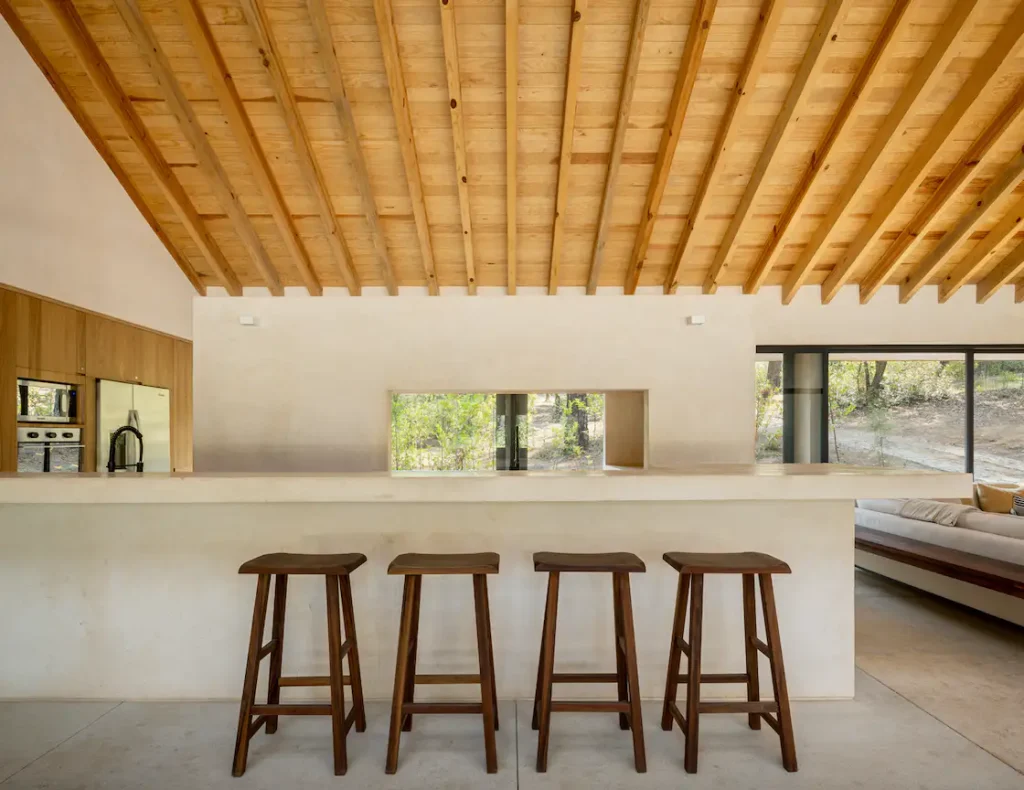 With amply lit spaces, no space has truly feel interior, causing the boundary between inside and outside to virtually disappear. The pure and clean architecture of Casa Zarzales gives it a strong connection with nature and makes it timeless.
Project name: Zarzales
Location: Valle de Bravo, México
Year: 2022
Built area: 645 sqm
Firm: PPAA Pérez Palacios Arquitectos Asociados
Team: Pablo Pérez Palacios, Miguel Vargas, Nancy Estevez
Photography: Rafael Gamo