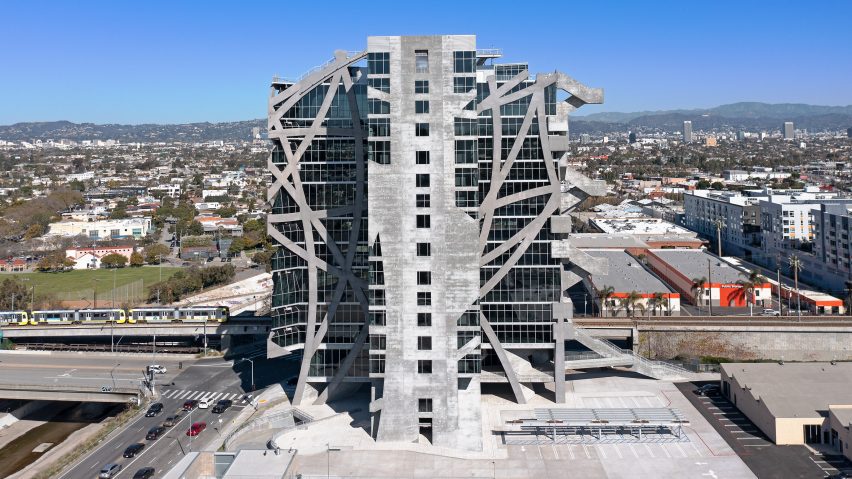 (W)rapper / Eric Owen Moss Architects
Architect:
Eric Owen Moss Architects
Photographer:
Tom Bonner Photography
Eric Owen Moss Architects recently completed construction of (W)rapper, a new 235-feet tall office building and the latest EOMA contribution to an on-going 35-year revitalization plan for a former industrial and manufacturing zone in Central Los Angeles and Culver City, California. Located along the Expo Line light rail connecting West Los Angeles with Downtown, the project conforms to the City's long term planning goal to increase density along mass transit routes, in this case, in a neighborhood that historically limited heights to 45 feet.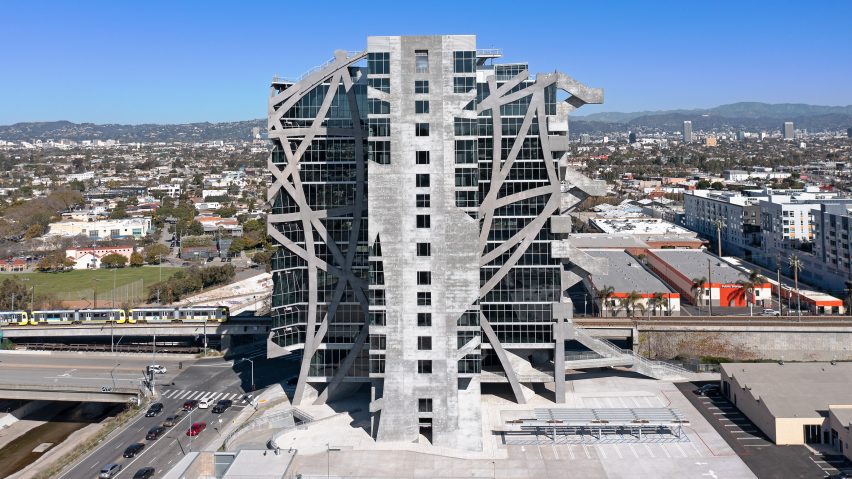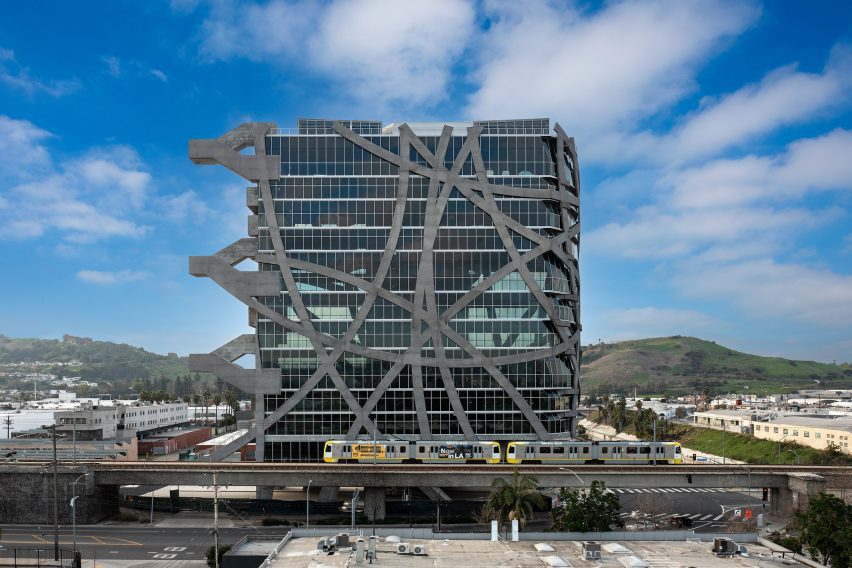 (W)rapper's structural concept originated in 1998 and was first presented in an exhibit at the Wexner Center in Columbus, Ohio. Unlike conventional high-rise structural systems based on columns organized along modular grid lines, (W)rapper is supported by a network of curvilinear bands originating from a number of geometric center points.  Each curving band is wrapped around the largely rectilinear building envelope, and folded around each vertical and horizontal corner of the building until it reaches the ground.
The bands are supported on a base isolated foundation which separates the tower structure above from the isolator foundations below, allowing the building to respond and move safely and securely in any seismic event. The base-isolated structure adds to the sustainable building conception, providing a structure five times more seismically resilient than a typical American high-rise. In comparison with more conventional structural concepts, (W)rapper offers both the city and its tenants the highest possible seismic safety rating in the United States. (W)rapper is the only high-rise commercial office building in the USA that utilizes such a base isolated structure. The steel bands are coated with cementitious fireproofing, and the building core is clad in a two-coat cement plaster finish.  There is no concrete in the structural or fireproofing concept of the (W)rapper. The bands are positioned on the building perimeter creating an open, column-free floor plan that provides the maximum opportunity for interior planning options.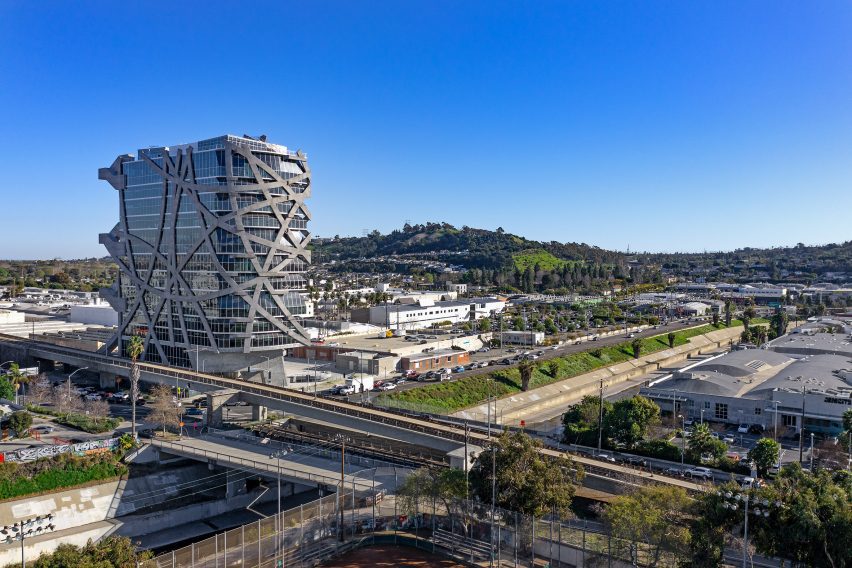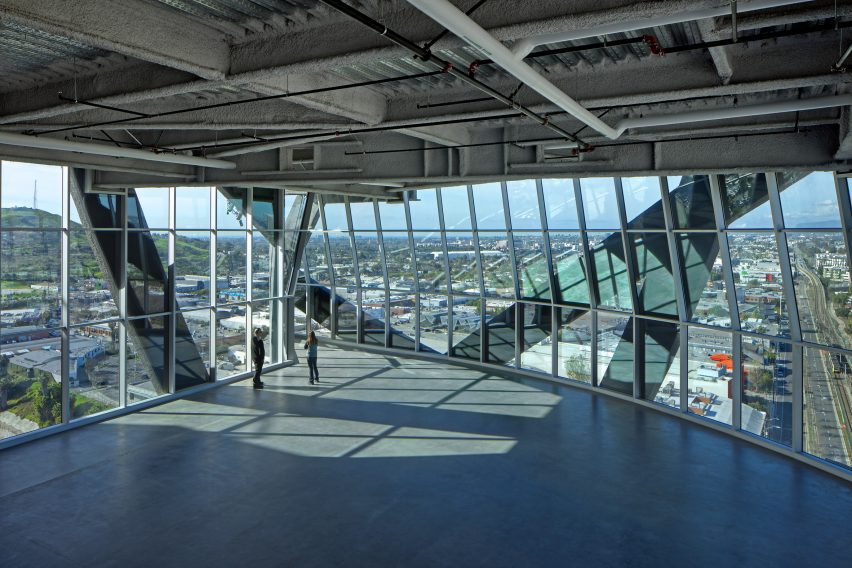 The project promotes the use of public transportation and a concomitant reduction of fossil fuel usage—with reduced availability of private and public auto parking and a direct pedestrian link from train to building lobby.   A number of active and passive environmental strategies produce a high-performance building envelope which is equivalent to an elevated LEED Silver sustainability rating.
---
Architect: Eric Owen Moss Architects
Owner: Laurie Samitaur Smith, Samitaur Constructs
General contractor: Matt Construction
Construction management: Stegeman & Kastner, Inc.
Structural engineer: Arup, Los Angeles
Geotechnical engineer: WSP
MEP engineer (design development): Arup, Los Angeles
Civil engineer: Arup, Los Angeles
Smoke control: Arup, Los Angeles
Landscape architect: Land Images
Commissioning: Green Dinosaur
Shoring engineer: Earth Support Systems, Inc
Surveyor: J.O. Nelson & Associates
Technology: Vantage
Acoustics: Arup, Los Angeles and Antonio Acoustics
Traffic: KOA Corporation
Hardware: Jon Wisem