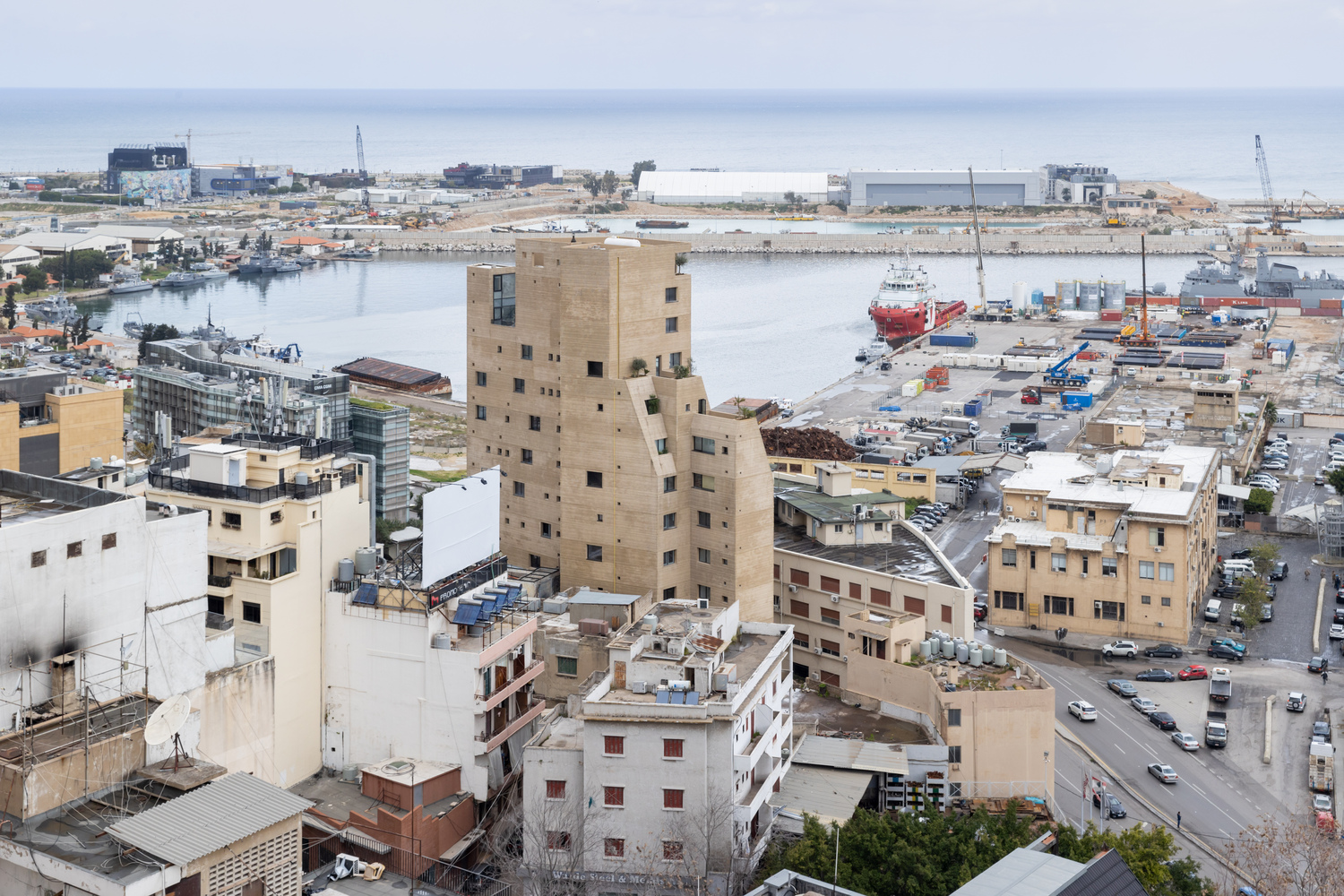 Stone Garden Apartment Building / Lina Ghotmeh Architecture
Architect:
Lina Ghotmeh Architecture
Photographer:
Iwan Baan, Takuji Shimmura
Metaphor of Beirut, the city of contrasts, and its history, the 13-story Stone Garden building, was designed by the Franco-Lebanese architect Lina Ghotmeh as an urban sculpture, where in short nature and green will invade its concrete skeleton to show a different interpretation of the concept of façade opening: a vision that blurs the boundary between window and memory of a violent past.
Fifteen years of Civil War, ended in 1990, left a deep mark on the soul of this city and on its urban landscape, as shown by the often violated and hollowed skin of its buildings. A skin that dialogues with the history of a country and with the land on which it is located. This innovative 4,200 sqm mixed-use tower – partly Art Gallery and partly residential-commercial building – will stand juxtaposed with the few remaining traditional tiled-roof houses and the concrete masses of new constructions. It will ultimately become part – architect Ghotmeh explains – of the strange euphoric melancholia of this landscape.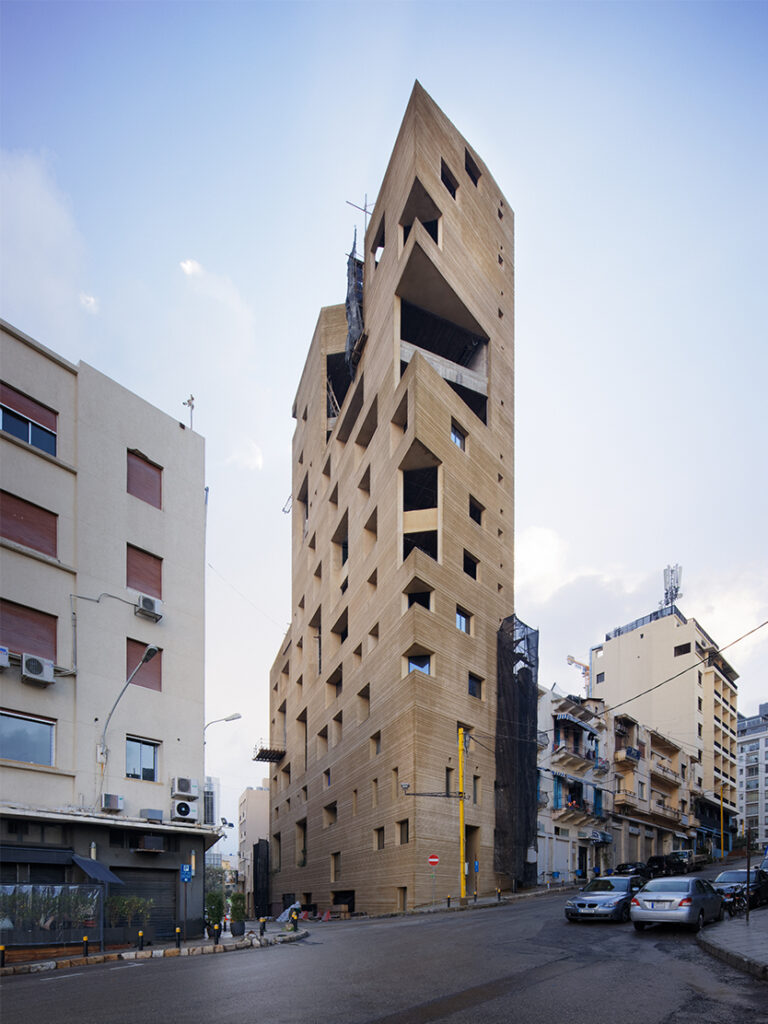 Located near the industrial port of Beirut, the new Stone Garden tower, designed by firm Lina Ghotmeh – Architecture, stands where the first concrete company of the Middle East was established and where the studio of the famous Lebanese architect Pierre el-Khoury was located, whose son, Fouad el-Khoury, a famous artist and photographer, decided to restore the site, starting with the demolition of the existing building. Mass sculpted in green, inhabited ruin, the building materialises the history of Beirut and dialogues with its stories to create new ones: a built form of life and death, presence and absence, evanescence and timelessness, beauty and rawness.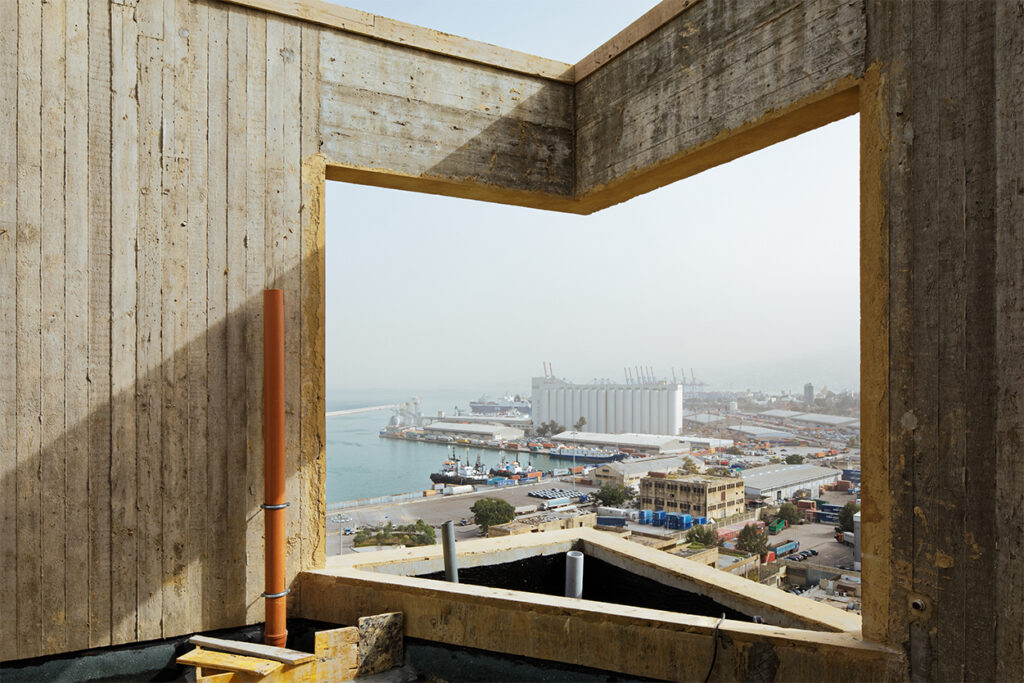 The architectural dialogue between absence and presence – architect Ghotmeh adds – has been conceived sculpturally to create a new form, generated by the design intents and the site constraints: rising up with its earth-covered concrete, the building faces the city and the port with a series of openings of various heights and sizes that transcend the mere concept of windows to become mass-subtractions designed to host gardens with trees and plants.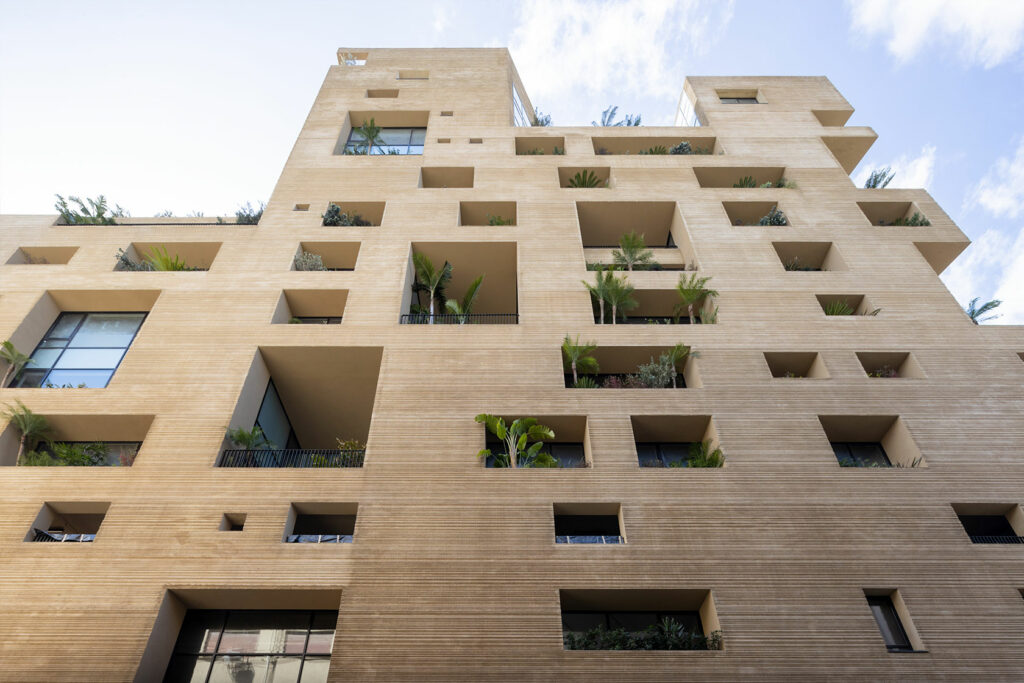 The asymmetry of the openings animate the façades, turning them into kinetic kaleidoscopes, where the clichés of the works by Fouad el-Khoury are reflected, and make the dwellings and their views on each floor totally unique. The skin covering the entire tower looks like a plowed land which preserves the traces of the artisans and people who worked on it, transforming the project into a unique manifesto of architecture, art and craftsmanship.