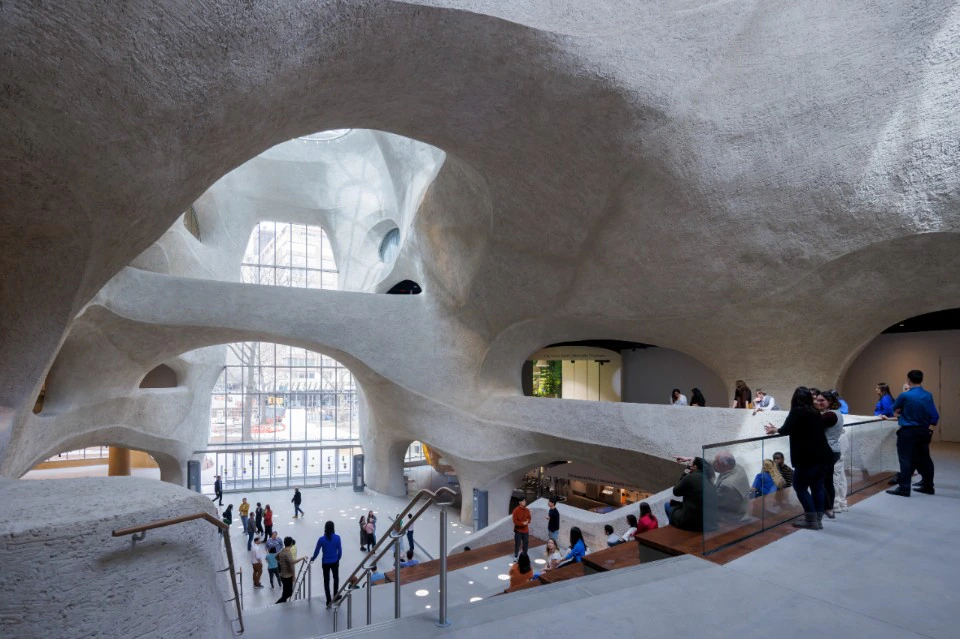 Richard Gilder Center at the American Museum of Natural History / Studio Gang
The Richard Gilder Center for Science, Education, and Innovation is the latest addition to New York's historic American Museum of Natural History. At a time of urgent need for better public understanding of science and greater access to science education, the Gilder Center is designed to amplify the intellectual impact of the Museum with experiential architecture that encourages exploration—drawing in people of all ages, backgrounds, and abilities to share the excitement of scientific discovery and learning about the natural world.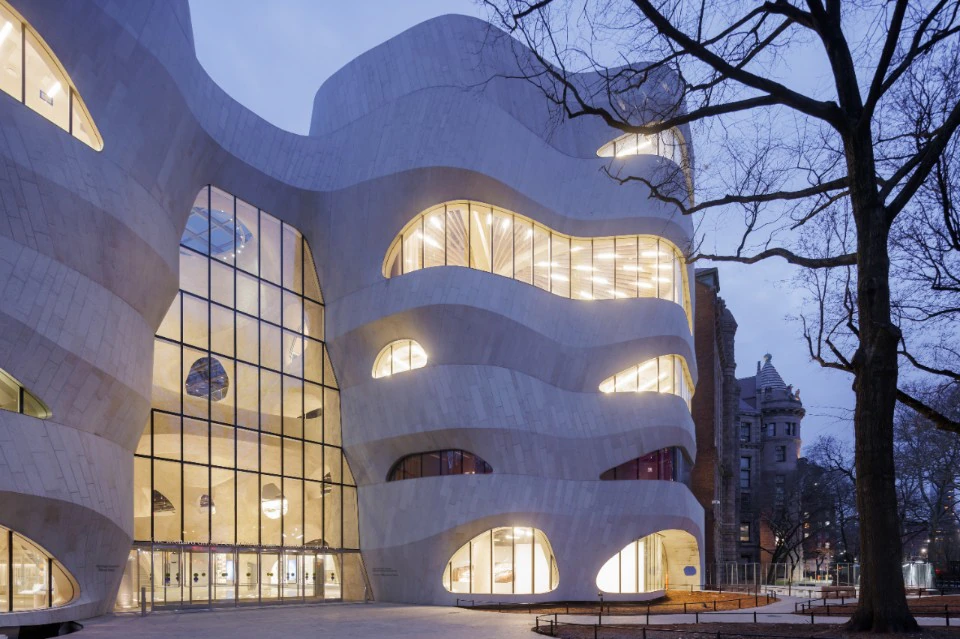 Conceived from the inside-out, the design vastly improves functionality and visitor experience for the entire Museum campus. Establishing a new, fully accessible entrance at Columbus Avenue and a strong east-west axis, the project creates more than thirty connections among ten different buildings, replacing former dead ends with continuous loops. Providing new exhibition, education, collections, and research spaces, the Gilder Center also brings essential yet previously back-of-house functions into public view for the first time, giving visitors new insight into the full breadth of the Museum's diverse collections and active scientific research.
Natural form-making processes informed the architecture. Akin to a porous geologic formation shaped by the flow of wind and water, the building's central, five-story atrium greets arriving visitors like an intriguing landscape, ready to be explored. Opening the building to natural daylight, the atrium structure also provides intriguing views into different spaces while bridging physical connections between them. Its structural walls and arches carry the building's gravity loads. It is constructed using shotcrete, a technique primarily used for infrastructure, which sprays structural concrete directly onto rebar cages that were digitally modeled and custom-bent. Eliminating the waste of formwork, the technique achieves a seamless, visually and spatially continuous interior, whose form extends outward to greet the park and neighborhood beyond.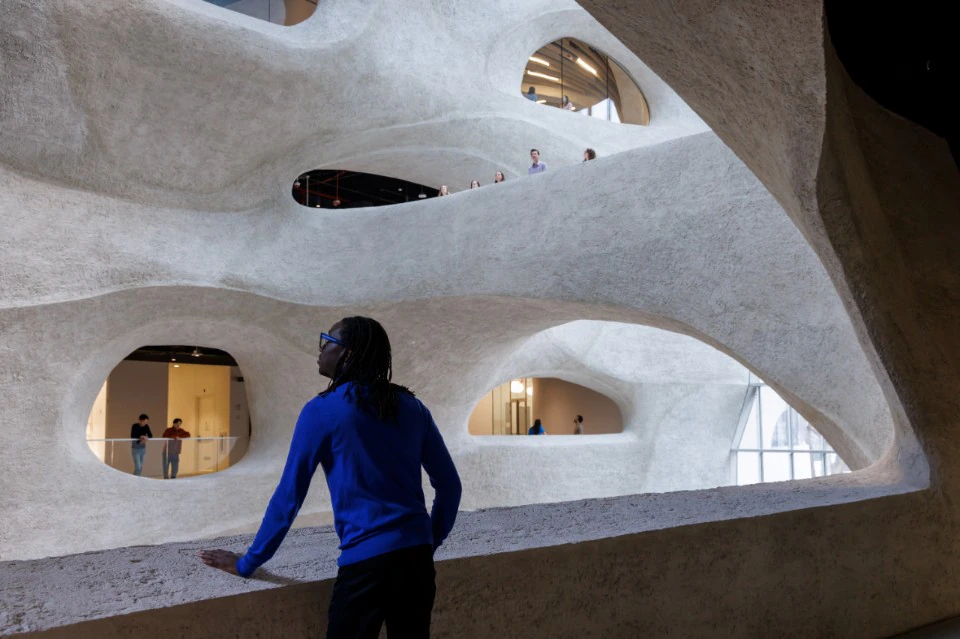 From the central atrium, visitors can easily find and flow into the surrounding program spaces—traversing bridges, moving along sculpted edges, and passing through vaulted openings. These spaces include an insectarium and butterfly vivarium that house interactive exhibits with live insects and large-scale, ecological models of their habitats; the five-story Collections Core, which houses more than 3 million scientific specimens, three floors of which feature floor-to-ceiling exhibits of scientific collections and provide glimpses into working collections areas; Invisible Worlds, an immersive experience that illustrates how all life on Earth is connected; an expanded research library; and state-of-the-art classrooms, learning labs, and education areas that serve students ranging from elementary school through professional science teachers.
The Gilder Center's verticality is key to lowering its overall energy demands, with the atrium bringing natural light and air circulation deep into the building's interior. A high-performance envelope with stone cladding, along with deep-set windows and shade trees, help passively cool the building in summer. Together with a highly-efficient irrigation system and hearty native and adaptive vegetation that supports wildlife, the project's environmental strategies allow the building itself to exhibit the depth of care for the natural world that is central to the Museum's mission.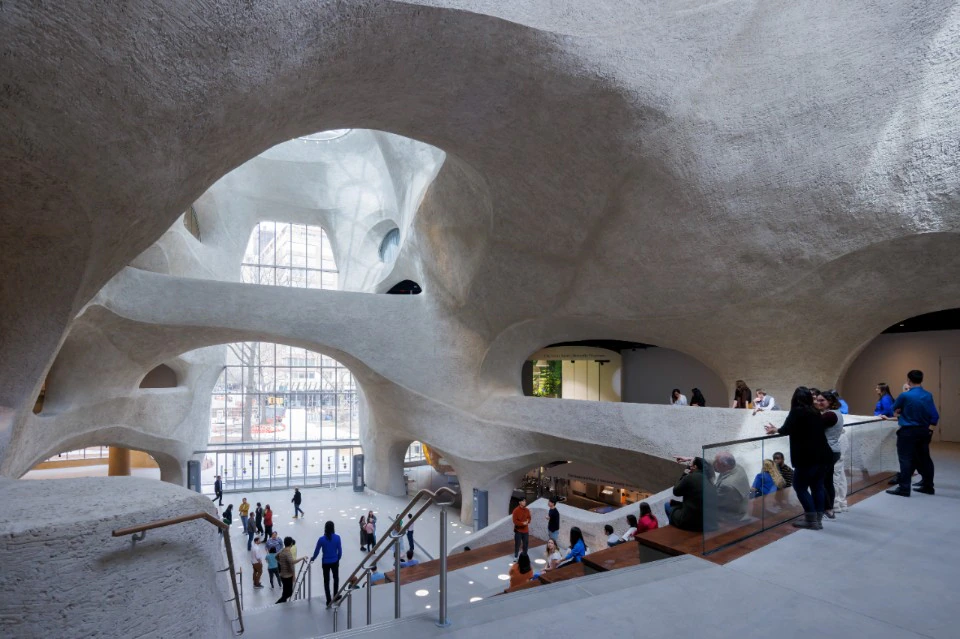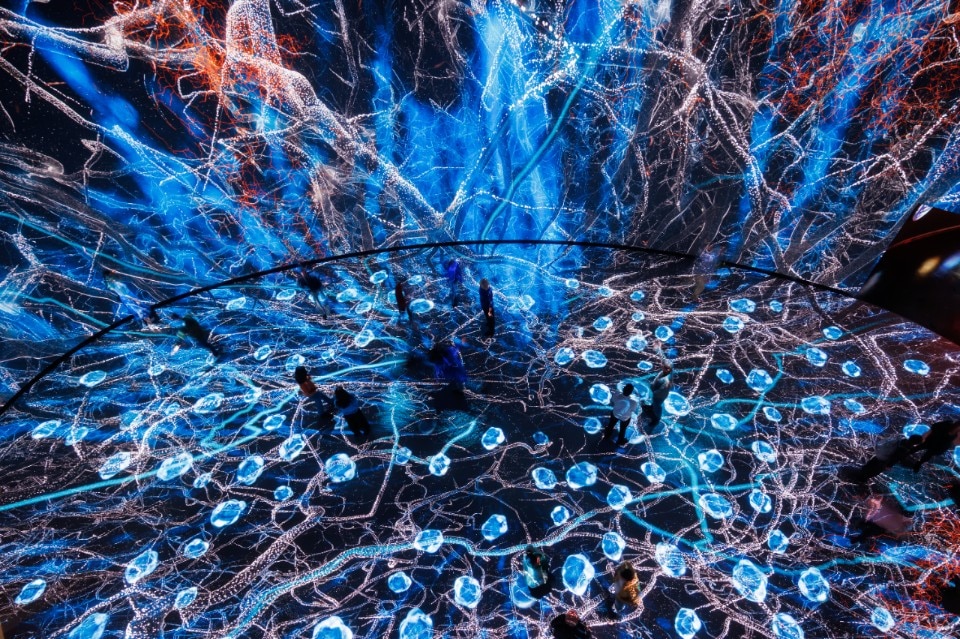 ---
Architects: Studio Gang
Area: 230000 ft²
Year: 2023
Photographs: Iwan Baan
Manufacturers: Hofmann Naturstein
City: New York
Executive architect: Davis Brody Bond
Exhibition design: Ralph Appelbaum Associates
Structural engineer, acoustical and audio visual consultants: Arup
MEP/FP/façade consultant: Buro Happold,
Civil and geotechnical engineer: Langan
Landscape architect: Reed Hilderbrand
Signage design: Pentagram,
Theater design: Tamschick Media + Space with Boris Micka Associates
Sustainability: Atelier Ten
Lighting consultant: Renfro Design Group
Construction manager: AECOM Tishman,