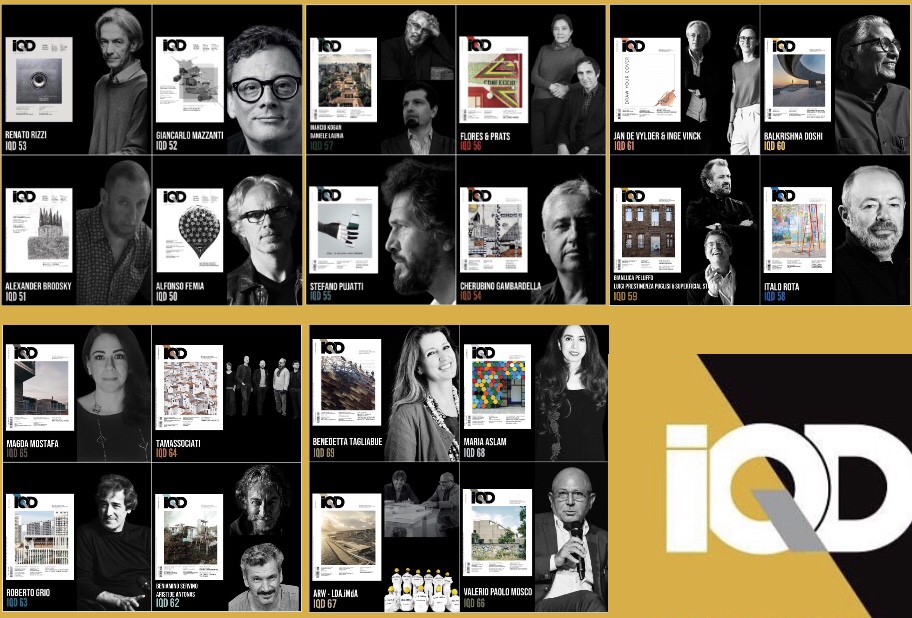 IQD Guest Architects from 2018 to date
First published in 2005 with the aim of enhancing the panorama of architecture and design with a new, fresh and dynamic form of communication, IQD stood out at an international level, obtaining important awards, and it is now considered one of the most important specialized magazines. Since 2018, the curatorship of a wide section of each issue is entrusted to leading figures on the international scene, who deals, choosing projects and contributions from some selected professionals, with topics of great interest for the world of design. Let's review the 16 issues today, each different in themes, thoughts, contributions and graphics.
2018
IQD 50 ALFONSO FEMIA – Invisible Mediterranean(s)
Guest Architect: Alfonso Femia
Topic: Invisible Mediterranean(s)
Contributors: Francesca Agostino, Giovanni Aurino, Farid Azib, Luc Boegly, Andrea Boschetti, Alexander Brodsky, Roland Carta, Maurice Culot, Raffaele Cutillo, Giovanni Damiani, Maurizio De Caro, Chamss Doha Oulkadi/ Ghazal Banan/ Khalid Madani/ BOM architecture, Théodore Fivel, Cherubino Gambardella, Luciano Galimberti, Maurizio Galimberti, Luca Galofaro, Lina Ghotmeh, Paolo Iotti, Vincenzo Latina, Antonia Marmo, Ezio Micelli, Luca Molinari, Giovanni Multari, Attilio Maria Navarra, Elena Pancaldi, Marcello Panzarella, Federico Parolotto, Vincent Parreira, Mario Paternostro, Gianluigi Pescolderung, Jean-Baptiste Pietri, Paola Pierotti/ Andrea Nonni/ PPAN, Valentina Piscitelli, Michelangelo Pugliese, Rudy Ricciotti, Paolo Riolzi, Renato Rizzi, Aude Robert, Pino Scaglione, Arthur Simony, Simone Sfriso, Giorgio Tartaro, Amelia Tavella, Nicola G. Tramonte, Gerard Traquandi, Danilo Trogu, Antoine Vernholes
IQD 51 ALEXANDER BRODSKY – Intuition
Guest Architect

: Alexander Brodsky

Topic: Intuition
Contributors: Sergej Gandlevskij, Alfonso Femia, Benvenuto Saba, Carmelo Baglivo, Cecilia Anselmi, Franco Raggi, Giancarlo Mazzanti & El Equipo Mazzanti, Haugen/Zohar Arkitekter, Ivo Buda, Julian Weyer, Massimo Donà, Oleg Kudriashov, Peter Märkli, Renato Rizzi, Sandro Lazier, Sergej Gandlevskij, Valerio Paolo Mosco.
IQD 52 GIANCARLO MAZZANTI EL EQUIPO MAZZANTI + HORIZONTAL – Spaces that learn to…
Guest Architect

:

El Equipo Mazzanti + Horizontal
Topic: Spaces that learn to…
Contributors:

Maria Giuseppina Grasso Cannizzo, Nicolás Paris, Diébédo Francis Kéré, Sol Aramendi, Zoohaus Inteligencias Colectivas, Frida Escobedo, WORKac, Raumlabor
IQD 53 RENATO RIZZI – Singularity
Guest Architect

:

Renato Rizzi
Topic:

Sing

ularity
Contributors: Susanna Pisciella, Stefano Boeri, Malvina Borgherini, Bruno D'Amore, Annalisa De Curtis, Alfonso Femia, Alberto Ferlenga, Dario Lusso, Antonio Monestiroli, Valerio Paolo Mosco, Fabio Pradarelli, Luciano Semerani, Andrea Tagliapietra, Paolo Zermani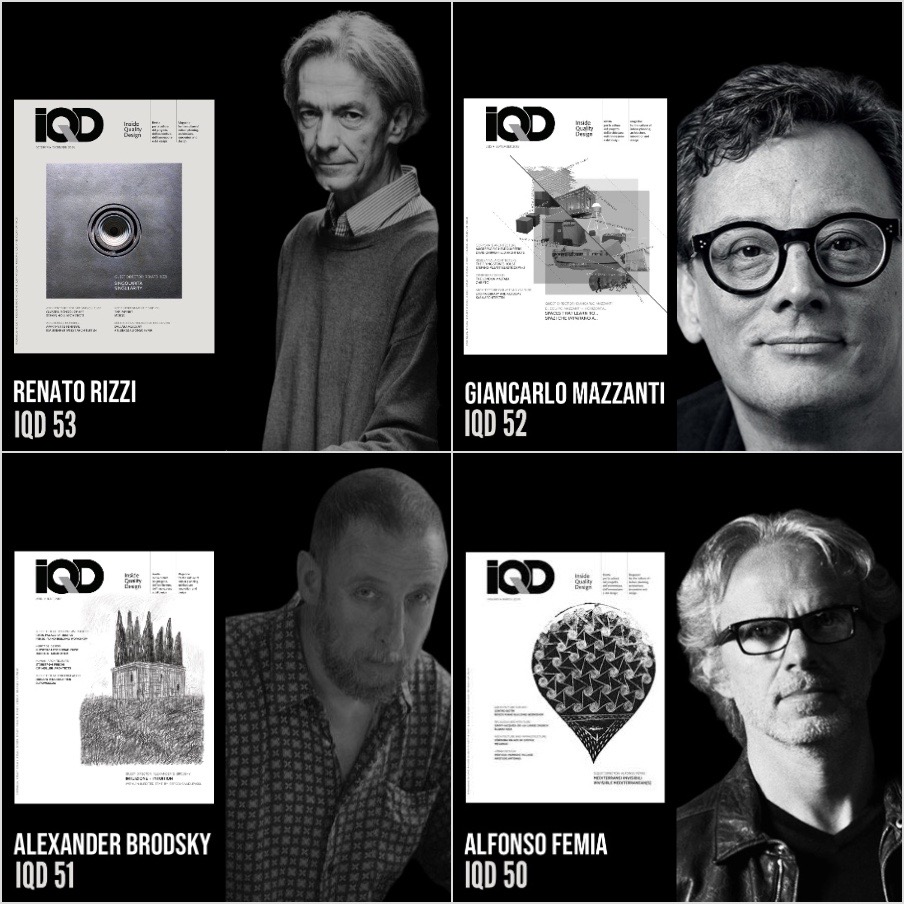 2019
IQD 54 CHERUBINO GAMBARDELLA – Verisimilar
Guest Architect

: Cherubino Gambardella

Topic: Verisimilar
Contributors

:

Alfonso Femia, Beatrice Cappuccilli, Beniamino Servino, Concetta Tavoletta, Corrado Di Domenico, Efisio Pitzalis, Elsa Nuzzo, Eva Prats, Franco Purini, Giacomo Papi, Giancarlo Mazzanti, Gianni Nieddu, Leonardo Pica Ciamarra, Luca Molinari, Marco Pignetti, Margherita Gistri, Maria Gelvi, Maria Lai, Nicola Giannoni, Orazio Carpenzano, Renato Rizzi, Ricardo Flores, Sergio Fermariello, Simona Ottieri, Stefano Pujatti, Vitaliano Trevisan
IQD 55 STEFANO PUJATTI – I don't know
Guest Architect

: Stefano Pujatti

Topic: I don't know
Contributors: Alessandro Ruggera, Alfonso Fasano, Catherine Mosbach, Davide T. Ferrando, Elastico Disegno, Hans Ibelings, LAMAS Architecture, Martina Motta, Nina Bassoli, Roberto Damiani, Tomà Berlanda, Umberto Berard
IQD 56 FLORES & PRATS – Second Hand
Guest Architects: Ricardo Flores, Eva Prats
Topic: Second Hand
Contributors

:

Antoni Miralda, Curro Claret, Davide Rapp, Jan de Vylder, Josep Llinàs, Marius Grootveld, Ronald Christ, Rotor
IQD 57 DANIELE LAURIA / MARCIO KOGAN – Brazil
Guest Architects: Daniele Lauria / Marcio Kogan
Topic: Brazil
Contributors

: Antoine Vernholes, Daniele Lauria, Gabriel Kogan, Marcio Kogan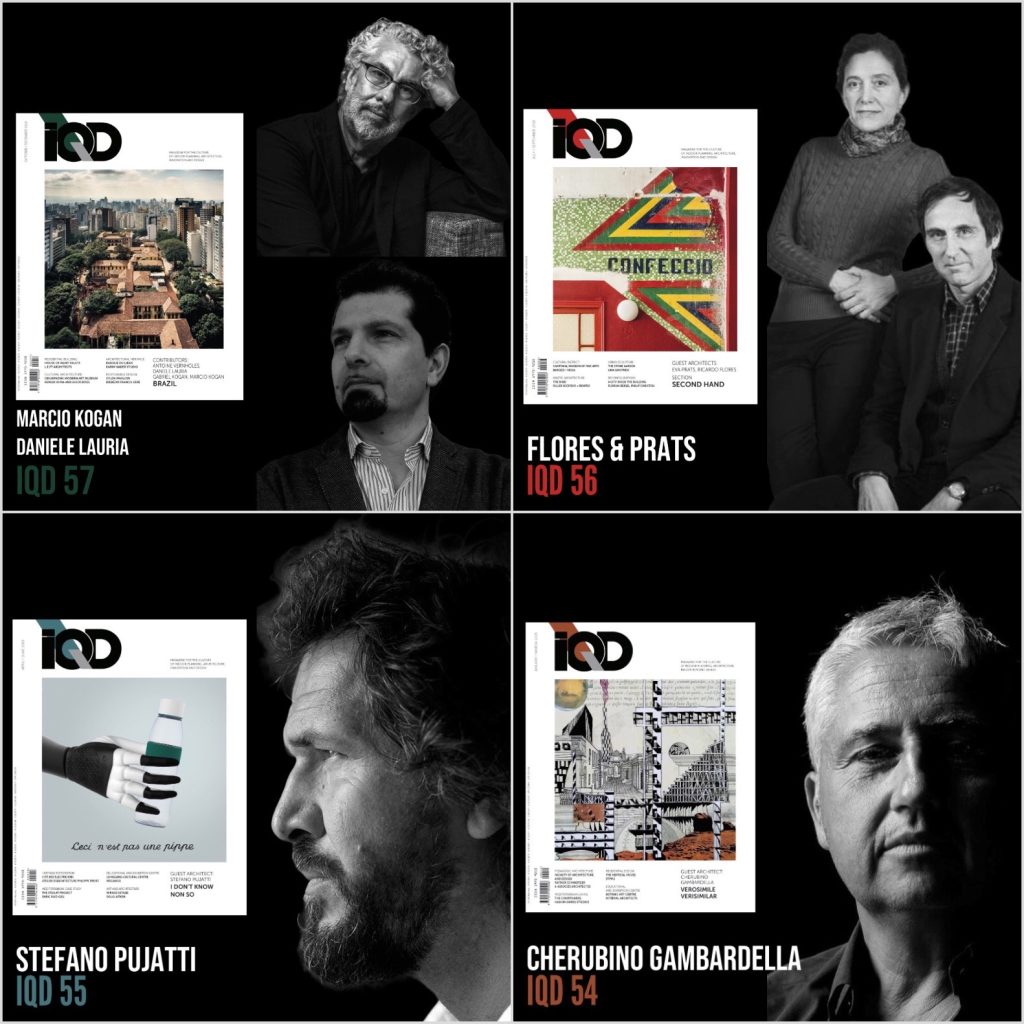 2020
IQD 58 ITALO ROTA – Lifelong Learning
Guest Architects: Italo Rota
Topic: Lifelong Learning
Contributors

:

Carlo Antonelli, Ugo Rota
IQD 59 GIANLUCA PELUFFO – Living Borders /
LUIGI PRESTINENZA PUGLISI & SUPERFICIAL STUDIO – Whatever Works
Guest Architect: Gianluca Peluffo
Topic: Living Borders
Contributors

:

Special thanks for the coordination of Living Borders to: Ernesta Caviola Contributors: Arcangelo Di Cesare, Consuelo Lollobrigida, Domenico Faraco, Flavio Mangione, Francesco Forlani, Massimo Locci, Maurizio De Caro, Paolo Di Nardo, Paolo Conrad-Bercah, Raffaella Aragosa, Renato Capozzi, Riccardo Larini, Rudy Ricciotti, Sarah Catalano, Simona Gabrielli, Valerio Paolo Mosco
---
Guest Architects: Luigi Prestinenza Puglisi with Superficial Studio (Daniele Ficociello, Federica Marchetti, Giulia Mura, Roberto Sommatino, Zaira Magliozzi)
Topic: Whatever Works
Contributors

:

Marco Maria Sambo
IQD 60 BALKRISHNA VITHALDAS DOSHI – Designing the Future
Guest Architect: Balkrishna Vithaldas Doshi
Topic: Designing the Future
Contributors

:

Special thanks for the coordination of Designing the Future to: Daniele Lauria Contributors: Marco Coello, Piotr Lewicki, Tamara Triffez
IQD 61 INGE VINCK, JAN DE VYLDER – Drawing and nothing else
Guest Architects: Inge Vinck, Jan De Vylder
Topic: Drawing and nothing else
Contributors

:

Special thanks for the coordination of Drawing and nothing else to: Celien Demets Contributors: Alexander Savvich Brodsky, Alfonso Femia, Ana Maria Puigjaner Barberà, Anne Mie Depuydt, Arno Brandlhuber, Olaf Grawert, Angelika Hinterbrandner, Roberta Jurčić, Beniamino Servino, Bijoy Jain, Charlotte Malterre-Barthes, Cherubino Gambardella, Claudio Cortese, Dagur Eggertsson, Dirk Somers, Emiliana Martinelli, Eva Prats, Ricardo Flores, Filippo Bricolo, Florian Idenburg, Francesca Torzo, Gianluca Peluffo, Harold Fallon, Helen Thomas, Italo Rota, Jo Van Den Berghe, Khushnu Hoof, Maria Gelvi, Michael Meredith, Momoyo Kaijima, Philip Christou, Renato Rizzi, Roger Boltshauser, Sam Chermayeff, Sami Rintala, Shelley McNamara, Shervin Sheikh Rezaei, Sönke Hoof, Stefanie Everaert, Stefano Pujatti, Stephanie Macdonald, Theo De Meyer, Tom de Paor, Tony Fretton, Wietse De Cooman, Yvonne Farrell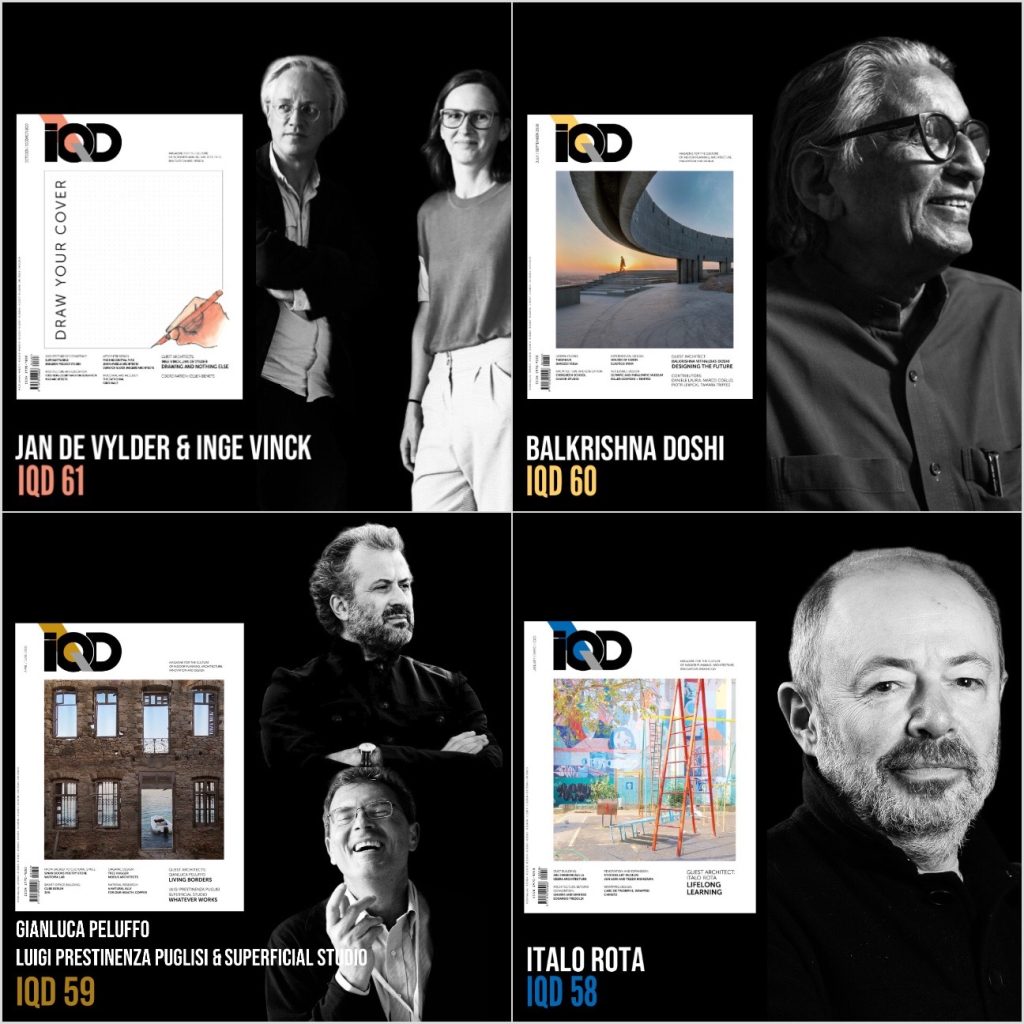 2021
IQD 62 ARISTIDE ANTONAS – Formal Arrangements / BENIAMINO SERVINO – The True is Towards the Whole
Guest Architect: Aristide Antonas
Topic: Formal Arrangements
Contributors

:

Andrea Zittel, Andrés Jaque, Arno Brandlhuber, Jimenez Lai, Jorge Otero-Pailos, Junya Ishigami, Lydia Kallipoliti, Maria Eichhorn, Nikolaus Hirsch, Thanos Zartaloudis, Tom Emerson
---
Guest Architect: Beniamino Servino
Topic: The True is Towards the Whole
Contributors

:

Alberto Iacovoni, Carmelo Baglivo, Cherubino Gambardella, Cino Zucchi, Fabio Alessandro Fusco, Luca Galofaro, Stefano de Martino + Karen Lohrmann
IQD 63 ROBERTO GRIO – CITY: Visions, Needs, Restart
Guest Architect: Roberto Grio
Topic:

CITY: Visions, Needs, Restart
Contributors

:

Alice Buzzone, Andrea D'Antrassi, Antonino Saggio, Ben van Berkel, Guido Iannuzzi, Joan Roig, Jürgen Mayer H., Kristina Knauf, Luigi Prestinenza Puglisi, Manuel Aires Mateus, Marthijn Pool, Martin Haas, Monika Schulz, Paola Pierotti, Rudy Ricciotti, Valerio Paolo Mosco
IQD 64 TAMassociati – Shared Intelligences
Guest Architect: TAMassociati
Topic:

Shared Intelligences
Contributors

:

Al Borde, Alessandro Melis, Claudia Pasquero, Davide Tommaso Ferrando, Filippo Romano, Francesca Iarrusso, Franco Tagliabue Volonté, Gianluca D'Incà Levis, Giuseppe Davide Longhi, Ida Origgi, Ingrid Paoletti, Lidia Gasperoni, Lucio Cavazzoni, Maddalena Laddaga, Marco Poletto, Maria Aslam, MariaLuisa Palumbo, Mariam Kamara, Marta D'Alessandro, Massimo Pica Ciamarra, Matilde Cassani, Nina Bassoli, orizzontale, Paolo Cascone, Peter Rich, Rachel Armstrong, Rossella Miccio, sa_partners, Silvio Cristiano, Studio Franco Giorgetta, Taller General, Valerio Paolo Mosco, Xavier Vendrello
IQD 65 MAGDA MOSTAFA- Architecture for all
Guest Architect: Magda Mostafa
Topic:

Architecture for all
Contributors

:

Ab Rogers, Alfredo Brillembourg, Bryony Roberts, Eron Friedlaender, Hansel Bauman, Irina Verona, Jennifer Carpenter, Joel Sanders, Lee Onbargi, Loukia Tsafoulia, Manuel Cadrecha, Matthew Tabram, Seb Choe, Severino Alfonso, Simon Humphreys, Stuart Neilson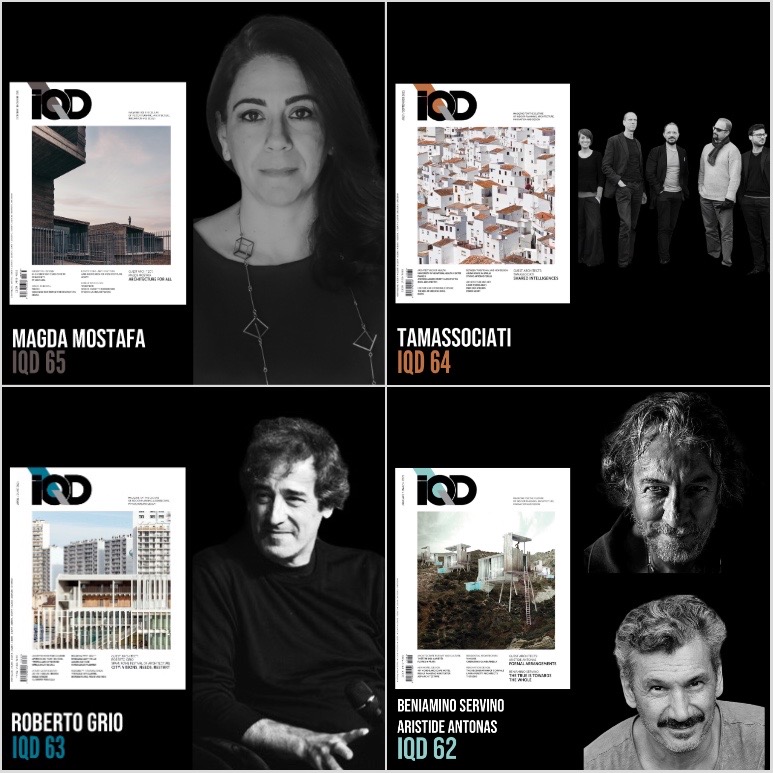 2022
IQD 66 VALERIO PAOLO MOSCO – Naked Architecture
Guest Architect: Valerio Paolo Mosco with Davide Cecconello, Gianluca Bernardi
Topic:

Naked Architecture
Contributors

:

Aldo Aymonino, Alessandro Rocca, Attilio Terragni, Beniamino Servino, Cherubino Gambardella, Damiano Di Mele, Davide Cecconello, Emanuele Garbin, Francesco Bacci, Franco La Cecla, Franco Purini, Gianluca Bernardi, Gianluca Peluffo, Hans Ibelings, Harry F. Mallgrave, Lina Malfona, Luca Galofaro, Luigi Prestinenza Puglisi, Michel Carlana, Orazio Carpenzano, Paolo Conrad-Bercah, Pierluigi Nicolin, Roberto Gargiani, Sara Martini, Studio Baukuh, Studio Labics, Tullia Iori, Valter Scelsi, Wilfried Wang
IQD 67 ARW & LDA.iMdA – Re:Making City
Guest Architect: ARW & LDA.iMdA
Topic:

Re:Making City
Contributors

:

Alessandro Melis, Antonio Capestro, Augustin Faucheur, Camillo Botticini, Christian Pongratz, Cinzia Palumbo, Eleonora Carrano, Francisco Mangado, Giulia De Appolonia, Graziella Roccella, Massimo Ilardi, Matteo Facchinelli, Paolo Posarelli, Rune Boserup, Sinus Lynge
IQD 68 MARIA ASLAM – Rethinking the Architectural Debate
Guest Architect: Maria Aslam
Topic:

Rethinking the Architectural Debate
Contributors

:

Colectivo C733, Daniele Lauria, Eloisa Ramos and Moreno Castellano, Franco La Cecla, Gilles Delalex, Luca Bruno, Maheen Zakir, Shahid Sayeed Khan and Muhammad Ansir, TAMassociati, Valerio Paolo Mosco
IQD 69 BENEDETTA TAGLIABUE EMBT ARCHITECTS – Textile Architecture
Guest Architect: Benedetta Tagliabue EMBT Architects
Topic: Textile Architecture
Contributors

:

Anupama Kundoo, Beniamino Servino, Dorte Mandrup, Izaskun Chinchilla Moreno, José Selgas and Lucía Cano, Patricia Urquiola, Recetas Urbanas, Vo Trong Nghia, Yael Reisner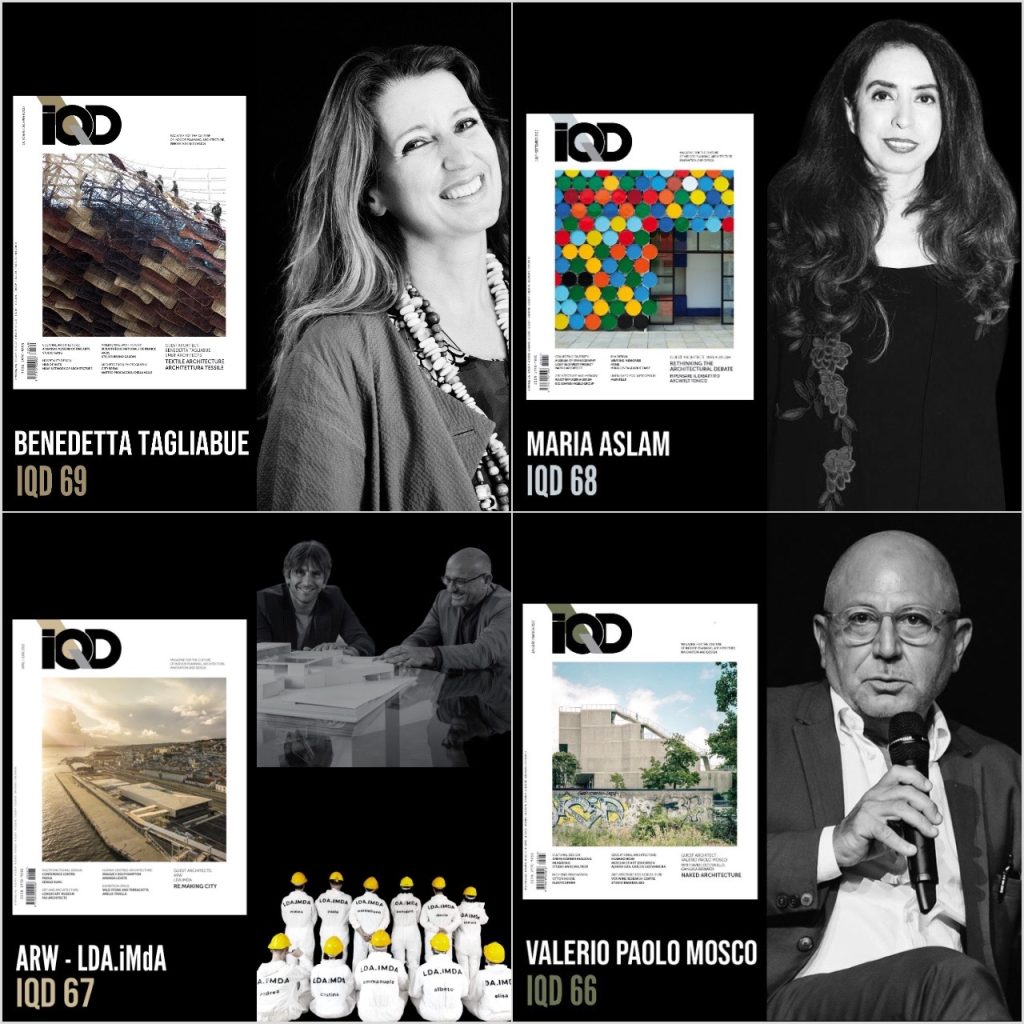 Curator of the first issue of 2023 with focus on the Architecture of Equity is architect Alfredo Brillembourg, co-founder in 1998 in Caracas of the interdisciplinary collective Urban-Think Tank. The next curators of this year's program will be Amelia Tavella, Andrea Boschetti and his studio Metrogramma in collaboration with Carla Ferrer and Marco Jacomella founders of the ITER studio, and finally Daniele Lauria and various architects will curate the last issue of the year with focus Colombia.