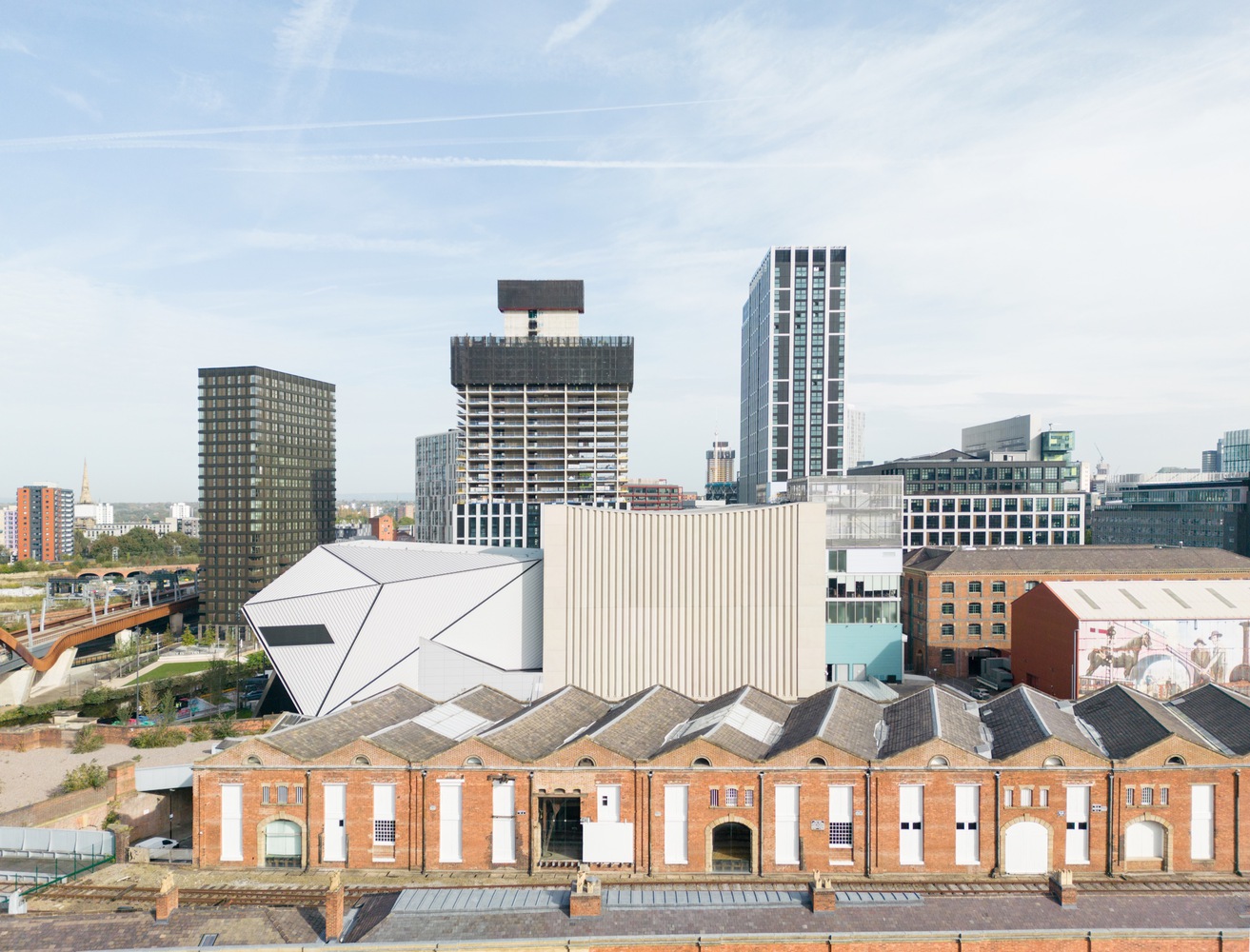 Factory International Aviva Studios / OMA
Place:
Manchester, United Kingdom
Photographer:
Marco Cappelletti
Since it was launched in 2007, the Manchester International Festival, a biennial international art festival organized by Factory International, has taken place in existing buildings both large and small throughout the city. But spaces with the qualities needed by the art pieces commissioned by the Festival are fewer and fewer, disappearing amid Manchester's fast-paced redevelopment into England's new economic hub. In 2015 Manchester City Council launched an architecture competition for a new kind of art venue for the Manchester International Festival capable of hosting both art performances and exhibitions, separately or simultaneously. The competition was won by the architectural firm OMA, and the project has finally been completed.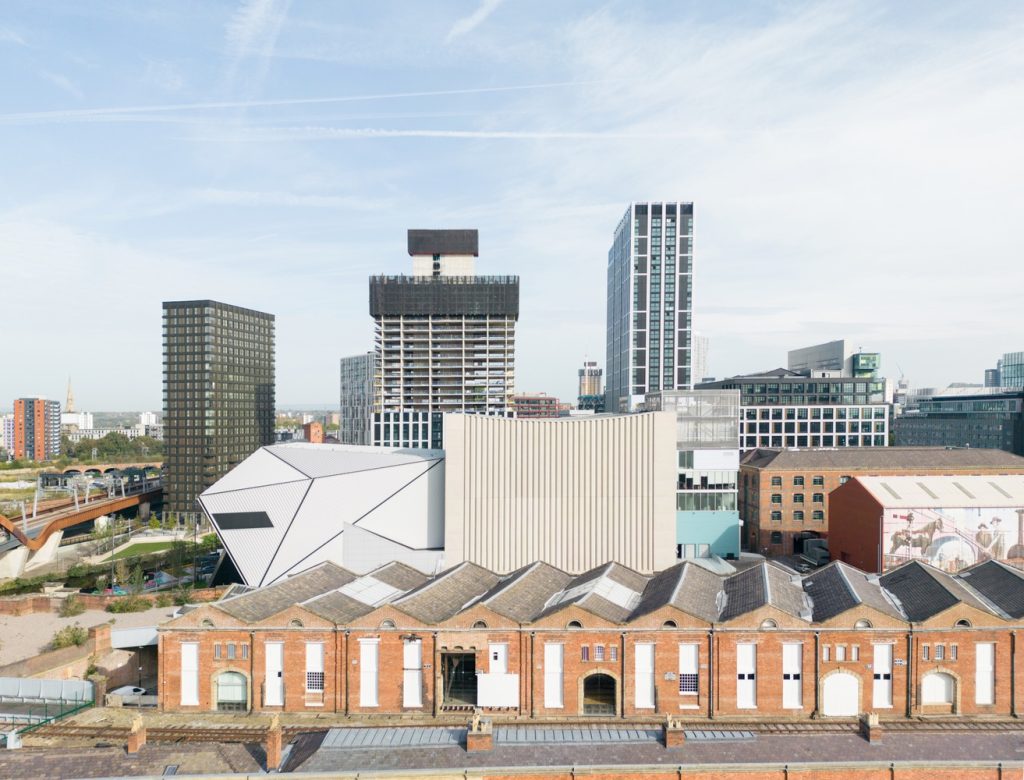 MIF's new home embraces Manchester's industrial and creative past. Its concrete and corrugated metal facades stand out amidst the refurbished brick warehouses and newly built glass-facing flats, offices, and television studios, making up the new St. John's neighborhood. The building hovers over Water Street and the arches of the 19th-century Pineapple railway line, now part of its foyer, opening up a much-needed swathe of public space towards River Irwell, forgotten between greedy new developments.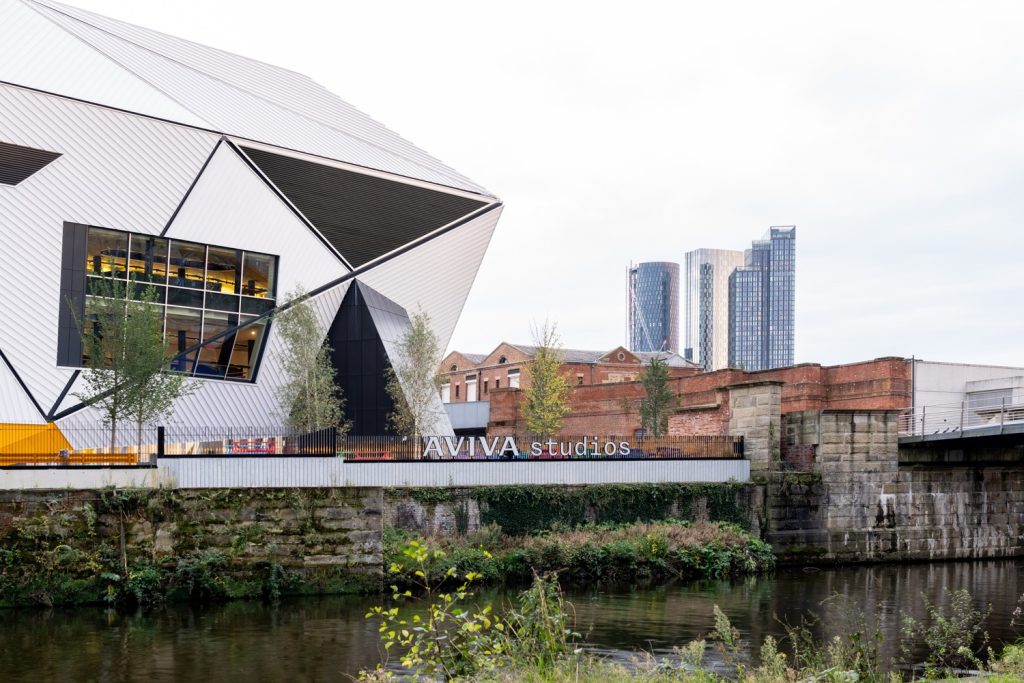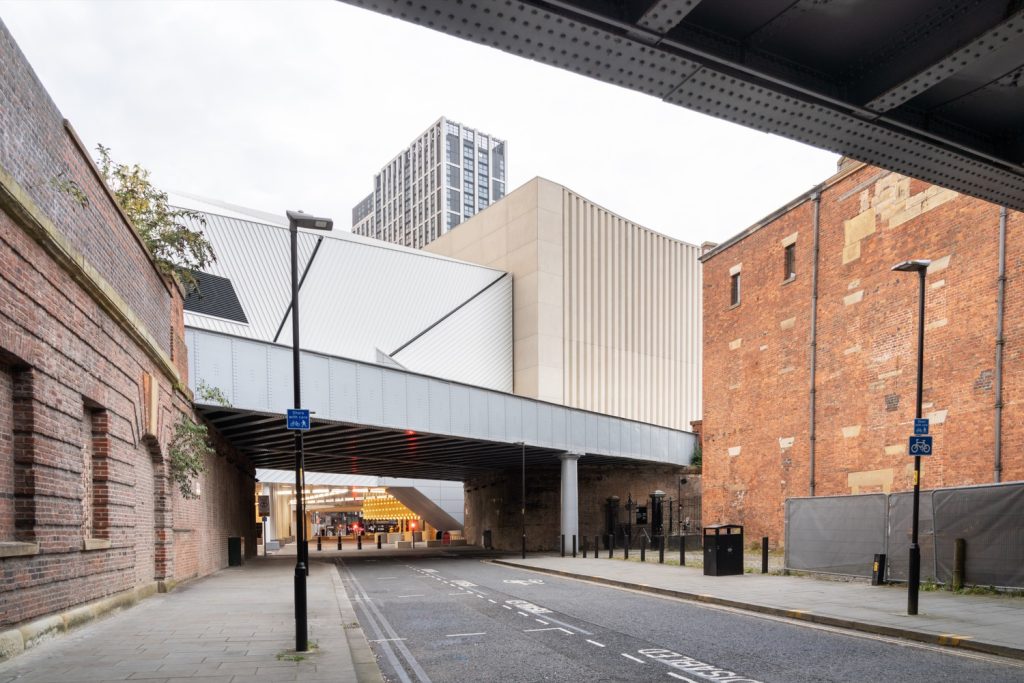 The Factory is not one building but two. Its main event space, the Warehouse, is one large, 21-meter tall, flexible container, left bare to be adapted by its users as they see fit. It can be used as a single space or subdivided into two, with full-height moveable partitions that provide acoustic insulation. Productions of different scales can take place inside, from intimate performances to concerts with 5,000 people standing. The ceiling is a technical grid, with lighting, equipment, and rigging, that supports concerts and exhibitions alike.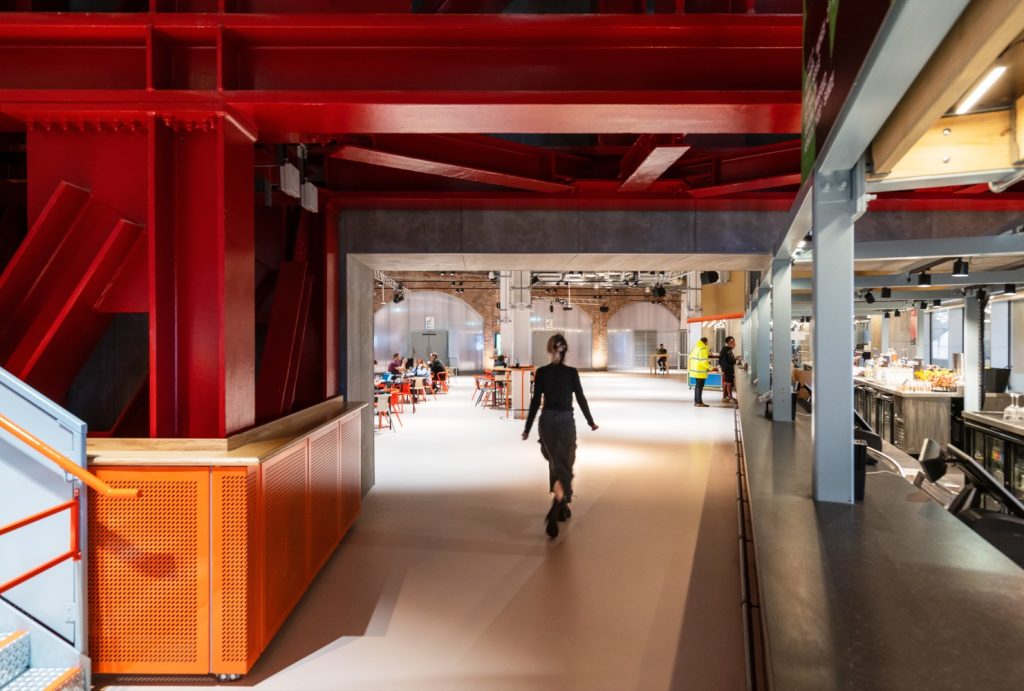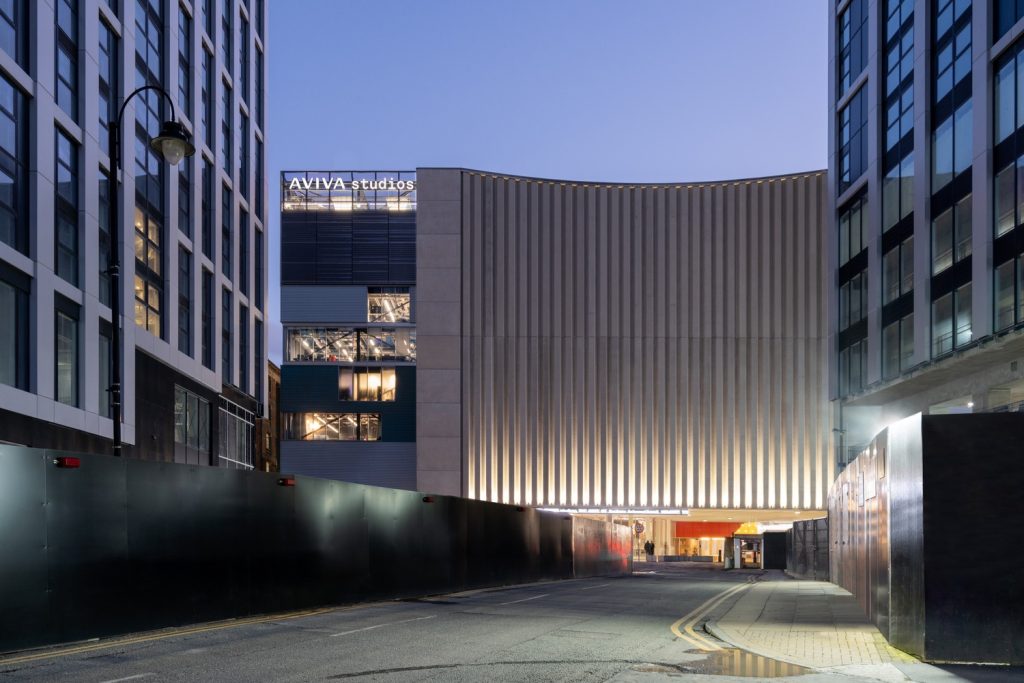 The Warehouse is complemented by the Hall, a 1,603-seat auditorium with a flexible stage that accommodates opera, ballet, theater, music, and cross-art performances. The Warehouse and Hall can work in tandem, allowing the stage to extend to a depth of 45 meters.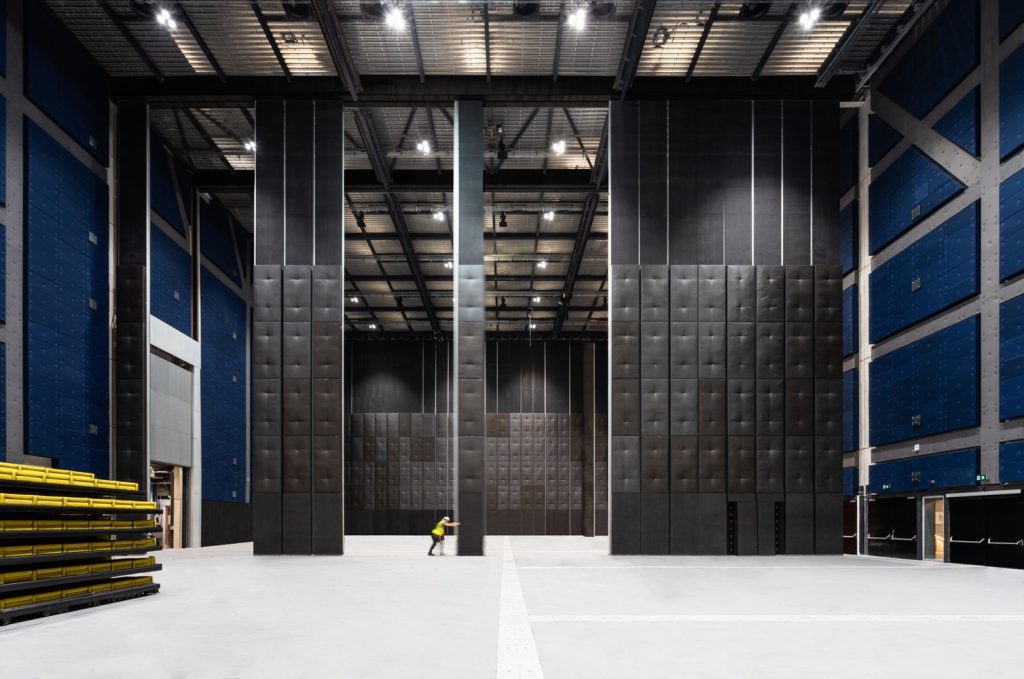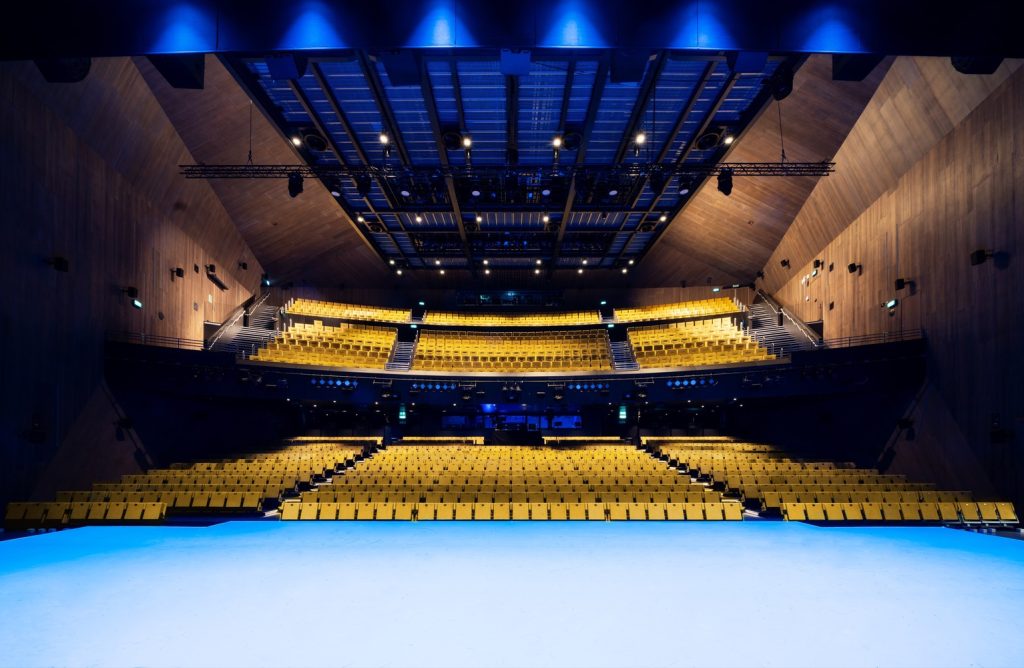 ---
Architects: OMA
Area: 13350 m²
Year: 2023
Photographs: Marco Cappelletti
Structural Engineering: Buro Happold, BDP
Civil Engineering: Buro Happold, BDP
Acoustics Engineering: Level Acoustics
Vertical Transportation: Pearson Consult
Landscape Design: Planit.IE
Services Engineering: Buro Happold
Partner In Charge: Ellen van Loon
Project Team: Ellen van Loon, Rem Koolhaas, Carol Patterson, Gary Owen, Jonathan Telkamp, Tanner Merkeley, Jacopo Bellina, Paloma Bule, Anita Ernődi, Marc-Achille Filhol, Benedetta Gatti, Aris Gkitzias, Michalis Hadjistyllis, Jason Houssein, Lisa Huang, Aleksandr Joksimovic, Hans Larsson, Thijs van der Lely, Emma Lubbers, Dirk van der Meij, Tanner Merkeley, Felix Morczinek, Tom Paling, Maria Aller Rey, Mario Rodriguez, Helena Rong, Won Ryu, Saskia Simon, Lukasz Skalec, Wael Sleiman, Iason Stathatos, Koen Stockbroekx, Shinji Takagi, Nicola Vitale, Frederike Werner, Tom Xia, Yushang Zhang
Technical Architects: Allies and Morrison, Ryder Architecture
Construction Partners: Laing O'Rourke
It Planning: Strata
Transport Planning: Vectos
FF&E: Ben Kelly and Brinkworth
Graphic Design: Peter Saville and NORTH Design
Fire Engineering: WSP
Lighting & Stage Engineering: Charcoal Blue
City: Manchester
Country: United Kingdom