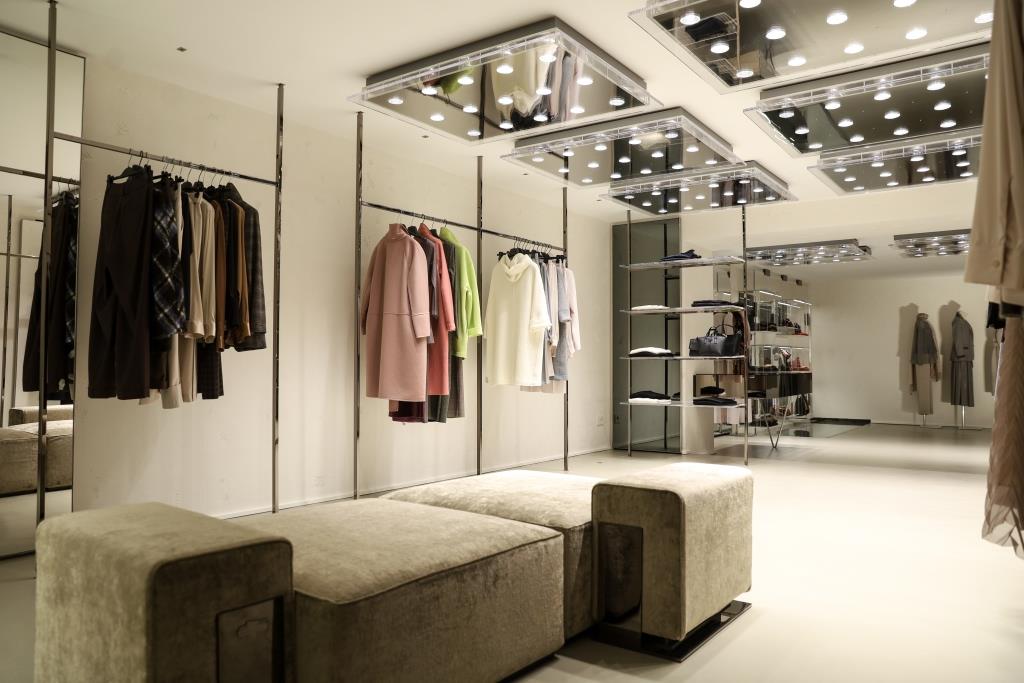 Donna boutique / Fernando Mosca / Masiero Tre
Architect:
Fernando Mosca
Photographer:
Michele Abate
When designing a boutique, one should never lose sight of the aim of making sure that, once the work is completed, the spaces must convey a sense of innovation, prestige and uniqueness. The identity of the new Donna boutique in Salerno, designed by the Italian-Argentine architect Fernando Mosca and inaugurated at the end of 2020, responds to these requirements by skilfully combining proportions, solids and voids, light and shadow.
The idea behind the project – architect Mosca explained – originates from the vision of architecture as a symphony, where every single space, like a musical note, has its own worth within the composition. The four distinct areas of this 280 sqm store, spread over two floors, generate – thanks to the elegant furnishings manufactured by design by company Masiero Tre, the play of transparencies, geometries and reflections and the preciousness of the materials – a harmony that invites to move around and guides the client in an extraordinary perceptive experience.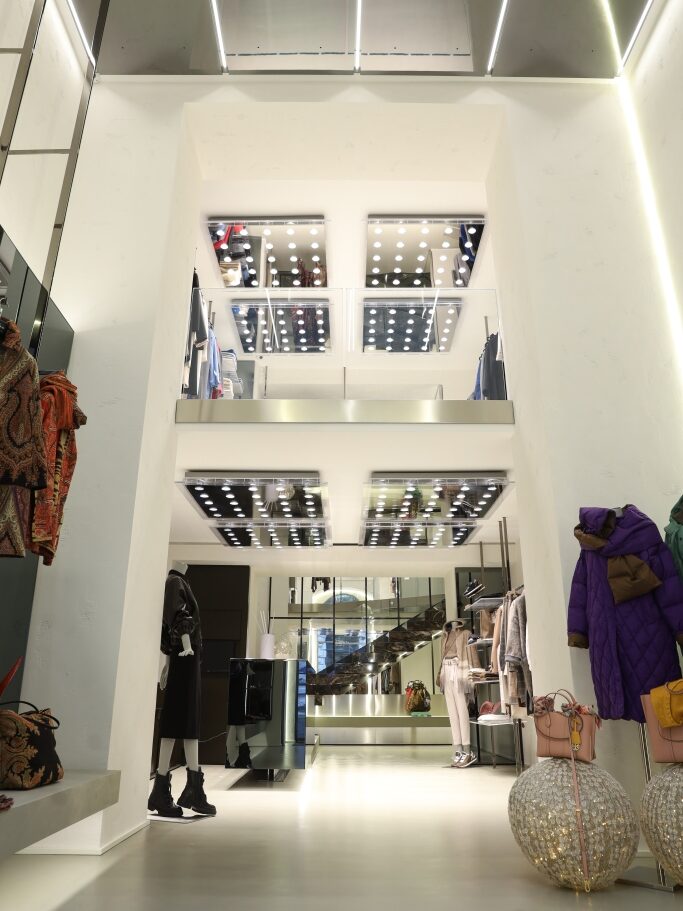 The design of the new Donna boutique in Salerno by architects Fernando Mosca starts from the façade which interacts with the city through its essential and refined geometries capable of preserving the historical forms of the building. The dialogue with the city is to be found also in the entrance area, a double-height space dedicated to accessories, where the urban shapes and rhythms reflected in the large mirrored wall are enhanced by the dynamic play of light and shadow created by the niches in the walls. Here the textured concrete resin floor and walls act as a perfect scenic backdrop for the rigorous lines of the furniture system, made with burnished metal profiles.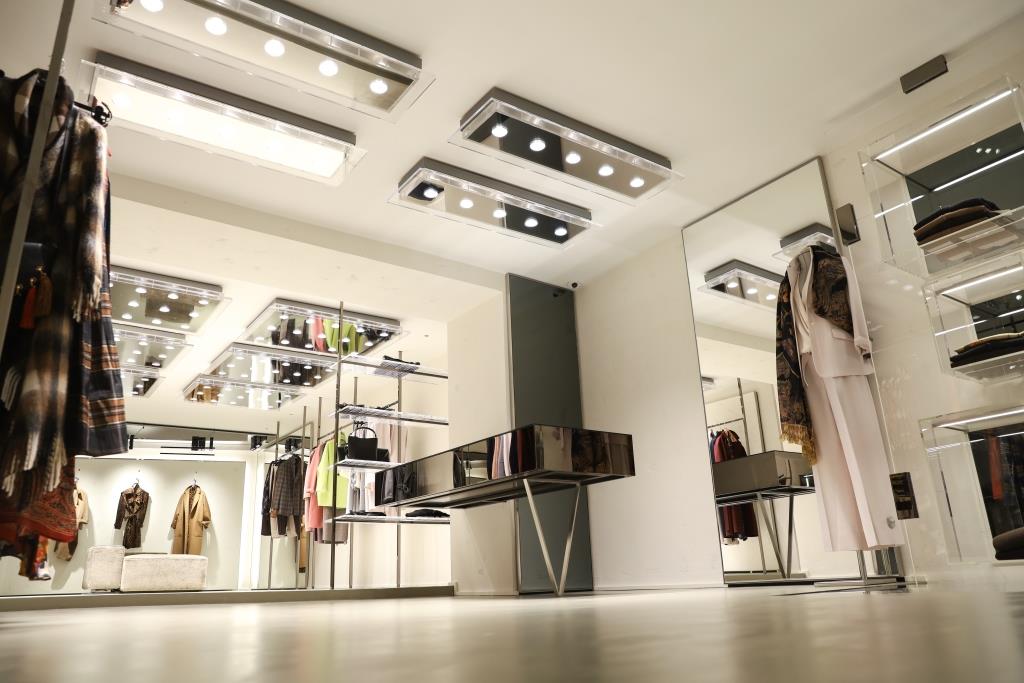 The following environments, dominated by the spectacular ceiling lighting, enhancing, by contrast, the simple and clean geometries of the spaces, lead to the grand staircase, an area of great intensity and expressive force, perfect synthesis between matter, space and function. This rich element in Confusion Dark marble, in which the unpredictable pattern of white and beige veins contrasts with the formal rigor, leads to the upper floor.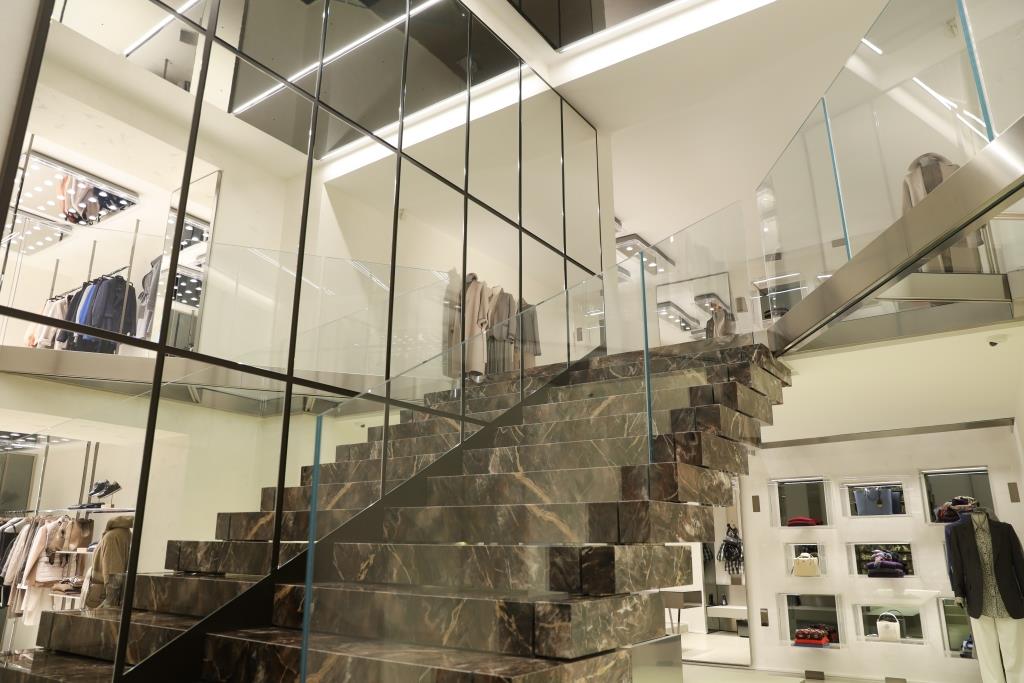 Here, starting from an entire wall occupied by an exhibition hive made of transparent methacrylate, which with its reflections reinforces the ethereal, incorporeal atmosphere, clients reach the most intimate area of the boutique: a sort of living room, characterized by the presence of the elegant and comfortable lounge chairs designed by architect Mosca for MuebleriasItalia, the new brand of Masiero Tre created in 2020, whose exclusive collections, conceived as microarchitectures, enrich the furnishing sector with their refined references to a cosmopolitan culture.