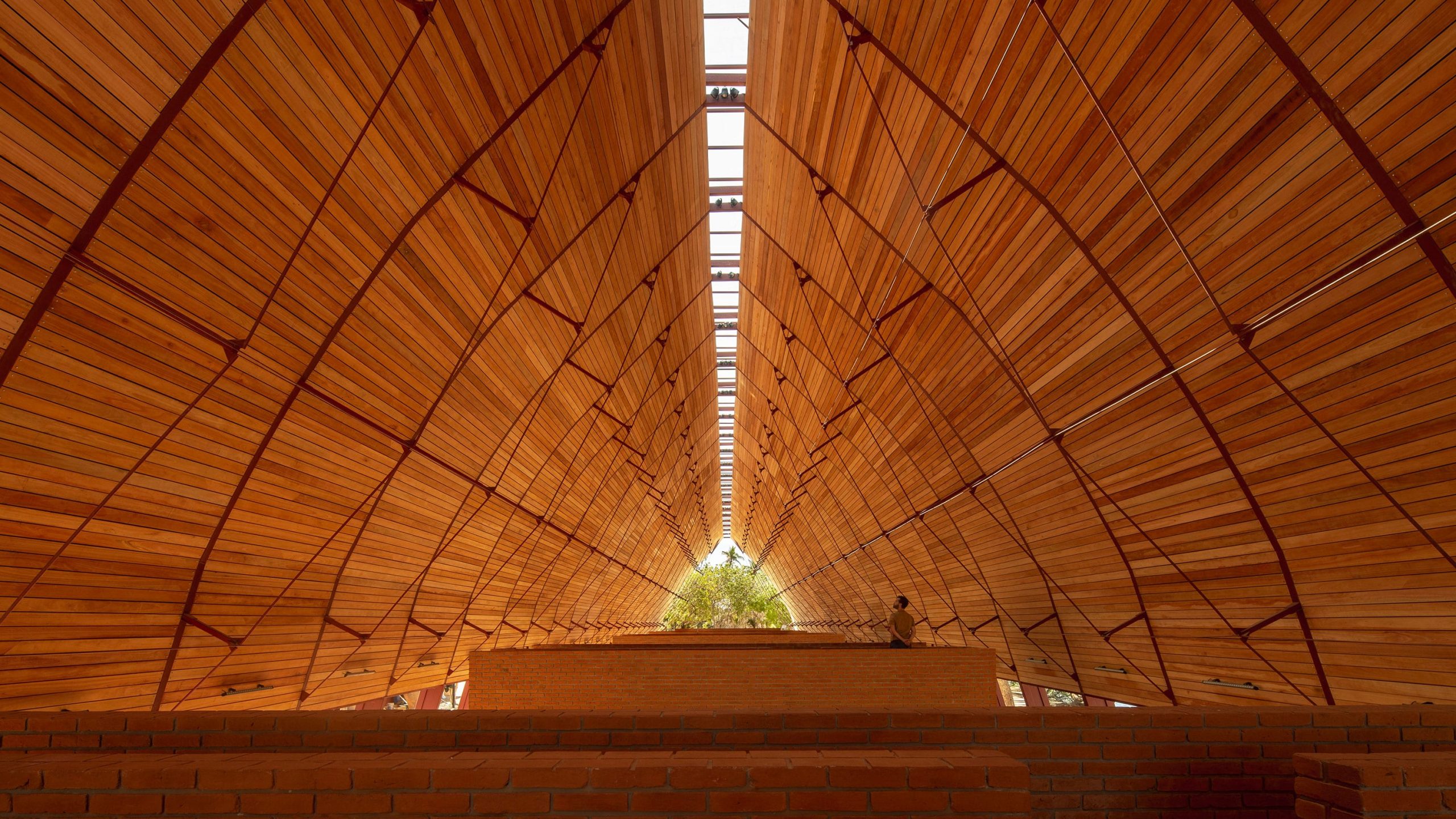 Muelle de San Blas / Colectivo C733
Architect:
Colectivo C733
Place:
San Blas, Nayarit, Mexico
Photographer:
Albers Studio
C733: for a logical, economic, efficient architecture with a cosmic vision
In March 2019, the SEDATU Secretariat of Agrarian, Land, and Urban Development – created in 2013 in Mexico with the aim of concretely promoting sustainable and inclusive territorial development through the design and implementation of policies for territorial organization, agricultural and urban and housing development – commissioned the National Autonomous University of Mexico, through the Faculty of Architecture, to design urban infrastructures in highly vulnerable cities. The Faculty thus called over forty architects with academic positions to draw up a competition for different types such as economics, education, culture, health and sport.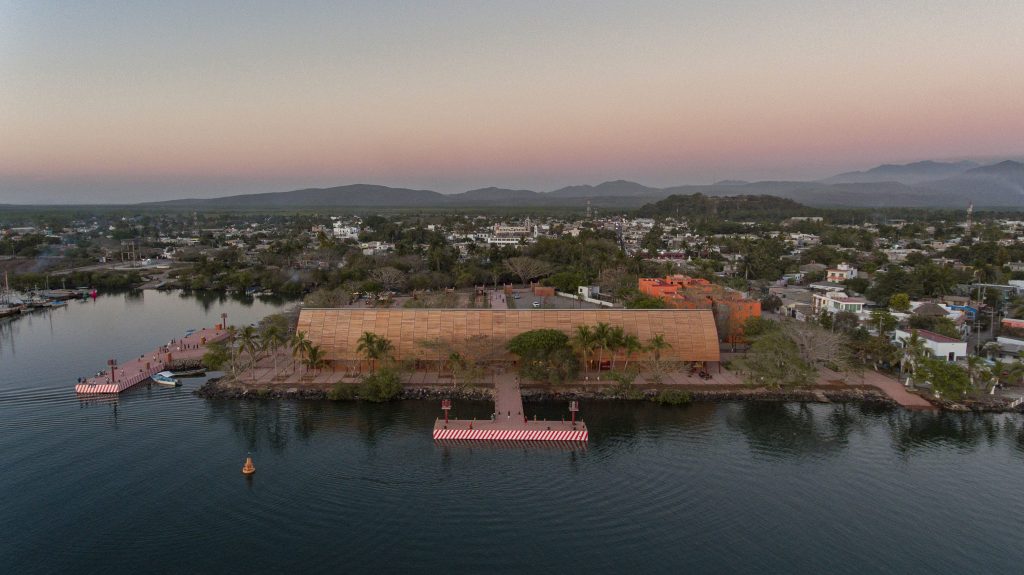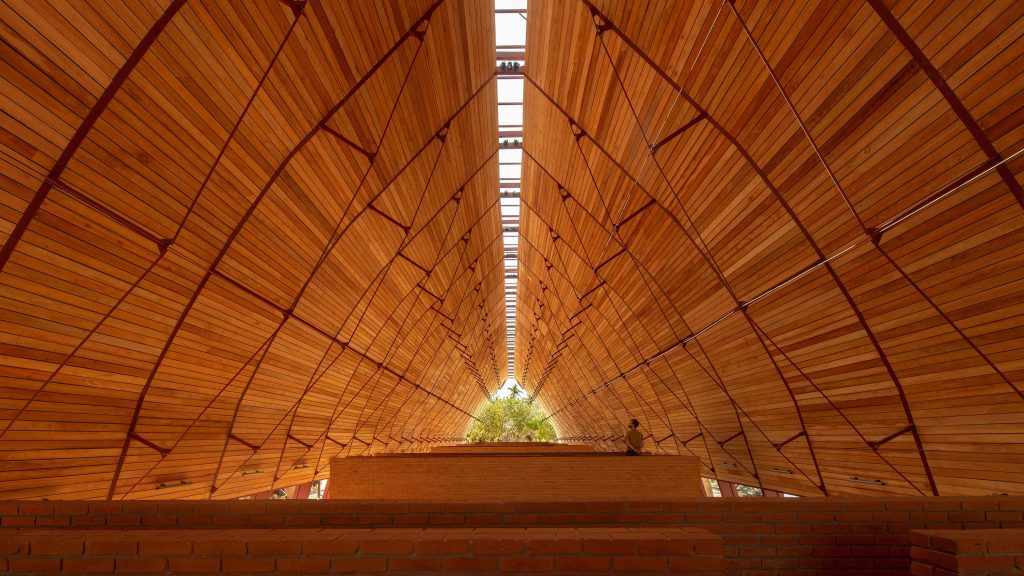 One of the areas affected by the Urban Improvement Program promoted by the SEDATU – which in the first year led to the construction of 476 works – is that of the historic town of San Blas, in the state of Nayarit, nestled between the Pacific Ocean and the Western Sierra Madre mountains and characterized by a rich and perfect ecosystem. Among the various public spaces included in the redevelopment program, Colectivo C733 – the group of four architectural firms with complementary strengths established in 2019 to design the Metamoros public market – signed the restoration and development project of the Pier of San Blas, which includes a port for ferries and boats for tourist services, a public and recreational park as well as commercial areas and a craft market.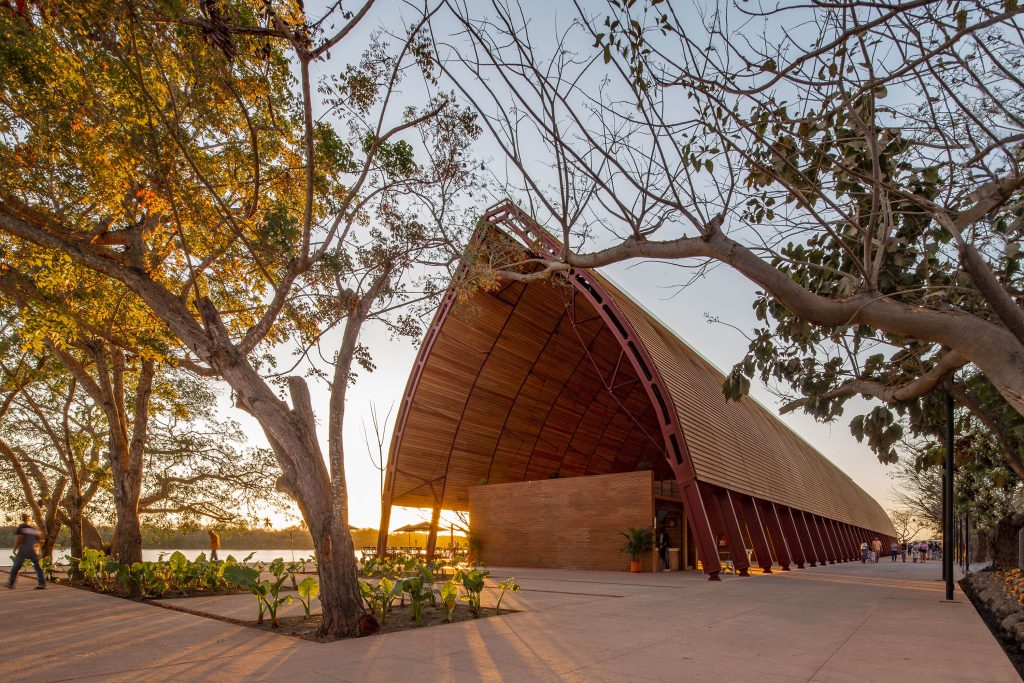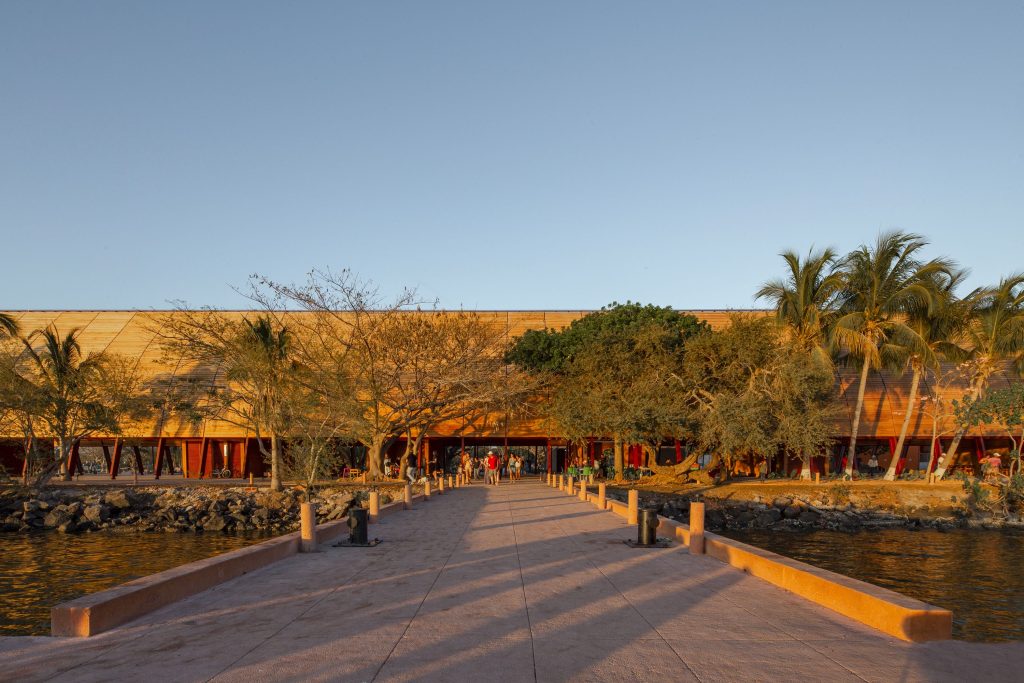 This 14,000 sqm park, completed this year, features a composition of lines with narrow waterways that offer visitors a breath of fresh air, rain gardens with local stone and passages that wind their way inspired by the movement of boats and waves, creating leisure spaces and waiting areas under the shade of new and existing trees or under the large wooden arches covering a series of local clay structures. The chromatism of the complex is defined by the ochre of the wood, the reddish tones of the clay and the colors of the concrete that change its texture and patterns throughout the landscape.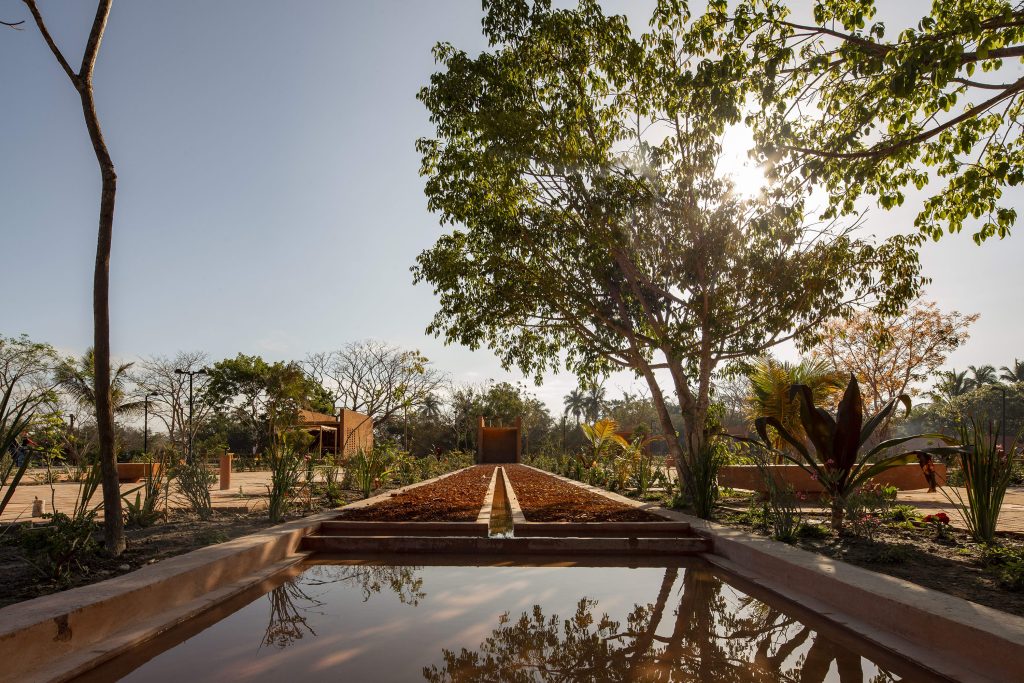 Local volcanic stones define the boundary between the pier water, the mangroves and the visitor traffic. Before tackling this project, as we did two years ago for the Metamoros Market, we thought long about the limits, borders, passages, use and delays involved in the design of a public space, to look in the problems and in the criticalities of the site the best solution to design, with the use of few local resources, a park meant for the well-being of man and environment.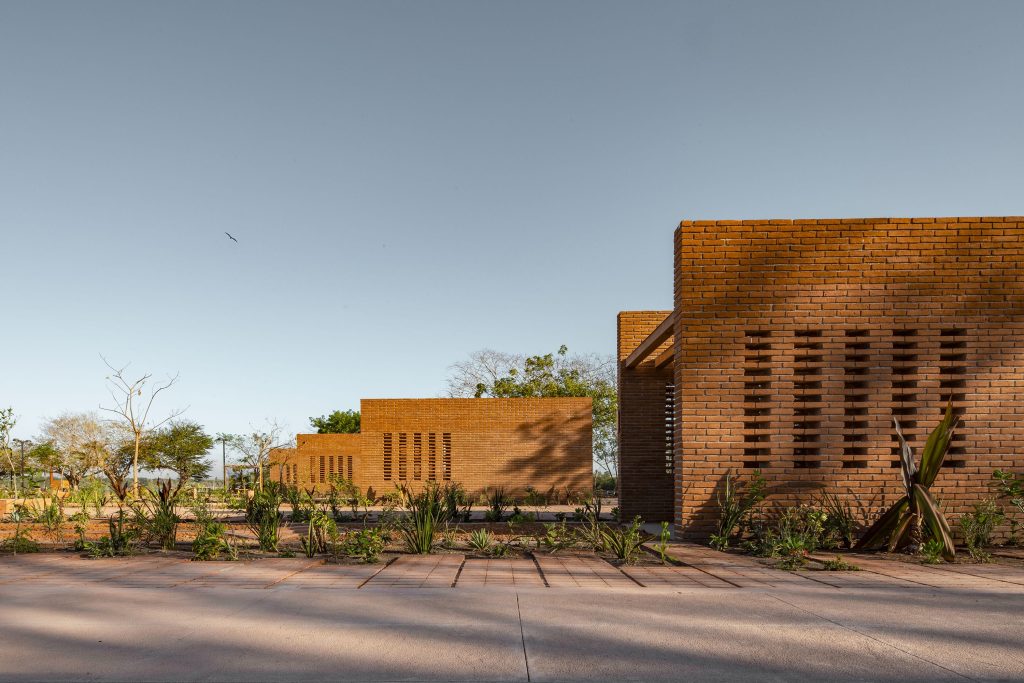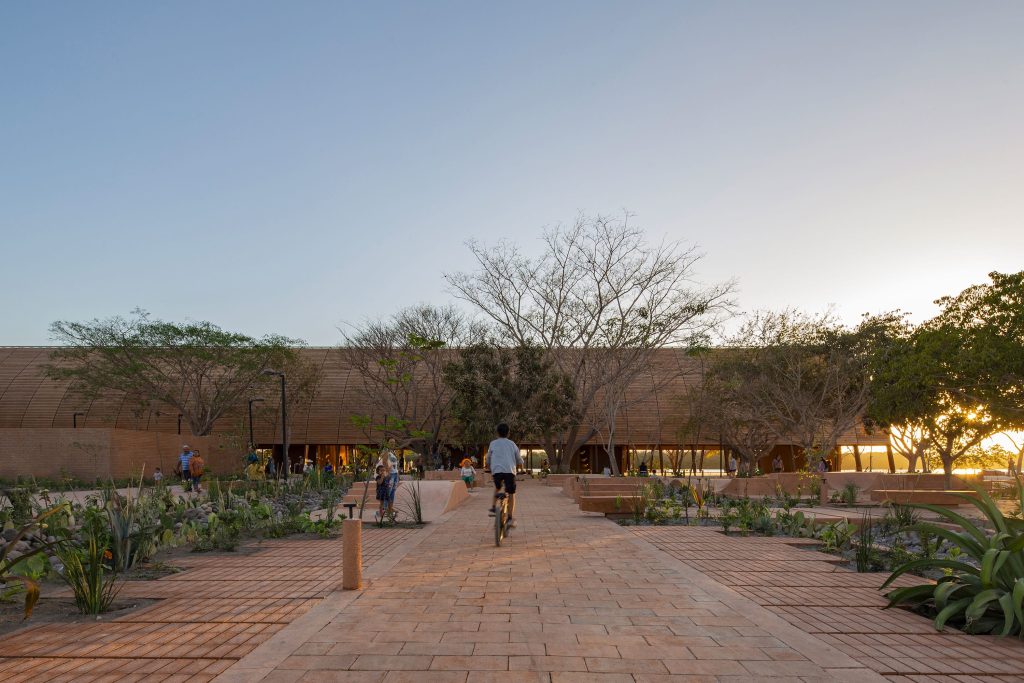 Colectivo C733: Gabriela Carrillo, Eric Valdez, Israel Espín, José Amozurrutia and Carlos Facio (TO)
Design Team: Sofía Pavón, Roberto Rosales, Abraham Espindola
Structures: LABG (Eric Valdez), GIEE
Electrical and mechanical engineering: Enrique Zenón
Landscape architects: Taller de Paisaje Hugo Sánchez
Other consultants: Luz en arquitectura, Pedro Lechuga, TEMAS MX