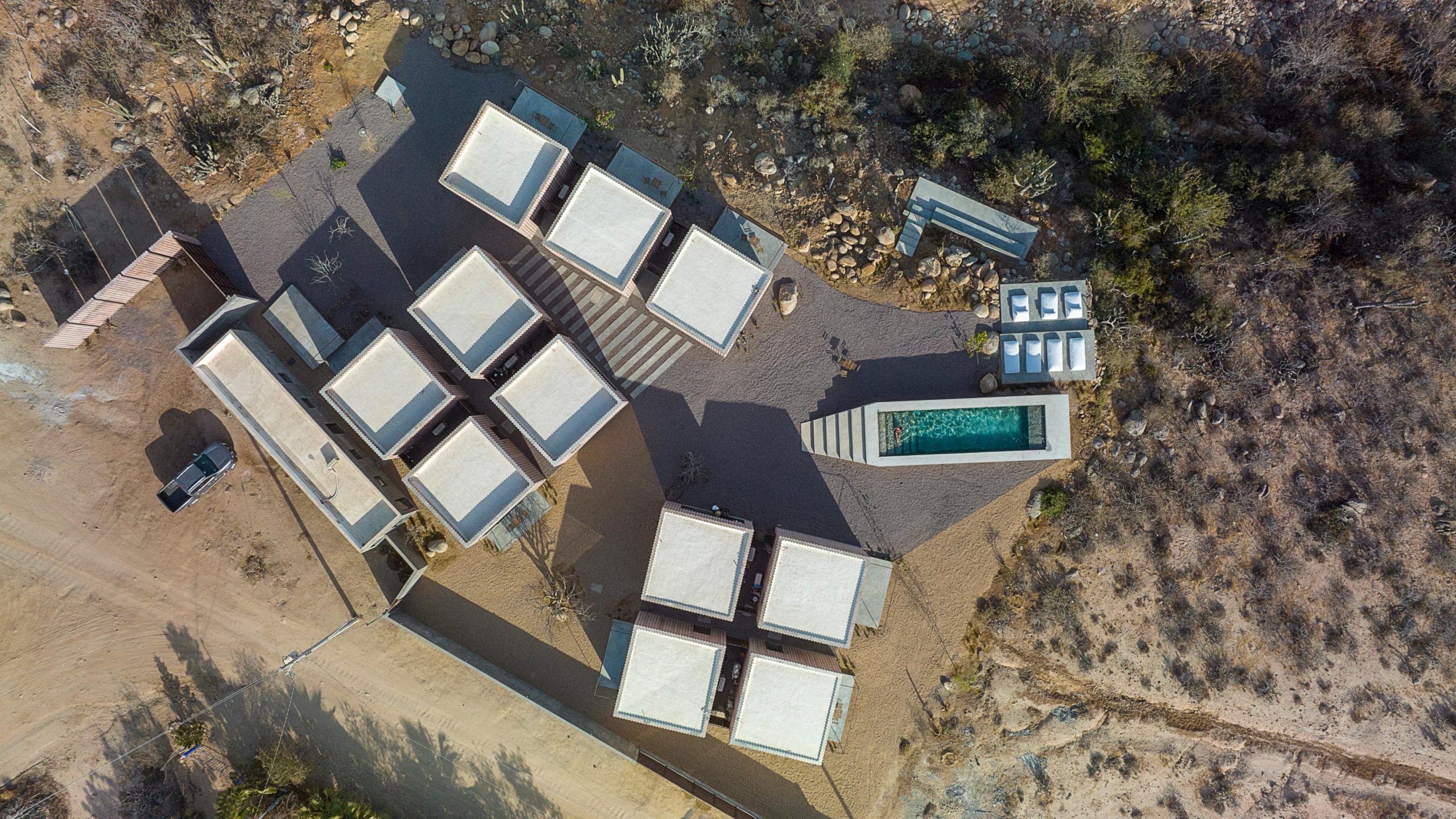 Casa Santos / Maria Gomez, Giovanni Ocampo and Héctor Coss
Architect:
Maria Gomez, Héctor Coss and Giovanni Ocampo
Place:
Todos Santos, Mexico
Photographer:
Jaime Navarro
Casa Santos, designed by architects Maria Gomez, Giovanni Ocampo and Héctor Coss in Todos Santos, a small Mexican coastal town in the foothills of Mexico's Sierra de la Laguna Mountains, explores the possibilities of concrete to create community and sustainability in aesthetic harmony with the desert.
The project is made up of three houses distributed in eleven standard modules of 25 m2 each. Depending on its position and orientation on a compact plot of 2,000 m2, each module becomes a private room with a bathroom or a public living area where the kitchen, dining room and living room are combined. The property also includes a swimming pool and sun terraces on a slope.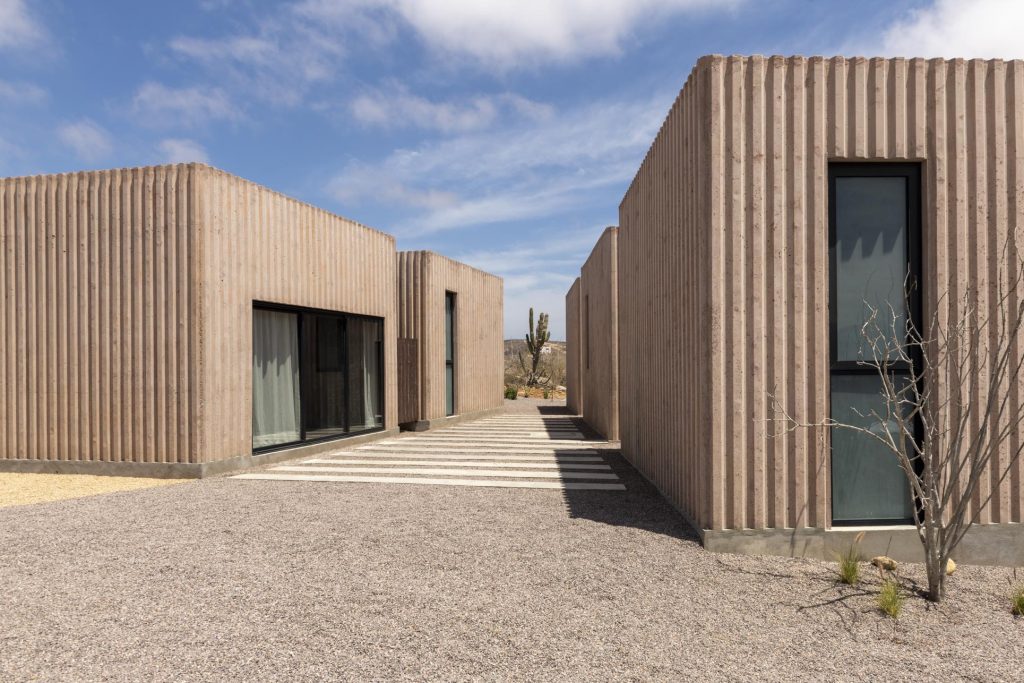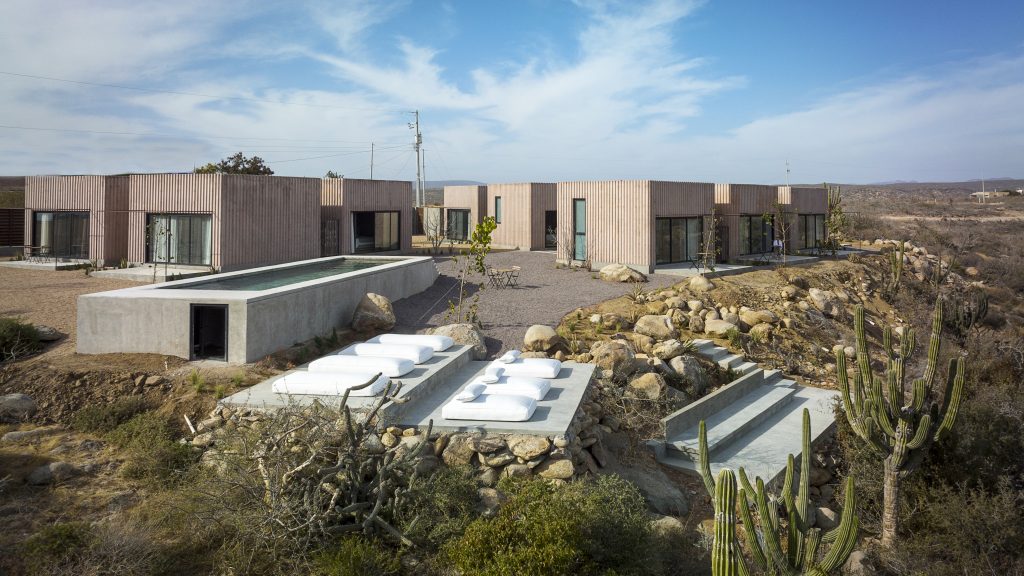 The eleven adjoining modules, each belonging to a dwelling, interact with each other forming passages, alleys, patios and squares that emulate trace of a medieval town. The project is modulated by its own formwork system that provides flexibility by being able to exchange a position span to receive a door or a window in any wall of the module. The falsework system is made up of rolled steel sheets, where the mixture of sand-colored concrete. The project manages to understand the wall as a pure element that articulates the habitable.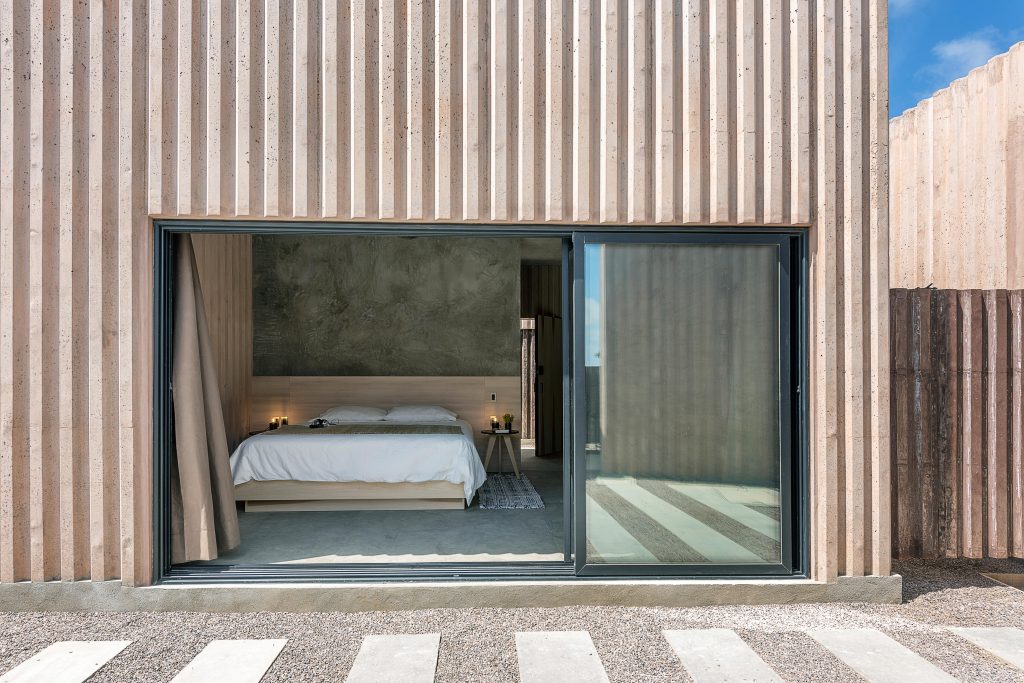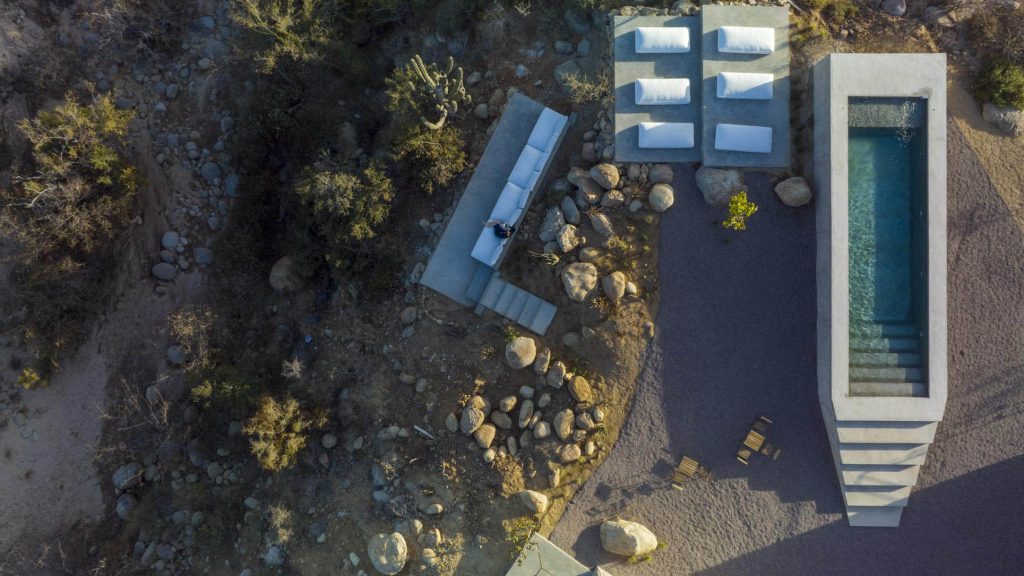 Every wall is at the same time a wall interior, exterior facade, structure, texture and finish. The centering offers answers to the original questions of modern architecture: provides the possibility of a modular construction and accessible to scale, offers sustainability and climate resilience, and achieves an architecture austere and formal in harmony with the surrounding nature. The cube module as a low-cost construction solution goes beyond its potential growth to scale. The steel sheets from the cast are recycled in the doors, gates and fences of the complex housing.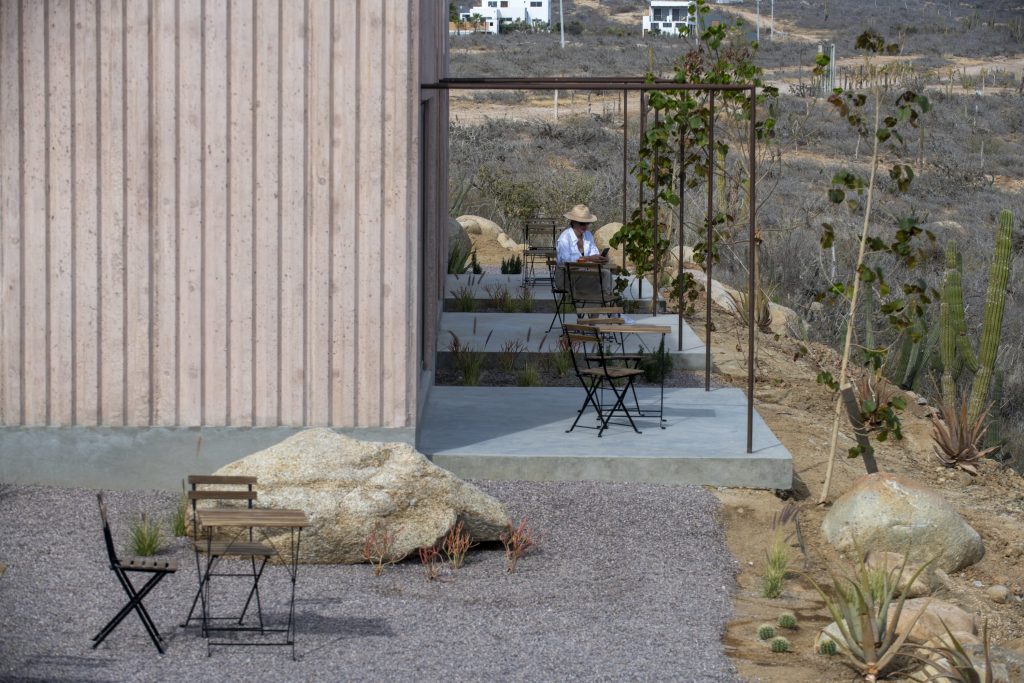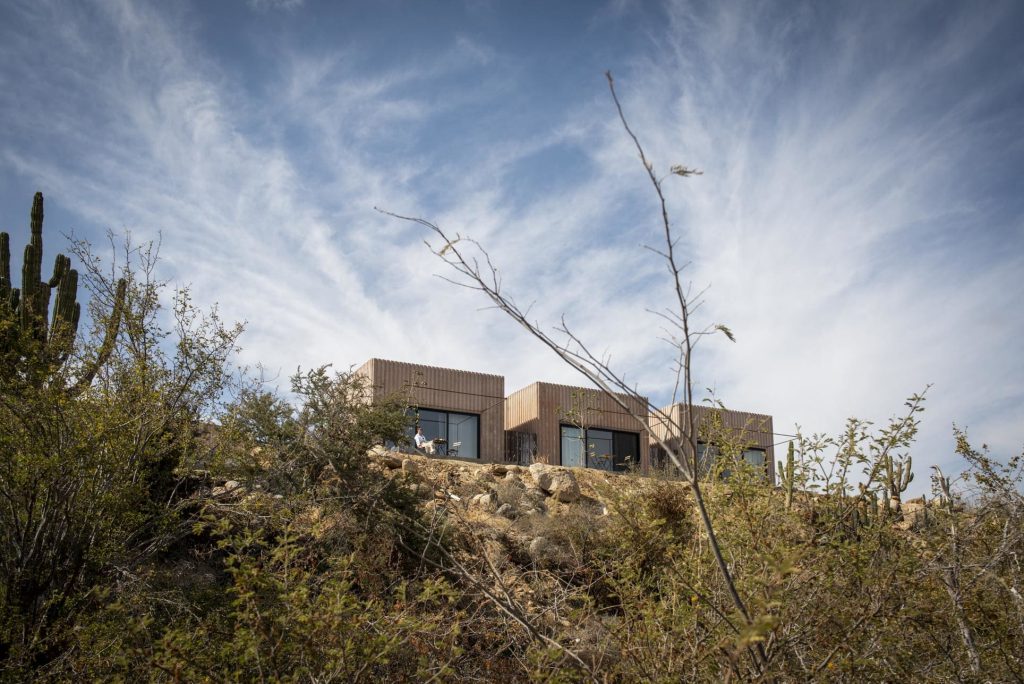 The collision of sunlight with the angle of the walls in the form of gutter generates a constant and changing shadow that works as protection thermal. Concrete provides relief from the desert heat as well as refuge in a seismic area facing the sea. Beyond its constructive qualities, the set of modules of a plant is inserted into the landscape with the slightest trace of any building around it. The project dances between pause and time in a clear allusion to scenery. Architecture is shown as a door to understand what was said by nature, and a window to see how life passes over the sky, the earth and ourselves.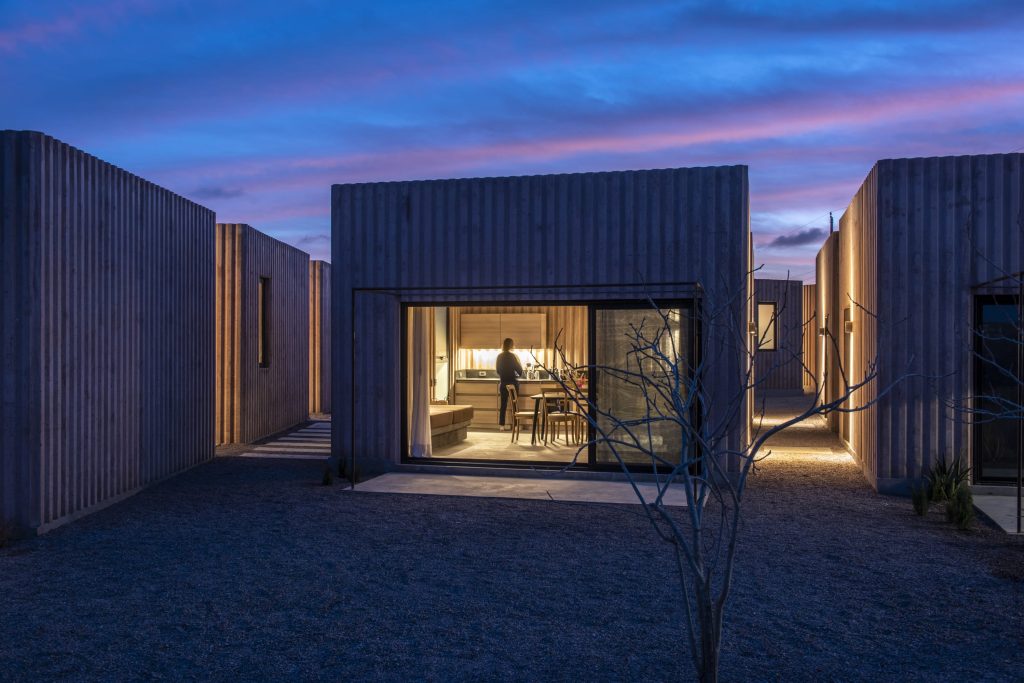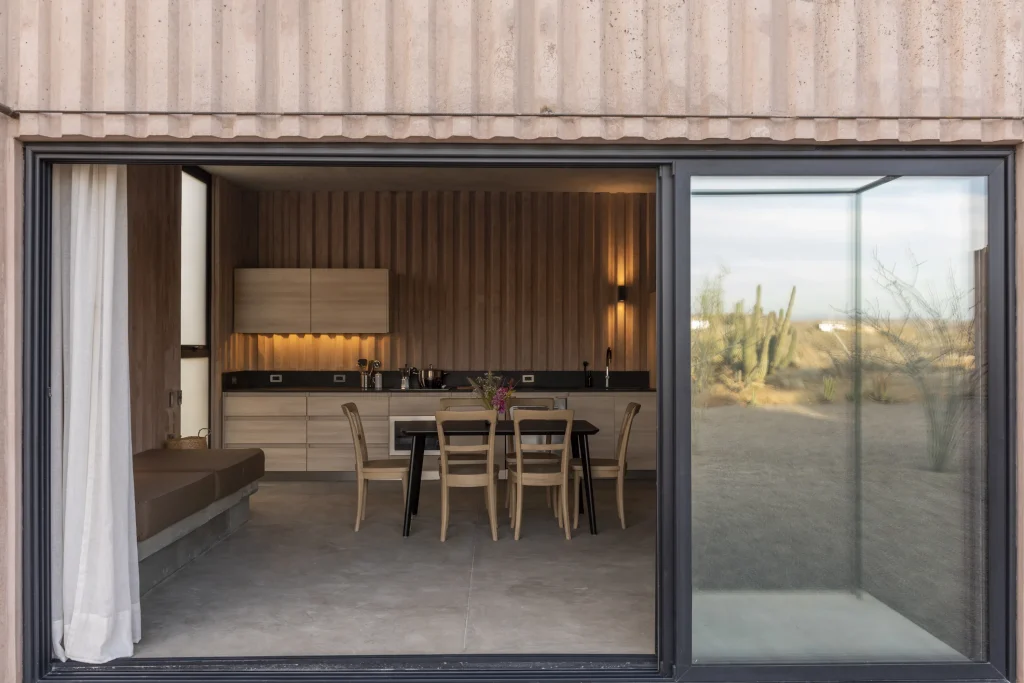 ---
Architects: Maria Gomez, Héctor Coss and Giovanni Ocampo
Design team: Eric Robles
Location: Todos Santos, Mexico
Area: 2.000 m2
Photos: Jaime Navarro
Communication: Area Colectiva